As of May 7, Ballotpedia has tracked 22 election-related bills in the North Carolina House of Representatives since the beginning of the year. Of the 22, Ballotpedia tracked one from May 1-7. Democrats sponsored the bill. The bill is below:   
NC H851: Improving Our Democracy, Reps. John Ager (D), Johnnie Autry (D), Cynthia Ball (D), Kanika Brown (D), Allison Dahle (D), Pricey Harrison (D), Carolyn Logan (D), Nasif Majeed (D), Marcia Morey (D), Lindsey Prather (D), Amos Quick (D), and Diamond Staton-Williams (D). 

As introduced, this bill:

Establishes that candidates for U.S. House, U.S. Senate, state Senate, state House, and elected judicial offices will hold an open primary on a Tuesday set by the general assembly.
Establishes that the open primary will allow eligible voters to vote irrespective of party affiliation, and provides ballot-related instructions.
Provides that qualified minor parties are not required to compete in the open primary and may choose their candidates via party convention.
Establishes that the general election will be held the first Tuesday following the first Monday in November in even-numbered years and will be conducted via ranked-choice voting if there are more than two candidates.
Provides that the state board of elections will research and develop the ranked-choice voting method and outlines general guidelines and requirements, including ballot design and counting requirements.
Click the hyperlinked bill number above for more information.
During the week of May 1-7, Ballotpedia tracked five House election-related bills nationally. As of May 7, Ballotpedia has tracked 1,396 House bills nationally. Ballotpedia tracked the most House bills this year in the Texas House of Representatives with 183, while Ballotpedia tracked the fewest House bills in Massachusetts and Ohio with one.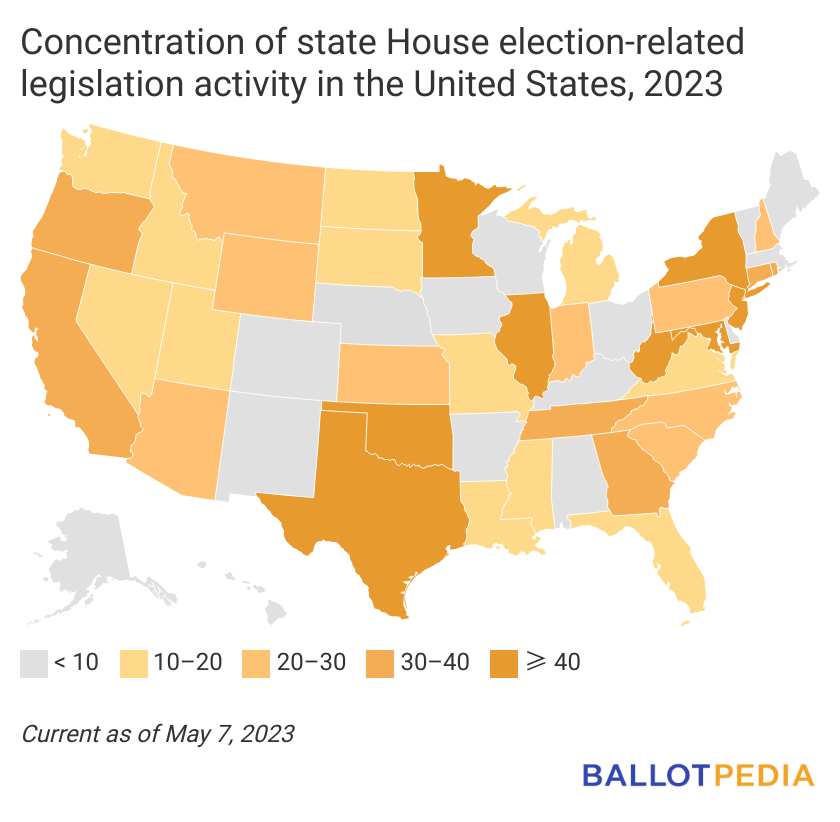 As of May 7, Ballotpedia has tracked 630 House bills in Democratic trifectas and 602 House bills in Republican trifectas. A trifecta is when one political party holds the governorship and majorities in both chambers of the state legislature. Ballotpedia has tracked 164 House bills in states where neither party holds trifecta control. 
The North Carolina House is scheduled to be in session from Jan. 11 to Aug. 31 this year. In 2022, Ballotpedia tracked 17 House bills related to election administration. One of these bills passed both chambers, but it was not enacted into law. North Carolina is a divided government, meaning neither party holds trifecta control.
Additional reading: