Welcome to the Monday, May 8, Brew.
Here's what's in store for you as you start your day:
Pennsylvania Democrats, Republicans to pick state supreme court nominees on May 16
SCOTUS to hear case challenging Chevron deference
Eleven election-related bills enacted this past week
---
Pennsylvania Democrats, Republicans to pick state supreme court nominees on May 16
On May 16, Democratic and Republican voters in Pennsylvania will make their picks for the state's upcoming supreme court election in November.
These upcoming primaries will determine the major party candidates running to fill a vacancy on the court created after Chief Justice Max Baer (D) died last year. The winner in November will be elected to a 10-year term on the court.
Democrats have controlled the Pennsylvania Supreme Court since 2015 when they established a 5-2 majority. Today, with Baer's vacancy, the makeup is a 4-2 Democratic majority.
The outcome of this election will not affect the court's governing majority. But it will set the stage for the upcoming 2025 elections when three justice's terms—all Democrats—are set to expire.
If Democrats retain the vacant seat this year, Republicans would need to win at least two of the three seats in 2025 to gain a majority. If Republicans win this year, they would only need to win one seat in 2025.
Spotlight PA's Kate Huangpu wrote, "The state Supreme Court takes on relatively few cases, but its rulings can have a major impact on politics and policy in Pennsylvania. In recent years, the court has decided cases on reproductive rights, mask mandates, and election disputes."
Both of this year's primaries have two candidates.
Deborah Kunselman and Daniel McCaffery, both judges on the Pennsylvania Superior Court, are running in the Democratic primary.
In a Candidate Connection survey submitted to Ballotpedia, Kunselman said, "I believe in equal access to justice and transparency in our court system … regardless of income, race, gender, national origin, age, religion or sexual orientation."
Kunselman received endorsements from #VoteProChoice and the Pennsylvania Working Families Party.
In a questionnaire submitted to the Pennsylvania Bar Association, McCaffery said, "Democratic Institutions including the judiciary are under duress … [M]y priority will be to approach every case in a non-partisan manner … to restore faith in the judicial branch."
McCaffery received endorsements from the Pennsylvania Democratic Party and the Pennsylvania Conference of Teamsters.
Patricia McCullough and Carolyn Tornetta Carluccio are running in the Republican primary. McCullough is a judge on the Pennsylvania Commonwealth Court. Carluccio is a judge on Montgomery County's Court of Common Pleas.
On her campaign website, McCullough said her "character, wisdom and temperament make her the People's Judge" and that she is "[n]ever willing to compromise justice … stands for election integrity," and is a "courageous, strict constitutionalist judge."
McCullough received endorsements from state Sen. and 2022 gubernatorial nominee Doug Mastriano (R) and the Pennsylvania Pro-Life Federation.
In a Candidate Connection survey submitted to Ballotpedia, Carluccio said, "I am impartial and apply the law as it is written. I will not legislate from the bench … I ensure that everyone is treated with dignity and respect when they come before me."
Carluccio received endorsements from the Pennsylvania Republican Party and the Pennsylvania Chamber of Business and Industry.
Pennsylvania is one of eight states that use partisan elections for state supreme court justices. And it's one of two states holding supreme court elections this year. Wisconsin voters elected a new justice on April 4.
---
SCOTUS to hear case challenging Chevron deference
On May 1, the U.S. Supreme Court agreed to hear Loper Bright Enterprises v. Raimondo, a case that could curb or clarify future applications of Chevron deference in federal courts.
Chevron deference is an administrative law principle courts have cited in thousands of opinions since 1984.
Under this principle, if federal law is unclear or doesn't address a specific issue, the agency responsible for its implementation can interpret the law and create rules to fill the gaps. If a court finds the agency's interpretation reasonable, it will accept the agency's view rather than replace it with its own interpretation.
Supporters of Chevron deference say it prioritizes agency expertise, while opponents say it prevents judges from exercising their constitutional duty to interpret the law independently.
In recent years, inconsistent applications of Chevron deference have led some scholars and judicial commentators to question the doctrine's longevity and anticipate rulings limiting its scope.
Loper Bright Enterprises v. Raimondo centers around a group of commercial fishermen. In this case, a lower court applied Chevron deference to uphold an agency interpretation of a federal fishery law requiring the fishermen to pay for compliance monitors.
The U.S. Supreme Court agreed to hear the case. Petitioners asked the court to decide whether it should overturn Chevron or at least clarify when and how Chevron should be applied.
Any adjustments to Chevron deference could affect the doctrine's future application by federal courts in cases relating to administrative law.
If you want to learn more, Ballotpedia has you covered with all the info on Chevron deference, compiled as part of our Administrative State Project. This research contains everything from the legal history of the original case to the present day, as well as federal and state applications of the doctrine, arguments for and against it, and much more!
---
Eleven election-related bills enacted this past week
State legislators enacted 11 new election-related bills over the past week, including:
Senate Bill 259 in Michigan, which changes the state's absentee/mail-in voting deadline from received by Election Day to postmarked by Election Day. Voters now have to place their ballots in the mail no later than the election rather than have them delivered to election officials by that time;
House Bill 598 in Montana, prohibiting the use of ranked-choice voting in federal, state, or local elections; and,
Senate Bill 410 in Oklahoma, which modifies the list of activities prohibited near polling places. It bars any person other than election officials or those voting from remaining in or near a polling place, including exit pollsters.
In addition to these three newly-enacted bills, 57 other bills have moved further along in the legislative process over the past week: 14 passed both chambers and are awaiting final approval, and 43 passed one chamber, moving on to the next.
As of May 4, legislators across the country have enacted 116 election-related bills this year, roughly the same as the 113 such bills enacted at this point in 2022.
Of this year's 116 enacted bills, Republicans sponsored 63, or 56%, up from 50% of the total enacted at this point last year. Democrats sponsored 16%, down from 21% in 2022. Bills with bipartisan sponsorship make up 14% of the total enacted, down from 19% last year. Those with unclear partisan sponsorship are up to 14% from 10% in 2022.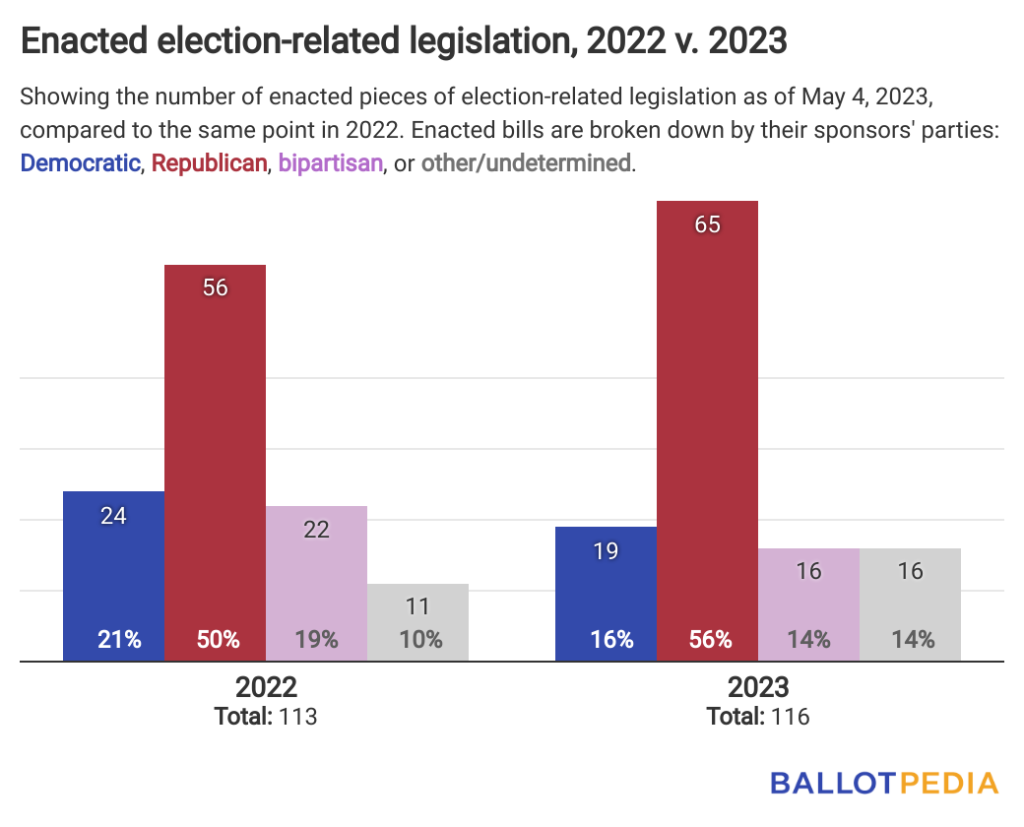 You can view a full list of enacted bills this year here.
To stay up-to-date with the latest news in election-related legislation, subscribe to The Ballot Bulletin, our weekly newsletter—dropping every Friday afternoon—that delivers the latest updates on election policy. Every week, we track legislative activity, big-picture trends, recent news, and in-depth data from our Election Administration Legislation Tracker.