As of May 7, members of the Colorado General Assembly, which includes the Colorado House of Representatives and the Colorado State Senate, have passed one bill related to election administration since the beginning of the year. A bipartisan group of legislators sponsored the bill. The bill is:
CO SB276: Modifications To Laws Regarding Elections, see hyperlinked bill for list of sponsors. 

As amended, this bill:

Strikes a provision requiring a voter's registration address to be the same address as the address used on their motor vehicle registration and for state income tax purposes.
Provides that a tribe, with approval from a tribal council, may provide the secretary of state a list of tribal members who are eligible to vote and includes certain provisions and requirements.
Requires the secretary of state to provide documentation confirming someone's citizenship and the minimum information to register someone to vote to the county clerk and the recorder upon receiving the electronic record, and requires the clerk and recorder to determine whether the record is complete when they receive it.
Lists required documents to be sent to the eligible voter by the county clerk and recorder when the electronic record is received.
Specifies required administrative actions, notifications, and deadlines by the county clerk and recorder if the record sent to the office by the secretary of state is incomplete, and clarifies administrative requirements and deadlines based upon response or no response from the potential voter.
Click the hyperlinked bill number above for more information.
The bill has not yet been enacted.
From May 1-7, legislators passed 22 bills related to election administration nationally. As of May 7, South Dakota legislators have passed the most bills this year with 18, while legislators in 19 states have passed none. The state with the most enacted bills is South Dakota with 16, while 23 states have enacted none.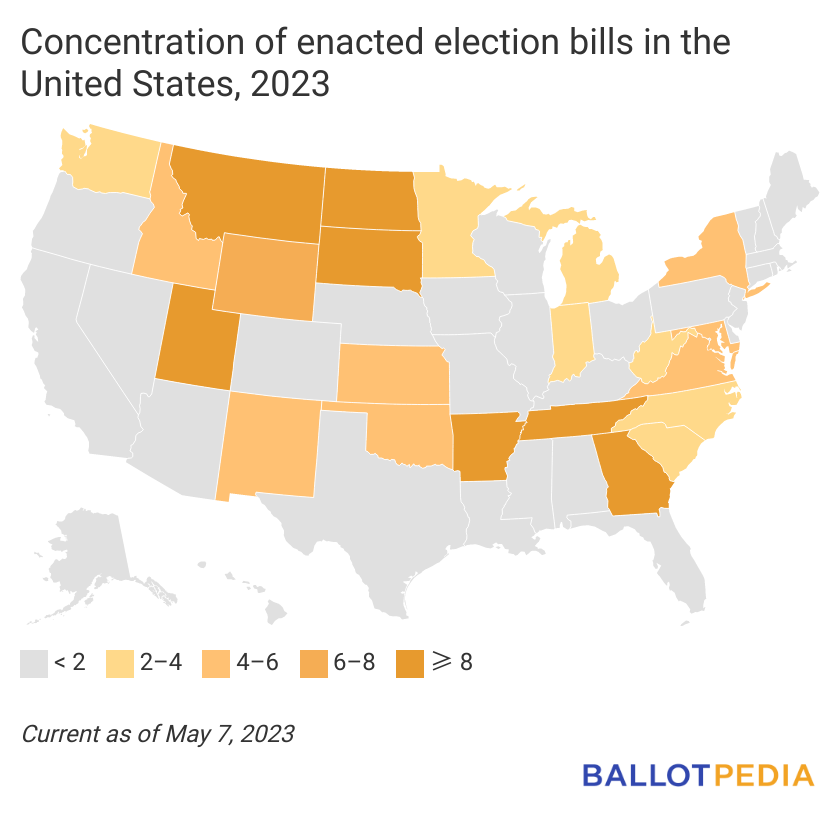 The Colorado General Assembly was scheduled to be in session from Jan. 9 to May 6 this year. In 2022, Colorado legislators passed two election-related bills, one in each chamber. Both bills were enacted into law. Colorado is a Democratic trifecta, meaning Democrats control the governorship and both chambers of the state legislature.
Additional reading: