As of May 7, Ballotpedia has tracked 183 election-related bills in the Texas House of Representatives since the beginning of the year. Of the 183, Ballotpedia tracked one from May 1-7. Democrats sponsored the bill. The bill is:
TX HJR15: Proposing a constitutional amendment establishing an independent redistricting commission to establish districts for the election of the members of the United States House of Representatives elected from this state, the Texas Senate, and the Texas House of Representatives, Rep. Donna Howard (D).

As introduced, this bill:

Establishes an independent redistricting commission for elections for U.S. House of Representatives, Texas House of Representatives, and the Texas Senate, and requires the commission to convene by September 1 of the year of the census at the latest.
Outlines rules and procedures for appointment of members and alternates, including establishing a selection pool, holding public meetings, notifications, vacancy procedures, and removal of a commissioner.
Outlines procedures for conducting commission business including selecting a chair, voting related procedures, and quorum.
Provides for appointment of commission staff and rules for hiring contractors.
Furnishes rules regarding reporting political expenditures, including reporting for employees and vendors.
Click the hyperlinked bill number above for more information.
During the week of May 1-7, Ballotpedia tracked five House election-related bills nationally. As of May 7, Ballotpedia has tracked 1,396 House bills nationally. Ballotpedia tracked the most House bills this year in the Texas House of Representatives with 183, while Ballotpedia tracked the fewest House bills in Massachusetts and Ohio with one.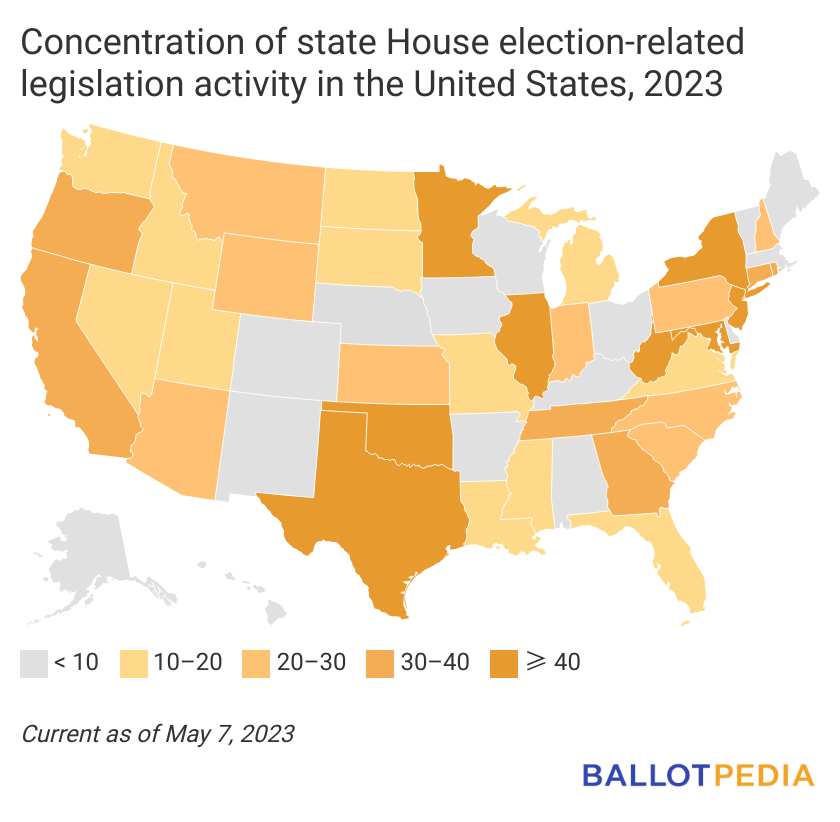 As of May 7, Ballotpedia has tracked 630 House bills in Democratic trifectas and 602 House bills in Republican trifectas. A trifecta is when one political party holds the governorship and majorities in both chambers of the state legislature. Ballotpedia has tracked 164 House bills in states where neither party holds trifecta control. 
The Texas House is scheduled to be in session from Jan. 10 to May 29 this year. In 2022, Ballotpedia tracked zero House bills related to election administration. Texas is a Republican trifecta.
Additional reading: