As of May 7, members of the Texas State Legislature, which includes the Texas House of Representatives and the Texas State Senate, have passed one bill related to election administration since the beginning of the year. A bipartisan group of legislators sponsored the bill. The bill is:
TX SB1052: Relating to the compensation of an election judge or clerk, Sen. Drew Springer (R) and Reps. John Bucy (D), Jessica Gonzalez (D), Christian Hayes (D), Briscoe Cain (R), and Reggie Smith (R).

As introduced, this bill prohibits a judge or clerk from being paid for more than two hours of work before the polls open except for making changes to the list of registered voters at another polling place.
The bill has not yet been enacted.
From May 1-7, legislators passed 22 bills related to election administration nationally. As of May 7, South Dakota legislators have passed the most bills this year with 18, while legislators in 19 states have passed none. The state with the most enacted bills is South Dakota with 16, while 23 states have enacted none.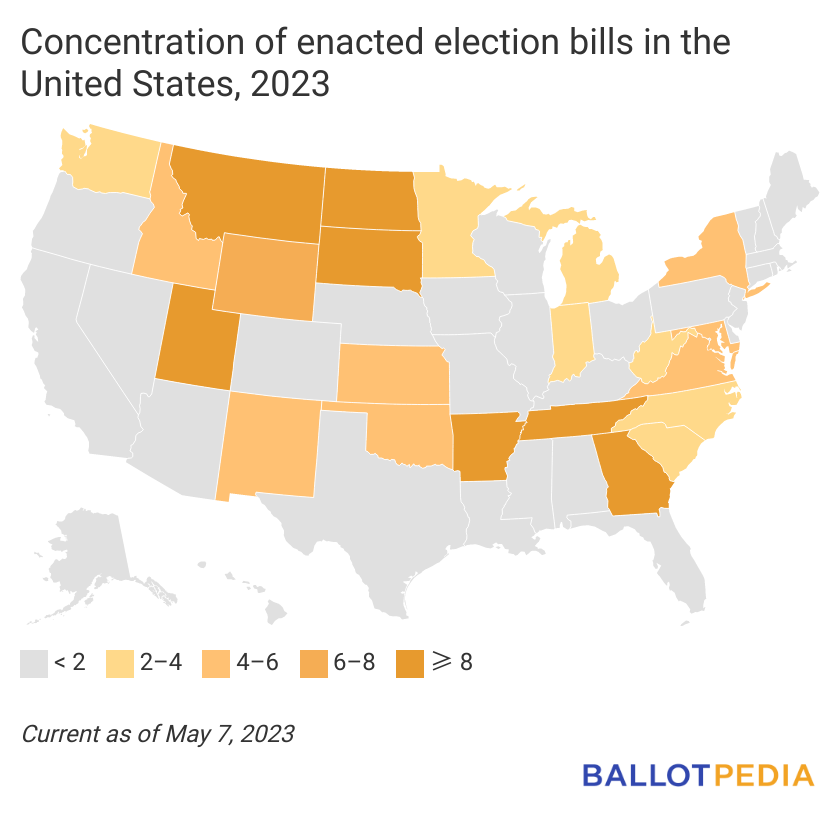 The Texas State Legislature is scheduled to be in session from Jan. 10 to May 29 this year. In 2022, Texas legislators passed zero election-related bills. Texas is a Republican trifecta, meaning Republicans control the governorship and both chambers of the state legislature.
Additional reading: