As of May 7, Ballotpedia has tracked 114 election-related bills in the Texas State Senate since the beginning of the year. Of the 114, Ballotpedia tracked one from May 1-7. Republicans sponsored the bill. The bill is below:
TX SB2620: Relating to authorizing certain political subdivisions to change the date on which their general election for officers is held, Sen. Drew Springer (R).

As introduced, this bill provides that if a municipality, either wholly or partially in a county, with a population of 19,901-19,999 holds a general election on a date other than the November uniform election date, the municipality may change the date to the November uniform election date.
During the week of May 1-7, Ballotpedia tracked 14 Senate election-related bills nationally. As of May 7, Ballotpedia has tracked 945 Senate bills nationally. Ballotpedia tracked the most Senate bills this year in the New York State Senate with 140, while Ballotpedia tracked the fewest Senate bills in the Massachusetts State Senate with zero.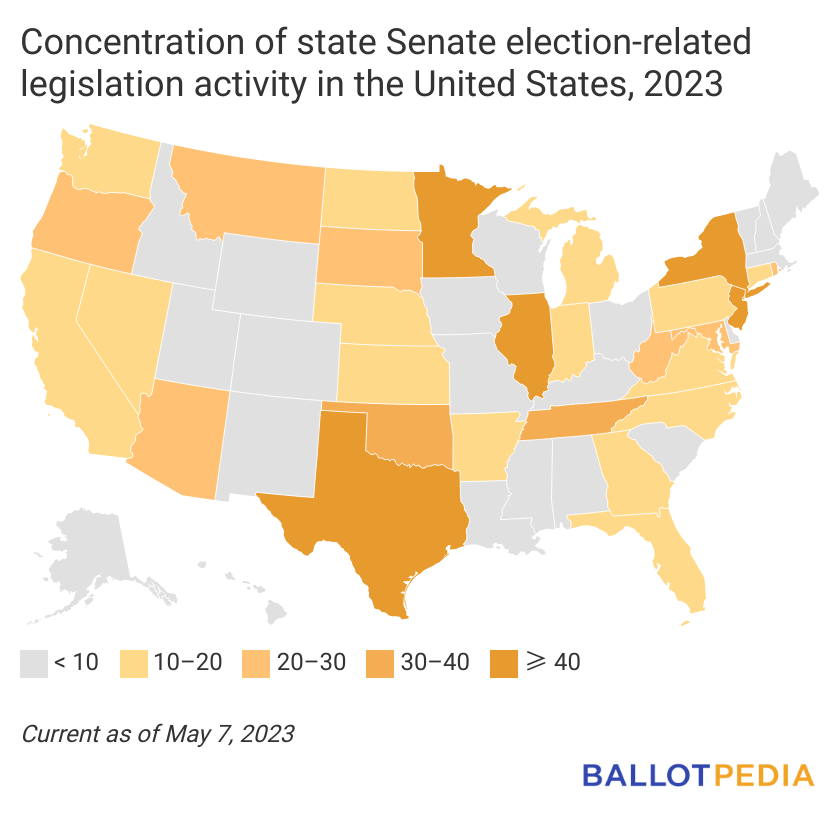 As of May 7, Ballotpedia has tracked 438 Senate bills in Democratic trifectas and 389 Senate bills in Republican trifectas. A trifecta is when one political party holds the governorship and majorities in both chambers of the state legislature. Ballotpedia has tracked 118 Senate bills in states where neither party holds trifecta control.
The Texas Senate is scheduled to be in session from Jan. 10 to May 29 this year. In 2022, Ballotpedia tracked zero Senate bills related to election administration. Texas is a Republican trifecta.
Additional reading: