Local elections took place across Texas on Saturday, May 6. Ballotpedia covered 47 ballot measures on May 6. That was nearly three times more than we covered in May Texas elections in 2019 and 2021, mainly due to an increase in bond measures and charter amendments this year.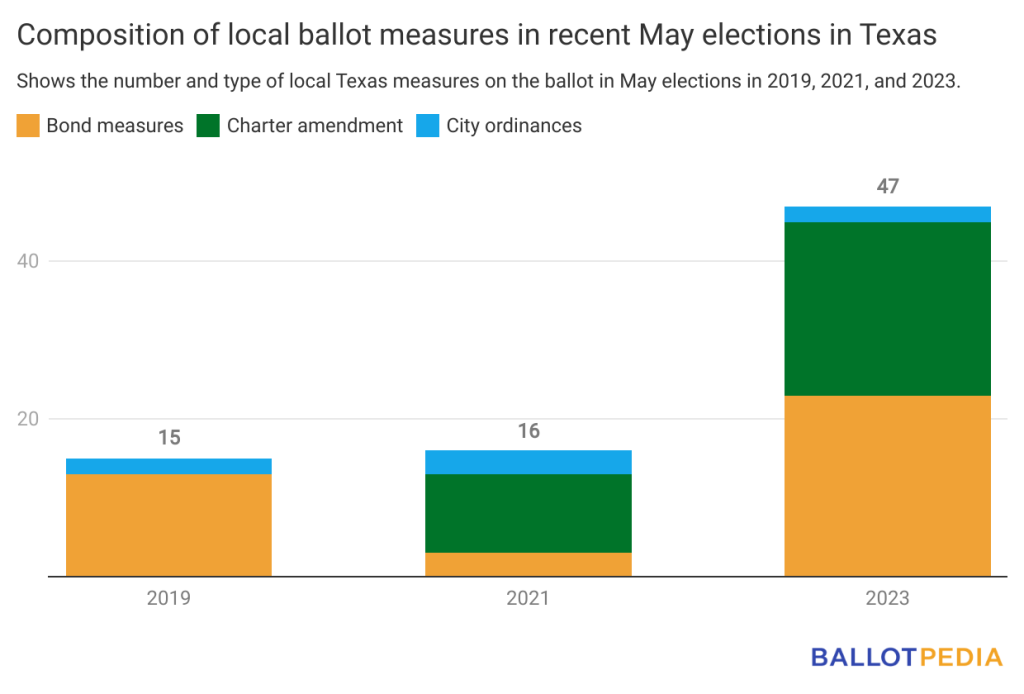 As of this writing, results for some of the 47 measures were not yet available. Those that received the most media attention were voted on in San Antonio, El Paso, and Austin.
San Antonio
Voters rejected Proposition A 71.63% to 28.37%. The amendment, a citizen-initiated measure, would have made the following changes:
Established a city justice director appointed by the mayor and city council; 
Prohibited police from issuing citations or making arrests for certain misdemeanor marijuana possession offenses;
Prohibited police from enforcing criminal abortion laws;
Banned law enforcement use of no-knock warrants and chokeholds; and
Used citations instead of arrests for certain misdemeanors.
The San Antonio Police Officers Association opposed the measure. President Danny Diaz said, "This wasn't a party issue. This was a community issue. The work doesn't stop tonight. The work continues so that we go out into the community so that they understand what we're doing as police officers for them to make sure they are safe."
Act 4 SA led the effort to get the measure on the ballot. Its executive Director, Ananda Thomas, criticized the measure opponents, saying, "lies and the misinformation that were put out there backed by over $2 million. We know at the end of the day, in the long run, the people will always win over big-money interests."
El Paso
Voters decided 11 charter amendments, including Proposition K, a citizen initiative related to the climate. Voters rejected Proposition K 83.5% to 16.47%.
Among other things, Proposition K would have established the Climate Department and the Climate Director, which would have carried out the amendment's three policy goals — "to reduce the City's contribution to climate change; second, to invest in an environmentally sustainable future; and third, to advance the cause of climate justice."
El Paso Matters's Diego Mendoza-Moyers said, "the Climate Charter sparked fierce opposition – and heavy campaign spending – from business groups such as the El Paso Chamber and the Houston-based Consumer Energy Alliance, which collectively poured over $1 million into television and web advertisements and campaign mailers urging voters to oppose the measure. Supporters of the Climate Charter spent about $30,000 in the election."
Austin
Voters decided two competing initiatives related to police oversight. Voters supported Proposition A 79.86% to 20.14% and rejected Proposition B 81.09% to 18.91%. Equity Action sponsored Proposition A, while the Austin Police Association-backed Voters for Oversight and Police Accountability sponsored Proposition B.
Proposition A authorizes the Office of Police Oversight to investigate anonymous complaints, gather evidence and directly interview witnesses, and conduct a preliminary investigation of every complaint and determine whether a full investigation is warranted. The measure allows the Office of Police Oversight to analyze all force incident data and conduct random audits of body camera video.
Under Proposition B, certain provisions regarding the Office of Police Oversight would have been removed from the city Code of Ordinances, including a provision of the Office of Police Oversight to receive anonymous complaints.
On Saturday night, the Austin Police Association tweeted they were "taking immediate action to determine the city's intentions regarding the implementation and enforcement of the illegal provisions contained in Prop A."
According to Community Impact's Ben Thompson, "The face-off between the ballot measures is the latest in a series of high-profile policing decisions in the city through recent years, following a 2021 vote in which Austinites rejected a police staffing requirement and voted to ban low-level marijuana enforcement and no-knock raids in the city in last spring's election. This year, the pending outcome of this May's proposition election also led City Council to hold off on approving a new labor agreement with the police union."
Mayoral and municipal elections
Ballotpedia covered mayoral elections in six cities on May 6. Incumbents in all six cities were running for re-election, and all incumbents were re-elected. Three of those cities — Fort Worth, Garland, and Irving — have Republican mayors, while Dallas has a Democratic mayor. San Antonio's mayor is an independent. We have been unable to verify the partisan affiliation of Arlington's mayor.
Ballotpedia is covering 40 mayoral elections this year, including upcoming elections on May 16 in Jacksonville, Fla., and Philadelphia, Pa.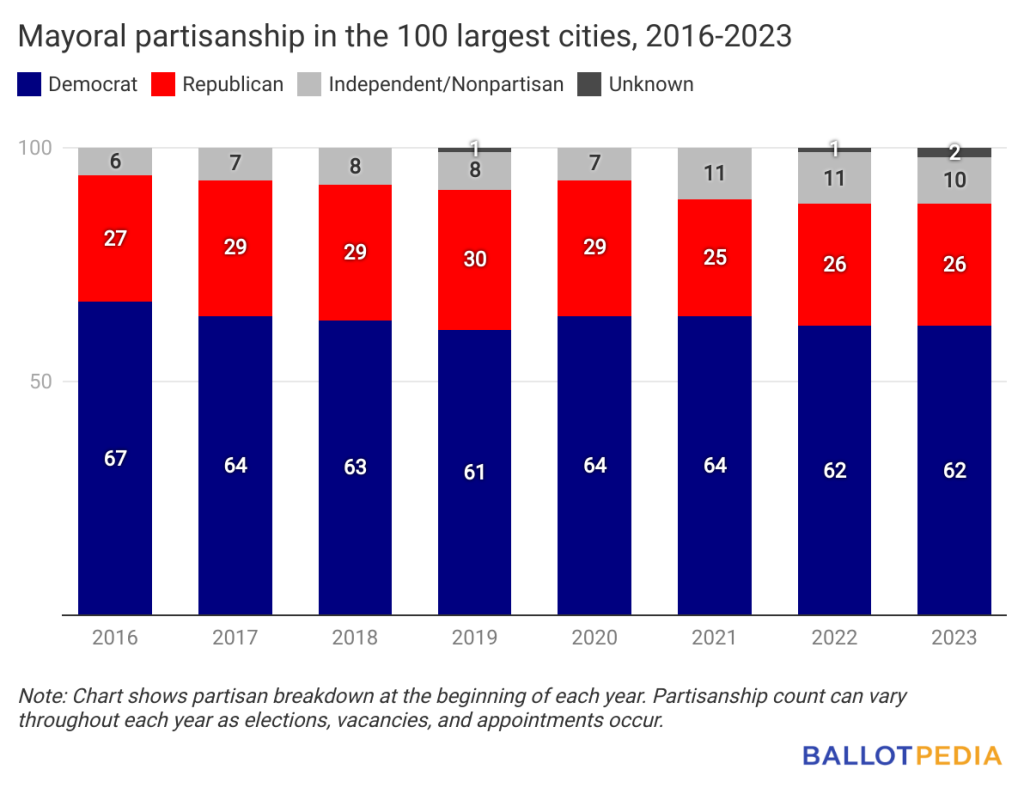 Ballotpedia also covered city council and other elections on May 6 in the following cities and counties. Click to see results.