Welcome to the Thursday, May 11, Brew.
Here's what's in store for you as you start your day:
Newcomers will represent at least 23% of New Jersey's state legislative seats next year
An update on the 2024 presidential campaign
Ballotpedia celebrates its first Community Volunteer Day!
---
Newcomers will represent at least 23% of New Jersey's state legislative seats next year
Twenty-eight state legislative seats up for election in New Jersey this year are open, meaning no incumbents filed to run. This represents 23% of the state's legislature, a decade-high rate of open seats, and a marked increase from previous election cycles.
Newcomers are guaranteed to win all open seats since no incumbents are running for them.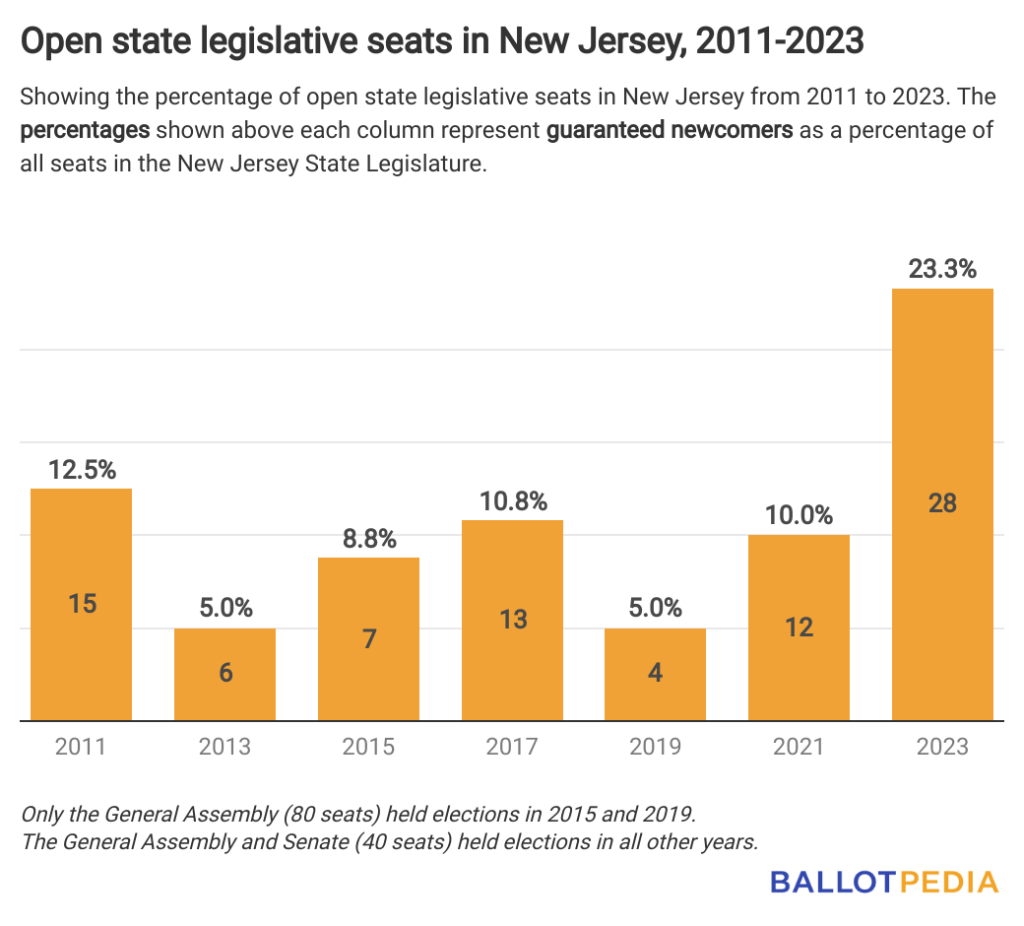 This is New Jersey's first election under new state legislative maps following the 2020 redistricting cycle.
The number of open seats tends to increase after redistricting. Incumbents may opt against running for re-election because they now live in a district with a different partisan makeup than the one they previously represented or because they now live in a district with another incumbent.
Additionally, an incumbent might run for re-election in a new district, leaving their old seat open. In New Jersey, three incumbents are running for re-election in new districts.
In the General Assembly, Assms. Brian Bergen (R) and Christian Barranco (R) effectively swapped districts, with Bergen moving from District 25 to District 26 and vice versa for Barranco.
In the Senate, Sen. Nia Gill (D) is running in District 27, leaving her current District 34 seat open. Gill will face incumbent District 27 Sen. Richard Codey (D) in a Democratic primary.
This year, 255 major party candidates filed to run for the state's 80 General Assembly and 40 Senate seats. They include 134 Democrats and 121 Republicans.
New Jersey has had a Democratic trifecta since the party won the governorship in 2017. Democrats hold a 45-34 majority in the General Assembly, with one vacancy, and a 25-15 majority in the Senate.
New Jersey will hold its state legislative primaries on June 6, the first state legislative primary date of the 2023 election cycle.
---
An update on the 2024 presidential campaign
Now, let's give you an update on where things stand in the 2024 presidential race.
As of May 11, 2023, we've identified three noteworthy Democratic presidential candidates, six noteworthy Republican candidates, and one noteworthy Republican exploratory committee.
Below is a summary of each candidate's campaign activity from May 4 to May 11.
Democratic candidates

Joe Biden (D) spoke in Hudson Valley, New York, on May 10. He expressed support for raising the debt ceiling and criticized the Republican-backed Limit, Save, Grow Act. He also attended a fundraising event in New York City hosted by former Blackstone executive Tony James.
Marianne Williamson (D) held a town hall in East Palestine, Ohio, on May 9, and is set to speak at a bookstore in Washington, D.C., today.
Additionally, Tim Scott (R), who may announce his presidential candidacy on May 22, held a town hall in Iowa on May 6 and campaigned in New Hampshire from May 8 to May 9.
Ballotpedia did not identify any campaign activity from Robert F. Kennedy Jr. (D), Larry Elder (R), or Asa Hutchinson (R).
At this point in the 2020 cycle, 24 noteworthy candidates were running for president. Twenty-two were seeking the Democratic nomination, and two (Trump and former Massachusetts Governor Bill Weld) were seeking the Republican nomination.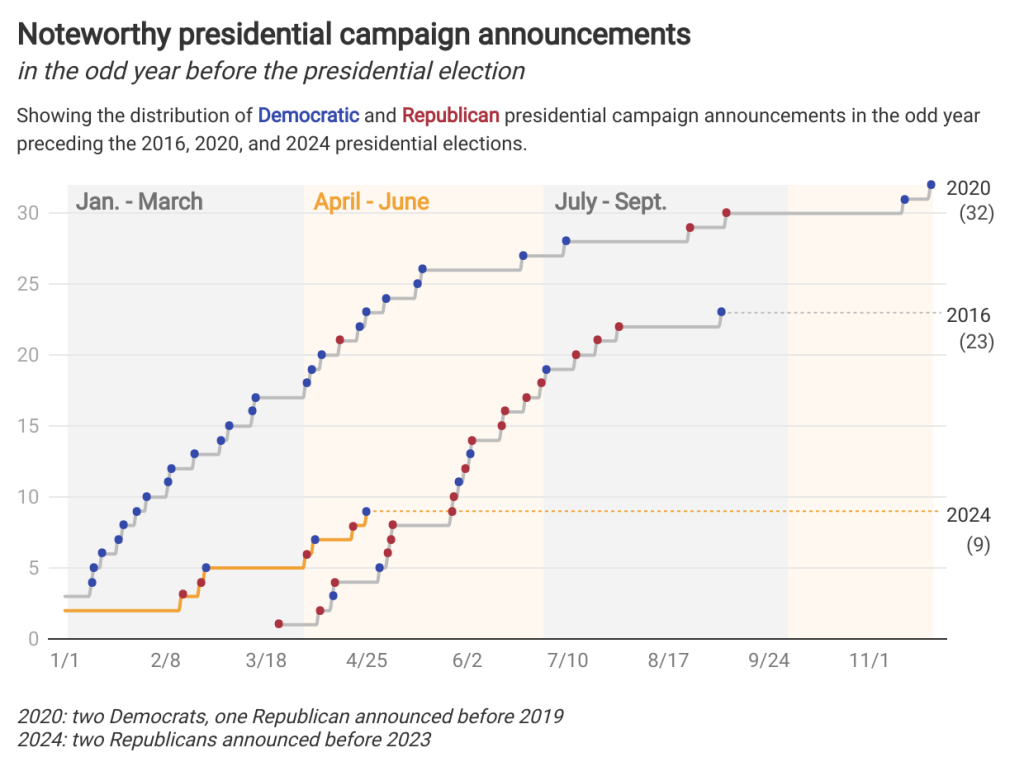 Notable stories at the time included Julián Castro (D) and Williamson qualifying for the first round of Democratic primary debates on May 6 and May 10, 2019, respectively, and policy platform releases from Bernie Sanders (I-Vt.) regarding agriculture on May 6, Cory Booker regarding gun regulation on May 7, and Elizabeth Warren on the opioid epidemic on May 9.
In the 2016 election, eight noteworthy candidates had announced their campaigns as of May 11, 2015. There were two Democrats (Hillary Clinton and Sanders) and five Republicans. At this point in the 2016 cycle, noteworthy stories included Carly Fiorina and Mike Huckabee joining the Republican primary field on May 4 and May 5, 2015, respectively.
---
Ballotpedia celebrates its first Community Volunteer Day!
We can't think of a better way to celebrate Ballotpedia's 15th anniversary than to give back to our readers in our local communities, so today, we're launching Ballotpedia's first Community Volunteer Day!
Throughout the day, Ballotpedia's staff members will be volunteering at local organizations around the country, including animal shelters, soup kitchens, local nature preserves, and many others! Our team members will be helping out in a variety of capacities, including making meals, maintaining local trails, and helping local organizations in whichever way they can.
When we asked some of our team members why volunteering is important to them, here's what they had to say:
"One thing I love about Seattle is its community gardens and p-patches, and the Danny Woo Community Garden is a unique space that serves the low- to middle-income Asian Pacific Islander community of Seattle and conducts youth outreach. It's an important community space for immigrant gardeners, and many of them grow vegetables that help them maintain a connection to their countries of origin. I'm happy to help contribute to the maintenance of this important and unique community space in my city." – Volunteering with the Danny Woo Community Garden.
"It directly impacts one of the most essential needs of others—food security." – Volunteering with the North Texas Food Bank.
"My role as a parent is a keystone of my life. I feel a great connection with my children – and as a result, I feel sympathy for orphans without parents. I enjoy working with the LOR in order to help bring joy and support to those without parents." – Volunteering with Lowcountry Orphan Relief.
Ballotpedia's Community Volunteer Day is a fantastic way for our team members to give back to our local communities and make a positive impact. We're excited to see the results of our efforts, and we hope to continue to support more essential organizations in the future!
Follow us on Instagram to see what we're up to today!