Welcome to the Monday, May 15, Brew. 
Here's what's in store for you as you start your day:
2024 presidential primary calendar begins to take shape
A final look at Kentucky's gubernatorial primaries
States have enacted more election-related legislation in 2023 than at this point last year
---
Next year's presidential primary calendar begins to take shape
The 2024 November election is just a year and a half away, and the presidential primary calendar is starting to take shape. Let's take a look at the six states where some of the early contests might take place: Iowa, South Carolina, New Hampshire, Nevada, Georgia, and Michigan.
The Republican National Committee (RNC) approved a plan in April 2022 re-establishing the early line-up of Iowa, New Hampshire, South Carolina, and Nevada, in that order, that has been in place in recent cycles. The Democratic National Committee (DNC), meanwhile, approved a plan in February to reorder the early presidential primary dates. South Carolina was selected as the first primary state on February 3, 2024, followed by New Hampshire and Nevada on February 6, Georgia on February 13, and Michigan on February 27.
Neither the DNC nor the RNC directly controls the exact date of nominating primaries, however. State political parties, state law, and state election regulators ultimately decide those dates. States could choose not to observe the DNC and RNC schedules, for example, although both parties penalize noncompliance with early primary line-ups by reducing the number of delegates a state has at the national convention.
With that in mind, here's a rundown on the status of the early primary states.
Iowa: On May 3, the state Democratic Party released a draft delegate selection plan for the 2024 presidential contest. The plan would have Iowa Democrats hold their caucuses on the same day as Republicans and proposes a mail-in caucus voting period. The plan doesn't offer specifics on dates for the caucus, the mail-in caucus window, or when the party would announce the caucus winner. Iowa Democrats could, for example, hold an in-person caucus in line with state law, which requires the party to hold a caucus before any other state's presidential nomination event, but set the date for counting mail-in votes and announcing their presidential nominee for after the early primary window, bringing their plan in line with the DNC calendar as well. The DNC will review the proposal in June. Iowa Republicans have not yet announced their caucus date. Additionally, the Iowa Legislature recently approved a bill requiring in-person caucus voting, which now awaits Gov. Kim Reynolds' (R) signature.
South Carolina: South Carolina Democrats released a draft delegate selection plan on April 15. The plan proposes holding their primary on February 3, 2024, in line with the DNC calendar. South Carolina Republicans have not yet announced their primary date.
New Hampshire: The secretary of state, who selects New Hampshire's presidential primary date, has not yet announced when it will take place. The New Hampshire Democratic Party said in their delegate selection plan that they will hold their primary on the same day as Republicans and said the primary date would be determined by the secretary of state. The DNC will review the plan in June. New Hampshire state law requires their primary to be the first primary in the nation, excluding caucuses and conventions.
Nevada: Nevada passed a bill in 2021 changing the state's presidential nominating process from a convention to a primary, and setting the primary date for the first Tuesday in February. The Nevada Democratic Party delegate selection plan says the primary will take place on February 6, in line with the DNC calendar and state law. The Nevada Republican Party has not yet decided whether it will participate in the state-run primary, or hold a party-sponsored caucus or convention instead. If Nevada Republicans participate in the state-run primary, Iowa, New Hampshire, and South Carolina would need to hold their Republican nominating events before February 6.
Georgia: Secretary of State Brad Raffensperger (R) announced on May 4 that Georgia's primary would take place on March 12, 2024, falling outside the early primary window. That date would be in line with the RNC primary schedule, but in violation of the DNC primary schedule. Georgia Democrats are the only state Democratic Party in the DNC's proposed early window to have not released a final or draft delegate selection plan, which must be submitted to the DNC by June 3.
Michigan: Michigan passed a bill in January moving their presidential primary to February 27, 2024, in line with the DNC primary calendar. Newly passed state laws don't take effect until 90 days after a legislative session ends, though, so for the law to take effect in time for the 2024 primaries, the state legislature will need to adjourn early. Michigan Democrats' draft delegate selection plan says they will hold their primary on that date. Michigan Republicans have not yet announced whether they will hold a state-sponsored primary on February 27 or hold a party-sponsored caucus or convention on another date.
The graphic below shows the 2024 early primary dates confirmed so far (top line), the proposed 2024 early primary dates (middle line), and the dates when the 2020 primaries took place (bottom line).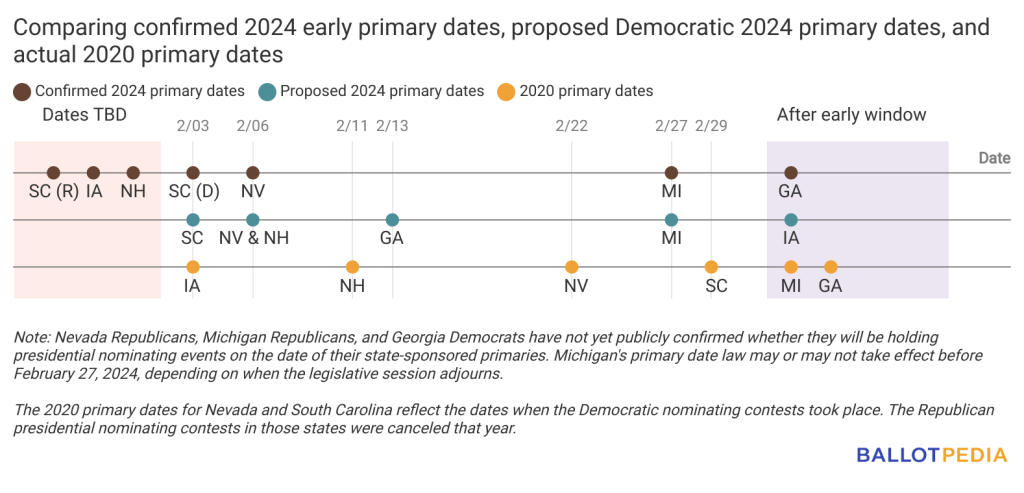 Learn more about the 2024 presidential calendar at the link below.
---
A final look at Kentucky's gubernatorial primaries
With Kentucky scheduled to hold statewide primaries tomorrow, let's take one final look at the two marquee elections of the day—the Democratic and Republican gubernatorial primaries.
In Kentucky, the candidate who receives the largest number of votes wins the primary, even if he or she does not win an outright majority of votes cast. There are no runoffs.
On the Democratic side, incumbent Gov. Andy Beshear (D) is facing two former gubernatorial candidates: Peppy Martin and Geoff Young. Martin was the Republican gubernatorial nominee in 1999, when she lost to then-Gov. Paul Patton (D), while Young ran unsuccessfully for governor as a Democrat in 2015.
Beshear was first elected in 2019, when he defeated incumbent Gov. Matt Bevin (R) 49.2% to 48.8%. Beshear previously served one term as attorney general from 2015 to 2019.
Twelve candidates are running in the Republican primary. A poll conducted by Emerson College last month showed State Attorney General Daniel Cameron receiving 30% of the vote, former U.S. Ambassador to the United Nations Kelly Craft receiving 24%, and Agriculture Commissioner Ryan Quarles receiving 15%. The three candidates have also received the most media attention.
According to the Associated Press' Bruce Schreiner, "The top contenders often sound alike on core GOP issues. They support gun rights, oppose abortion and demand more parental input in school policies."
Former President Donald Trump (R) endorsed Cameron last year, while U.S. Rep. James Comer (R-Ky.) and U.S. Sen. Ted Cruz (R-Texas) endorsed Craft. Quarles has the endorsements of four state senators, 22 state representatives, and other local state officials.
According to Vox's Ben Jacobs, "the biggest advantage Cameron has in the race is the endorsement of Donald Trump. The former president issued an endorsement of Cameron in 2022 which the state attorney general has heavily touted in recent weeks."
"In contrast," said Jacobs, "Craft's biggest advantage is her personal wealth. Her husband Joe Craft is a billionaire coal mogul. She has loaned her campaign almost $10 million this year and her husband has spent $1.5 million to fund the superPAC that supports her."
Quarles, according to The New York Times' Nick Corasaniti, "has aggressively campaigned in rural stretches of the state, racking up more than 235 endorsements from local officials, including county judges, mayors and magistrates."
The outcome of the general election will determine the state's trifecta status for at least the next year (with legislative elections scheduled for 2024). The state currently has a divided government: Democrats control the governorship, and Republicans control both legislative chambers.
The lieutenant governor is also up for election. In Kentucky, gubernatorial and lieutenant governor candidates run as a ticket. Gubernatorial candidates have until Aug. 8 to designate a running mate.
Kentucky—alongside Kansas, Louisiana, and North Carolina—is one of four states with a Democratic governor that President Donald Trump (R) won in 2020. That year, Trump defeated Joe Biden (D) 62% to 36% in the state. The last Democratic presidential nominee to carry the state was former President Bill Clinton in 1996.
At the state level, though, Democratic governors have led Kentucky for 64 of the past 76 years. The state has elected three Republican governors since World War II, each serving single terms from 1967 to 1971, 2003 to 2007, and 2015 to 2019.
Kentucky is also holding elections for Attorney General, Secretary of State, Treasurer, Auditor of Public Accounts, and Commissioner of Agriculture on Tuesday, as well as a special election for State Senate District 28.
---
States have enacted more election-related legislation in 2023 than at this point last year
As of May 11, legislators across the country have enacted 134 election-related bills this year, 18 more than the 116 bills states had enacted at this point in 2022.
Of this year's 134 enacted bills, Republicans sponsored 80, or 60%, up from 50% of the total enacted at this point last year. Democrats sponsored 16%, down from 21% in 2022. Bills with bipartisan sponsorship make up 13% of the total enacted, down from 19% last year. Those with unclear partisan sponsorship are up to 12% from 10% in 2022.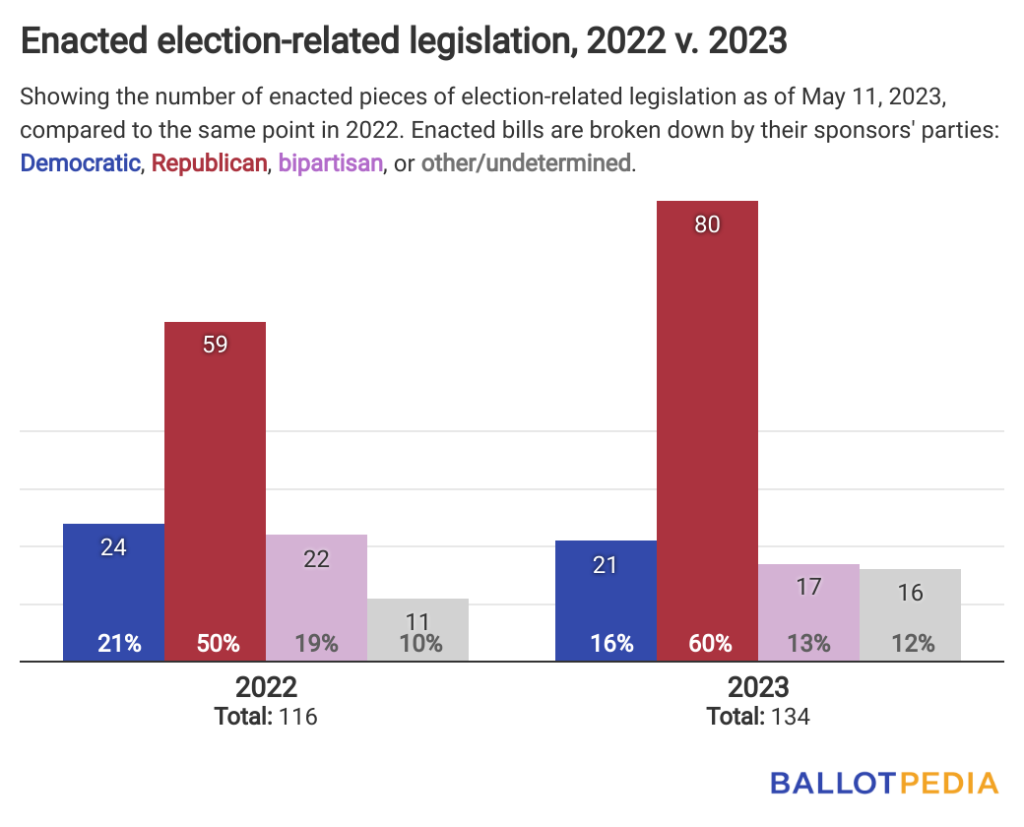 ---
This past week, state legislators enacted three new election-related bills, including:
House Bill 3 in Minnesota, which restores the right to vote for those convicted of a felony after they have served their time. The bill also modifies voter registration and absentee voting provisions, and prohibits intimidation, deception, interference, or conspiracy related to election administration or voting.
Senate Bill 143 in Montana, which allows for a referendum to terminate citizen initiated zoning districts.
House Bill 4099 in South Carolina, which establishes an additional precinct in Lancaster County.
In addition to these three newly-enacted bills, 52 other bills have moved further along in the legislative process over the past week: four passed both chambers and are awaiting final approval, and 48 passed one chamber, moving on to the next.
You can view a full list of enacted bills this year here.
To stay up-to-date with the latest news in election-related legislation, subscribe to The Ballot Bulletin, our weekly newsletter—dropping every Friday afternoon—that delivers the latest updates on election policy. Every week, we track legislative activity, big-picture trends, recent news, and in-depth data from our Election Administration Legislation Tracker.