Note: The final edition of Union Station will arrive on June 9. We are so grateful for your readership over the past five years. Want in-depth reporting about federal courts, election policy, school board politics, and more? Check out and subscribe to Ballotpedia's other newsletters here.
In today's Union Station:
2023 sees the highest number of public-sector union bills introduced in state legislatures since 2018, 
DeSantis signs Florida SB 256 and unions file lawsuits,
And an update on cases we've been watching at the Supreme Court. 
2023 sees highest number of public-sector union bills introduced in state legislatures since 2018
Ballotpedia is currently tracking 225 public-sector union bills in state legislatures—the most we've tracked in any one year since we began covering public-sector union policy ahead of the U.S. Supreme Court's ruling in Janus v. AFSCME in 2018.
Since then, we have tracked an average of 151 bills each year. Until 2023, the year with the highest number of public-sector union bills introduced was 2018 (202 bills), and the year with the fewest was 2020 (102 bills). From 2018 to today, an average of 15 bills have been enacted each year, ranging from five bills in 2020 to 30 bills in 2018.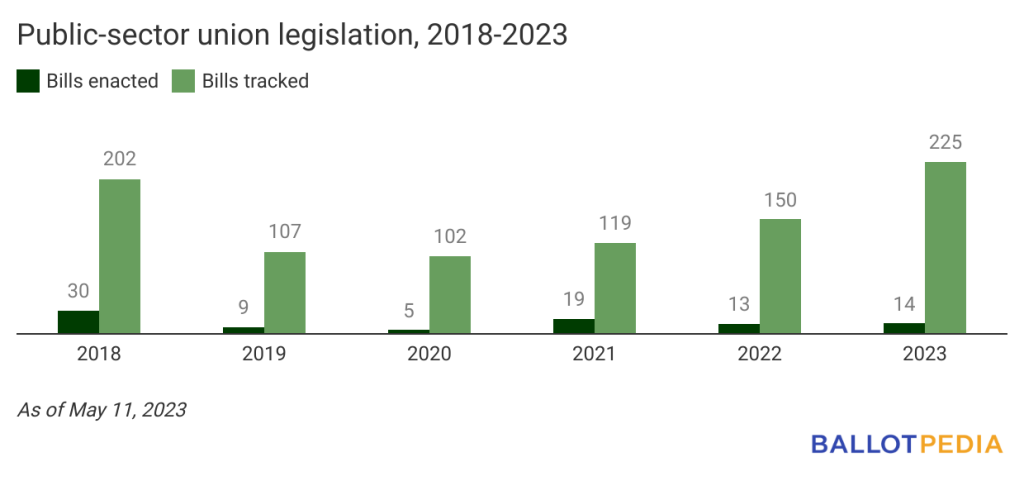 The chart below shows the breakdown of these bills by sponsor party affiliation. In 2023, Democrats have introduced a higher percentage of these bills than in previous years, at 68% of all bills introduced.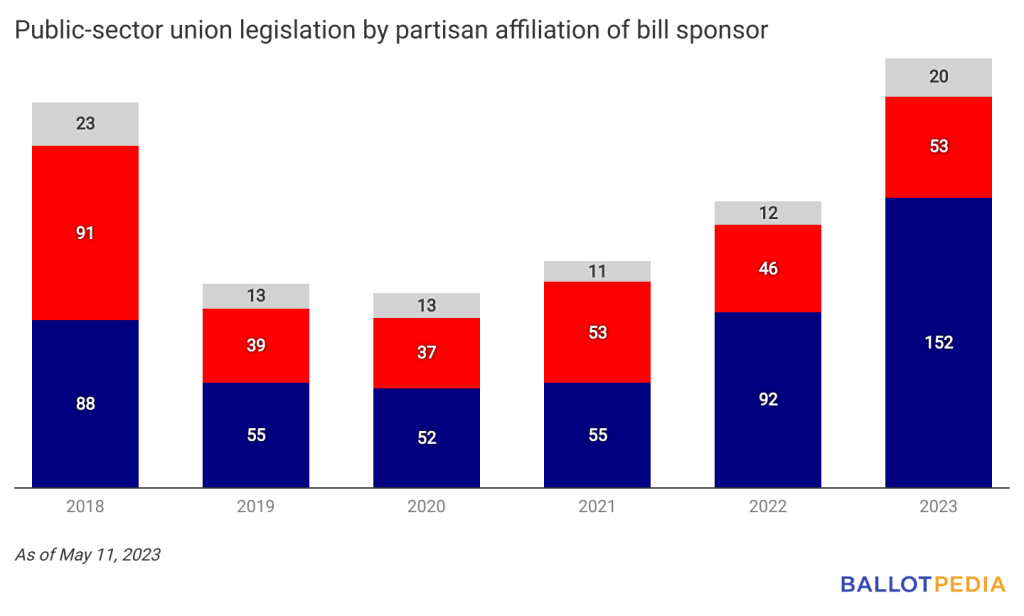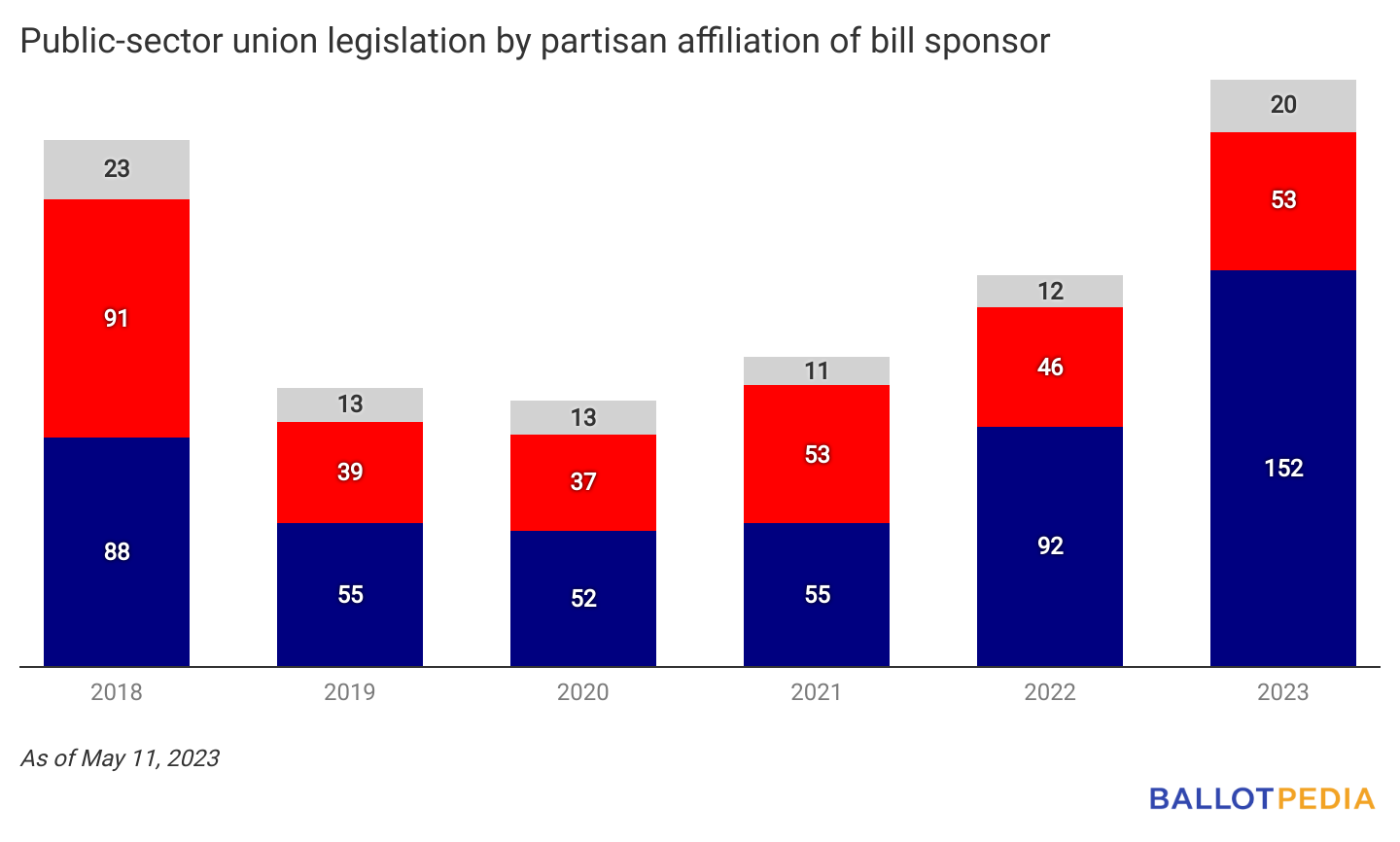 Next month, we'll take a look at the status of this year's bills and see which ones have advanced or been enacted so far.
---
DeSantis signs Florida SB 256, unions file lawsuits
Florida Gov. Ron DeSantis (R) signed Senate Bill 256 on May 9. To read more about the bill in an earlier edition of Union Station, click here.
In part, the bill says that except for unions representing law enforcement officers, correctional officers, correctional probation officers, and firefighters—which are exempted from the bill's provisions—"[A]n employee organization that has been certified as a bargaining agent may not have its dues and uniform assessments deducted and collected by the employer from the salaries of those employees in the unit. A public employee may pay dues and uniform assessments directly to the employee organization that has been certified as the bargaining agent."
The bill also requires public-sector employees wanting to belong to a union to sign a membership authorization form, requires unions to allow members to revoke membership at any time, requires unions to provide members with an annual audited financial statement, and amends registration and renewal requirements for certified bargaining agents, including requiring recertification if the number of dues-paying union members is less than 60% of eligible employees in the unit.
DeSantis said on Twitter, "By signing the Paycheck Protection Act, Florida teachers will be able to choose how their hard-earned money is spent. School unions will no longer be able to hold teachers' paychecks hostage with veiled threats while hiding where the money goes."
On May 9, the Alachua County Education Association, United Faculty of Florida–University of Florida, United Faculty of Florida, and Florida Education Association filed a lawsuit in the U.S. District Court for the Northern District of Florida. A second group of unions filed a lawsuit in state court the same day.
Responses
Support
Americans for Prosperity-Florida state director Skylar Zander said, "Florida lawmakers have made a clear statement to prioritize the state's workforce over the self-interest of unions."
Workers for Opportunity senior labor policy advisor Vincent Vernuccio said, "Democracy works, and this is union democracy at its best. … With this new law, Gov. DeSantis and state legislators are empowering Florida teachers to chart their own path forward and requiring more transparency from the unions that have the privilege of representing those teachers."
Opposition
Senate Minority Leader Lauren Book (D) said, "The Legislature put hurdles in the way of many public unions, taking away voluntary automatic deductions and making it harder for them to exist by adding more red tape. … We can trust teachers to make their own personal choices in how they spend their hard-earned money, and attempting to silence the groups that advocate for better pay and better working conditions is unconstitutional and undemocratic."
Florida Education Association president Andrew Spar said, "If Gov. DeSantis thinks he will silence us, he's dead wrong. We will do everything in our power to guarantee that Florida's teachers, staff, professors and all public employees have a voice in their workplaces. No matter the pushback, educators will continue to stand up for our students, our professions and public education."
In Kentucky, where lawmakers on March 29 voted to override Gov. Andy Beshear's (D) veto of Senate Bill 7—which also prohibits public employers from deducting union dues from employee wages—the Kentucky Education Association has asked for a temporary block on the law while their lawsuit is being heard.
---
Supreme Court updates
Since our last edition, one public-sector union lawsuit we're tracking has been appealed to the U.S. Supreme Court: Kolkowski v. Ashtabula Area Teachers Association. The petitioner's questions presented are as follows: (1) "Whether a public employee in Ohio under a collective bargaining agreement providing for binding arbitration has the Constitutional right either fundamentally or more specifically under ORC 4117.03(A)(5) to retain counsel to present their grievance under that agreement?" (2) "If not, whether due process rights of public employees Fourteenth Amendment to the Constitution require at a minimum a balancing test to be conducted under Mathews v. Eldridge, 424 U.S. 319 (1976) as to the procedural protections 'due' when an objective expectancy of an individual liberty or property interest is identified?"
Respondents Ashtabula Area Teachers Association, Ohio Education Association, and Ashtabula Area City Schools Board of Education waived their right to respond, and the case was distributed for the justices' conference on May 25.
On May 1, the court denied the following petitions:
---
What we're reading
---
The big picture
Number of relevant bills by state
We are currently tracking 225 pieces of legislation dealing with public-sector employee union policy. On the map below, a darker shade of green indicates a greater number of relevant bills. Click here for a complete list of all the bills we're tracking.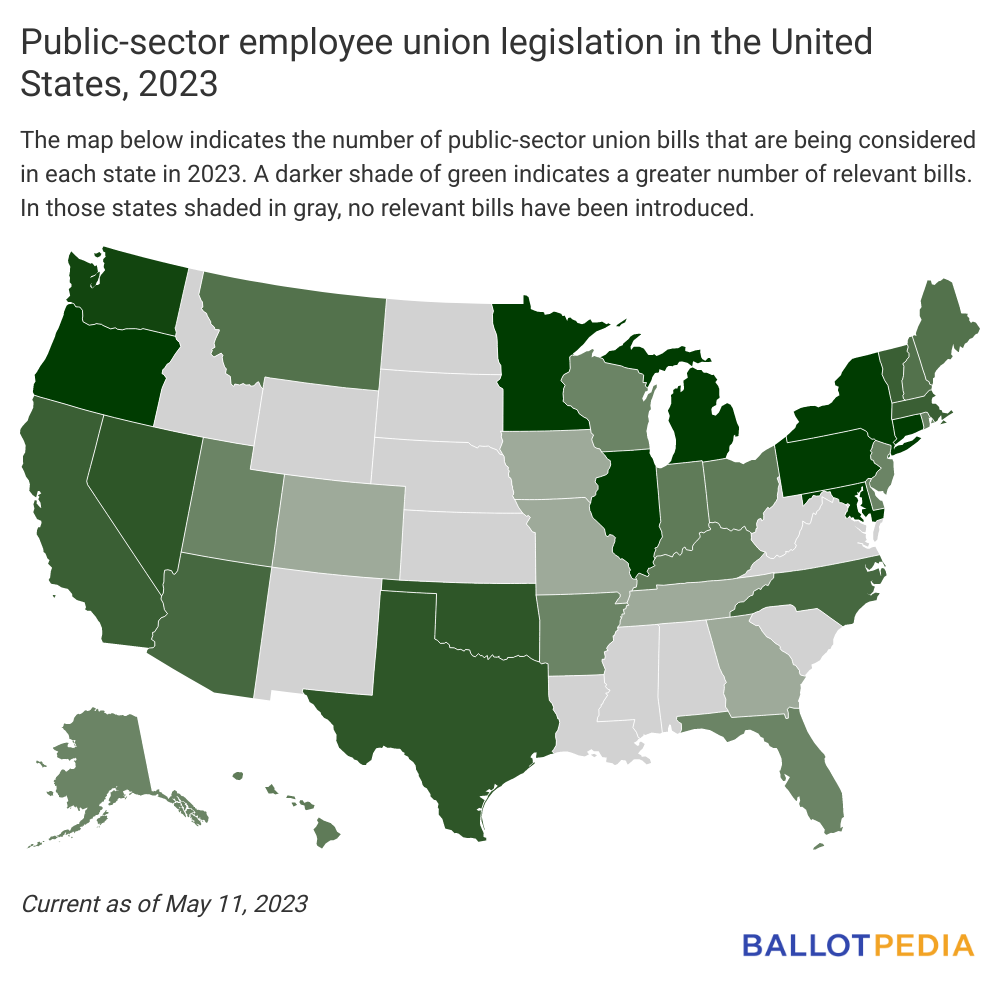 Number of relevant bills by current legislative status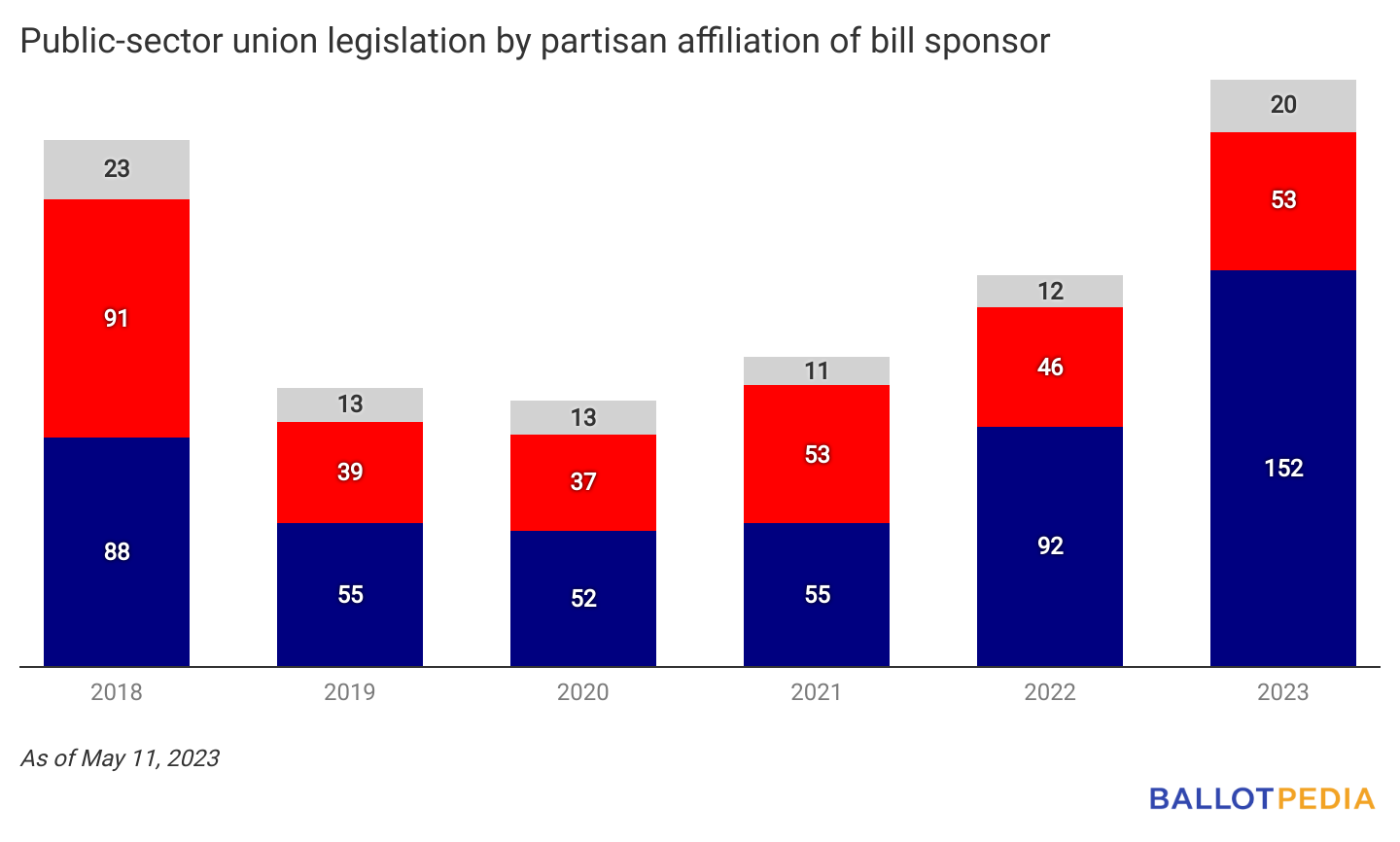 Number of relevant bills by partisan status of sponsor(s)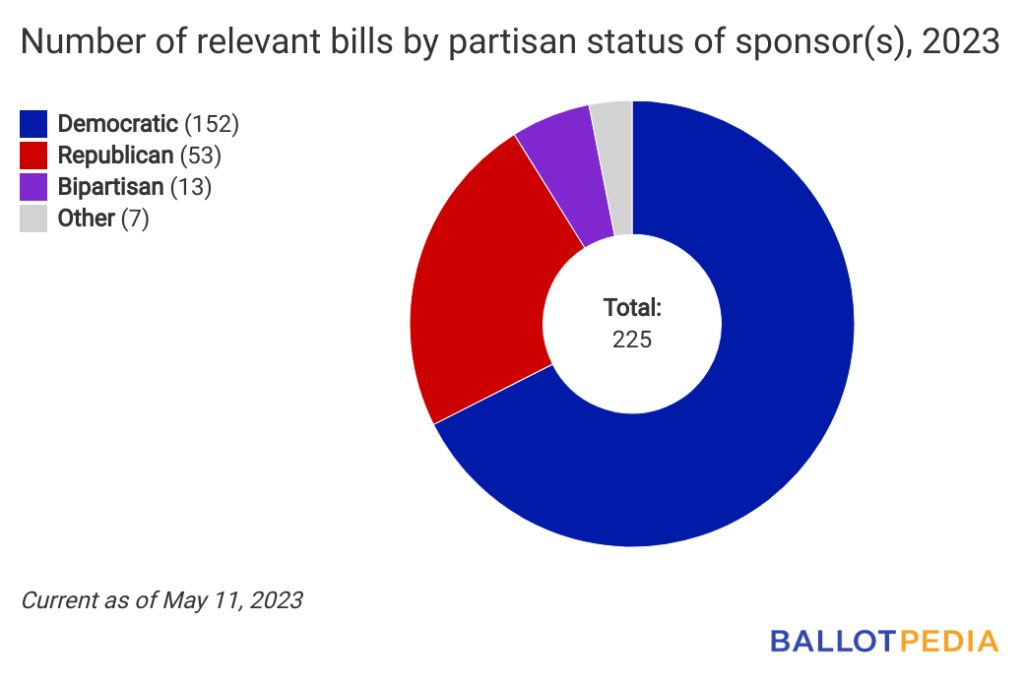 ---
Recent legislative actions
Below is a complete list of relevant legislative actions taken since our last issue.
---
Thank you for reading! Let us know what you think! Email us at editor@ballotpedia.org with any feedback or recommendations.