The percentage of all enacted election-related bills dealing with single or multiple topics has stayed consistent from 2022 to 2023. As of May 2023, 53.5% of enacted bills address a single topic (61 of 114 bills), compared to 55.6% (158 of 284) of bills enacted by the end of 2022. Enactment of omnibus-style election bills, which we define here as bills addressing five or more topics, is similar to last year. Omnibus bills comprise 7% of bills enacted this year (eight of 114) compared to 9.2% (26 of 284) at the end of 2022, and 8% (nine of 113) of enacted bills as of the same date last year.
So far in 2023, 64.8% of all election-related bills address a single topic, 3.8% are omnibus bills, and 0.78% (19 bills) contain provisions related to 10 or more categories. Last year, 61.7% of all election-related legislation were single-topic bills, 4.8% were omnibus bills, and just 19 bills (0.73%) addressed 10 or more topics.
In 2022 and 2023, Republican-trifecta states have enacted more omnibus election bills than states with divided governments or Democratic trifectas, and Republican lawmakers have sponsored more enacted election omnibus bills across all states. Republican trifecta states have enacted six of this year's eight enacted omnibus election bills, while at the same point in 2022, Republican trifecta states had enacted seven of nine omnibus bills nationwide. At the end of 2022 legislative sessions, Republicans had sponsored 14 of the 26 enacted bills that address five or more topics, while Democrats sponsored five, four were introduced by a committee of the legislature, and three had bipartisan sponsorship.
New Mexico's HB4 and Utah's HB0448, both enacted earlier this year, provide examples of omnibus election legislation.
New Mexico's HB4, among other changes, expands the roster of state agencies that provide automatic voter registration services, restores voting rights to people convicted of a felony who have completed any required prison time, and defines who may return another voter's absentee ballot.
Utah's HB0448, among other changes, authorizes the lieutenant governor to establish audit requirements and procedures, provides new guidelines and time frames for voter list maintenance, and mandates training for election employees and volunteers.
Seventy-three bills addressing five or more topics are still under consideration, while 1,266 single-topic bills and 543 bills that address two-to-four topics remain active in 2023 regular legislative sessions.
Ballotpedia's comprehensive Election Administration Legislation Tracker is the basis for the data and analysis in this report. This user-friendly tracker covers thousands of election-related bills in state legislatures and organizes them by topic with neutral, expert analysis from Ballotpedia's election administration researchers. We assessed whether each bill addresses a single or multiple topics by tagging them with one of 92 tags, organized into 23 broader subject areas. For more information on these subject category tags, click here.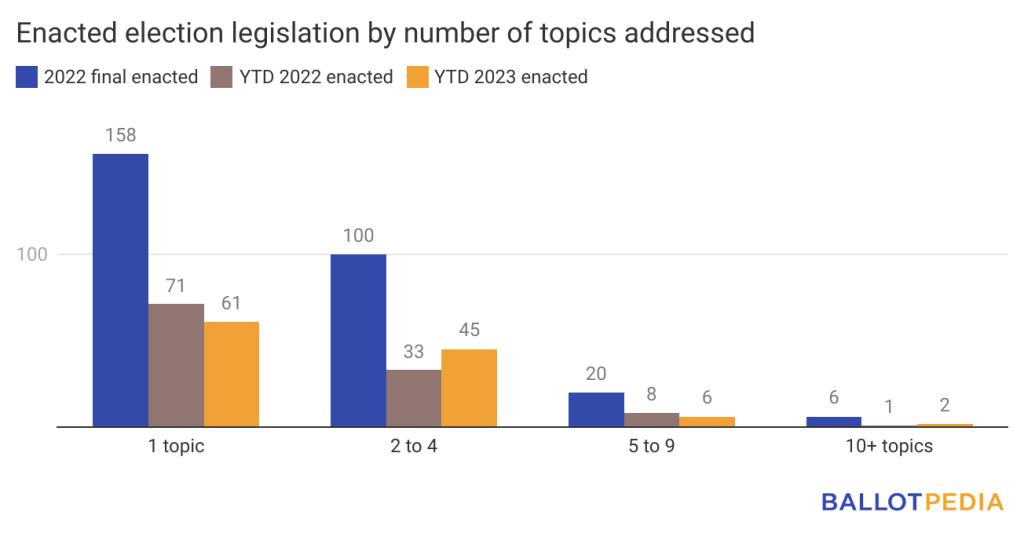 See also: