Welcome to the Wednesday, May 17, Brew.
Here's what's in store for you as you start your day:
Enactment rate of single-topic versus omnibus-style election bills on par with 2022
Ohio voters to decide whether to require 60% vote to approve future constitutional amendments
More than 30,000 pages added to the Federal Register so far this year
---
Enactment rate of single-topic versus omnibus-style election bills on par with 2022
The percentage of enacted election-related bills, regardless of whether they deal with one or multiple topics, has thus far remained consistent this year compared to 2022.
Whenever legislators introduce a new election-related bill, Ballotpedia researchers read through it, provide neutral analyses, and assign it one or more topics out of nearly 100 sub-topics for each relevant area the bill addresses.
At one end, there are bills that address a single topic. At the other end, there are omnibus-style bills, which we define as any bill that addresses five or more topics.
As of the start of May, 61 of this year's 114 enacted election-related bills (54%) addressed a single topic. This is down from 63% of the 113 bills enacted at this point in 2022 but similar to the year-end total of 158 of the 284 enacted (56%).
At the other end of the spectrum, lawmakers have enacted eight omnibus-style bills (7% of the year-to-date total), compared to nine (8%) at this point in 2022. By the end of last year, lawmakers enacted 26 (9%).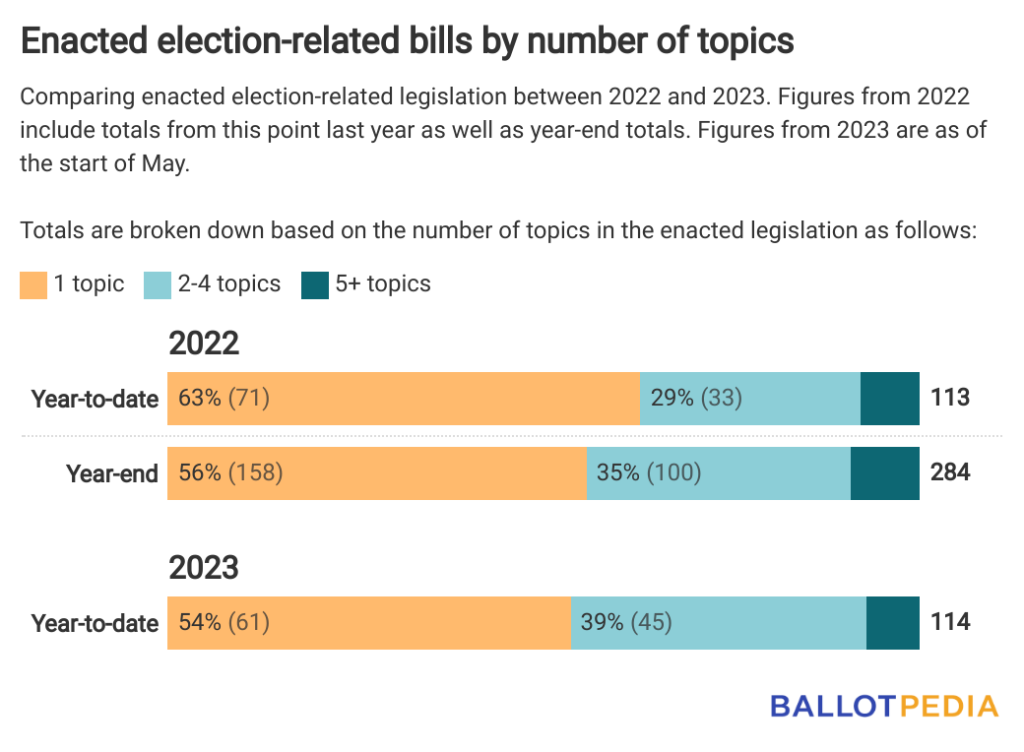 In both 2022 and 2023, states with Republican trifectas enacted more omnibus-style bills than states with divided governments or Democratic trifectas. Republican trifecta states account for six of this year's eight omnibus-style bills, seven of the nine enacted at this point last year, and 14 of the 26 enacted by the end of 2022.
Here are a few examples of the omnibus-style legislation we've been tracking, New Mexico's House Bill 4 (HB 4) and Utah's House Bill 448 (HB 448), both enacted earlier this year:
In New Mexico, HB 4 expands the roster of state agencies that provide automatic voter registration services, restores voting rights to people convicted of a felony who have completed their required prison time, and defines who may return another voter's absentee ballot.
In Utah, HB 448 authorizes the lieutenant governor to establish audit requirements and procedures, provides new guidelines and timeframes for voter list maintenance, and mandates training for election employees and volunteers.
Looking ahead, 1,266 single-topic bills are still under consideration, along with 543 bills that address two to four topics, and 73 omnibus-style bills.
Ballotpedia's comprehensive Election Administration Legislation Tracker is the basis for this info and much more! Our user-friendly tracker covers thousands of election-related bills and organizes them by topic with neutral, expert analyses from Ballotpedia's researchers.
---
Ohio voters to decide whether to require 60% vote to approve future constitutional amendments
Ohio voters will decide whether to raise the number of votes needed to approve constitutional amendments on Aug. 8.
We brought you an update about this measure on April 27 after the Senate approved placing it on the ballot with a 26-7 vote. On May 10, the House similarly approved the measure with a 62-37 vote.
Currently, voters in Ohio can approve a constitutional amendment with at least 50% of the vote. This proposed amendment would create a supermajority vote requirement where at least 60% of voters must approve future constitutional amendments.
Every state in the county, except Delaware, requires voter approval for all constitutional amendments.
Right now, Ohio is one of 38 states that require a simple majority vote for all amendments. If voters approve this measure, it would join the four other states that require more than a simple majority vote: Colorado, Florida, Illinois, and New Hampshire.
There are also seven states that have other requirements that affect the votes needed to approve an amendment, like basing it on the total votes cast in the election rather than just the total cast on the amendment itself.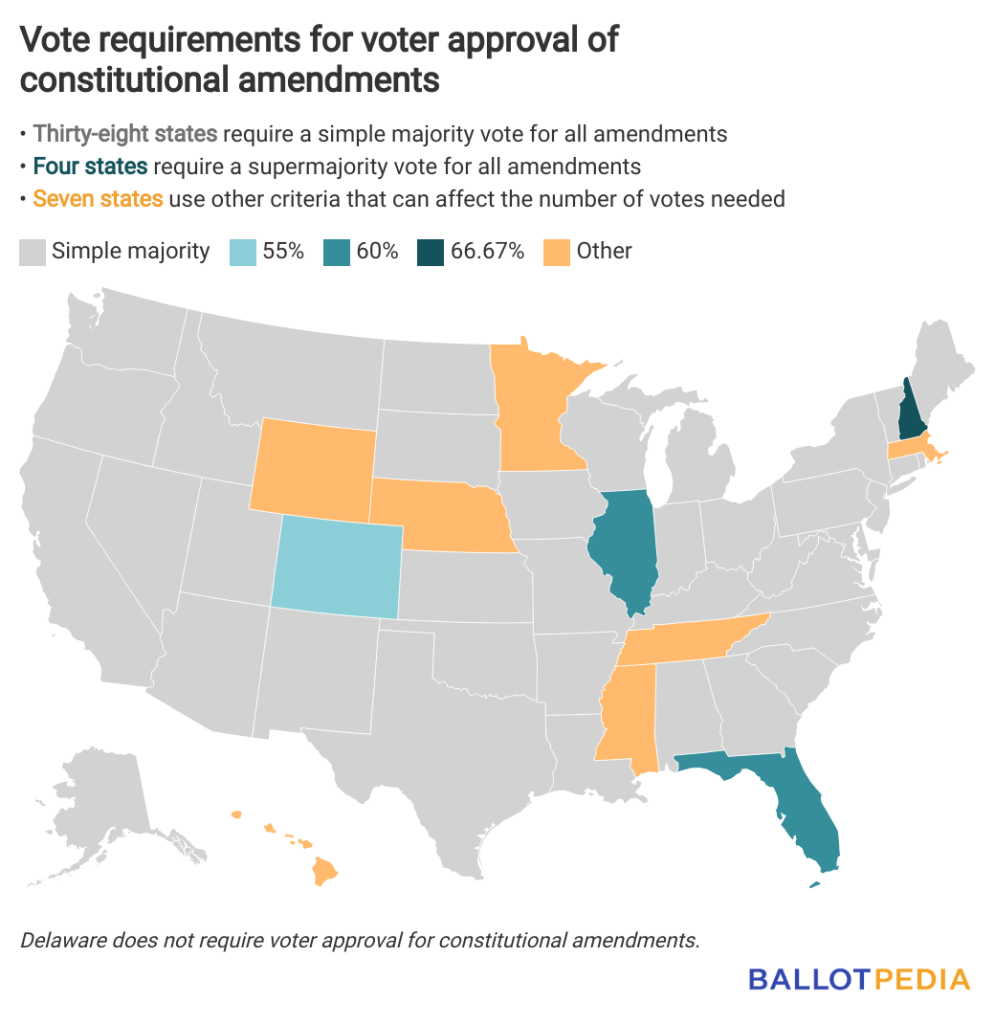 Ohio's proposal would apply to both legislatively-referred and citizen-initiated amendments. While there are no amendments slated for upcoming elections, supporters of two citizen-initiated amendments are currently gathering signatures with a July 5 deadline in order to appear on the Nov. 7 ballot:
If the voters approve the supermajority vote amendment on Aug. 8, the 60% threshold would apply to either of these citizen-initiated amendments were they to qualify for the November ballot.
This is the fourth amendment in the past two years that would change the number of votes needed to approve a ballot measure.
In 2022, voters in Arizona, Arkansas, and South Dakota decided on similar proposals.
In Arizona, voters approved an amendment with 51% of the vote creating a 60% vote requirement for any future measures that affect taxes.
Voters in Arkansas and South Dakota defeated their respective measures, which would have created 60% vote requirements in certain cases.
In Arkansas, the proposal would have increased the vote threshold to 60% for all ballot measures, not just amendments. Voters defeated this proposal, 59% to 41%.
In South Dakota, the proposal would have created a 60% vote requirement for any measures that increase taxes or require the state to appropriate $10 million within the first five fiscal years. Voters defeated this proposal, 67% to 33%.
As with the above amendments, the Ohio proposal similarly needs a simple majority to pass, with its increased vote threshold applying only to future amendments.
---
More than 30,000 pages added to the Federal Register so far this year
Between May 8 and 12, 1,354 pages were added to the Federal Register for a year-to-date total of 30,888 pages.
The Federal Register is a daily journal of federal government activity that includes presidential documents, proposed and final rules, and public notices. It is a common measure of an administration's regulatory activity, accounting for regulatory and deregulatory actions.
President Joe Biden's (D) administration has added an average of 1,626 pages to the Federal Register each week this year. At that rate, the total number of pages would reach more than 84,000 by the end of the year.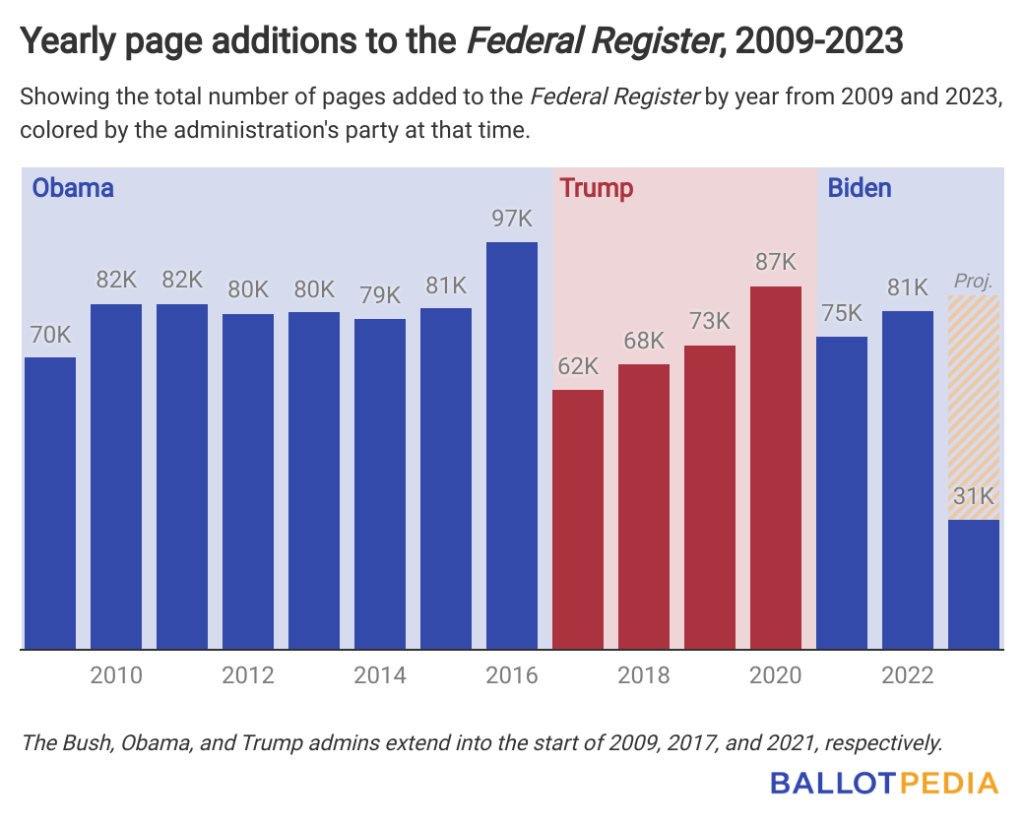 The most recent addition to the Federal Register included 454 notices, 10 presidential documents, 46 proposed rules, and 47 final rules.
Certain rules are classified as significant, meaning they could have large effects on the economy, environment, public health, or state/local governments.
Some of those significant additions include:
Establishing the National Standards for the Physical Inspection of Real Estate from the Housing and Urban Development Department;
Creating fishery management measures for ocean salmon fisheries off the coast of the Pacific Northwest from the National Oceanic and Atmospheric Administration; and,
Temporarily extending certain telemedicine flexibilities for the prescription of controlled medications from the Drug Enforcement Administration and the Department of Health and Human Services.
The Biden Administration has issued 146 significant proposed rules, 89 significant final rules, and four significant notices as of May 12.
Ballotpedia maintains page counties and other information about the Federal Register as part of our Administration State Project. This neutral encyclopedic resource analyzes the administrative state, its philosophical origins, legal precedents, and scholarly examinations. The project also monitors and reports on measures of federal government activity.