Welcome to the Thursday, May 18, Brew.
Here's what's in store for you as you start your day:
Pennsylvania election results
Kentucky gubernatorial primaries
Jacksonville mayoral election runoff
Plus: Staff Writer Doug Kronaizl talks school board elections in the latest episode of On the Ballot, our weekly podcast
Tuesday was a busy day! Ballotpedia covered elections in 10 states, including statewide primaries in Pennsylvania and Kentucky, and mayoral elections in Philadelphia and Jacksonville, Florida.
Read below for a round-up of some of the key races we followed. Click here to view the results for all the elections we covered on Tuesday.
---
Pennsylvania election results
Let's start in Pennsylvania, where primary voters chose the Democratic and Republican nominees for a state supreme court seat up for election in November. Voters also decided two state legislative races that determined control of the state house, and Democratic primary voters in Philadelphia decided their party's nominee for mayor.
Democrat Daniel McCaffery and Republican Carolyn Tornetta Carluccio will face each other in the November 7 general election after they each won their respective primaries on Tuesday.
McCaffery, a Superior Court judge and former assistant district attorney in Philadelphia, advanced to the general election after defeating fellow Superior Court judge Deborah Kunselman in the Democratic primary. With 94% of the vote in, McCaffery had received 59% of the vote to Kunselman's 41%. Pennsylvania's Democratic Party endorsed McCaffery in January
On the Republican side, Carluccio advanced to the general election after defeating Pennsylvania Commonwealth Court Judge Patricia McCullough. With 95% of the vote in, Carluccio had received 54% of the vote to McCullough's 46%. Pennsylvania's Republican Party endorsed Carluccio in February.
Carluccio has served as a judge on the Montgomery County Court of Common Pleas since 2010. Before then, she served as an assistant U.S. Attorney and as Montgomery County's Chief Public Defender.
Pennsylvania conducts closed primaries, meaning only voters who registered with a political party before Tuesday's election could participate in that party's primary.
The general election winner will succeed Justice Max Baer (D), who passed away on September 30, 2022. Baer's term expired in 2023, and he was unable to run for re-election since Pennsylvania judges must retire at the end of the calendar year in which they reach 75 years of age.
As a result of the vacancy caused by Baer's death, the court currently has a 4-2 Democratic majority, and partisan control cannot change as a result of this year's election. Partisan control of the court last changed due to the 2015 elections from a 4-3 Republican majority to a 5-2 Democratic majority.
State legislative special elections
Pennsylvania also held two special elections that resulted in Democrats maintaining control of the state house, after both parties held serve:
In House District 108, Republican Michael Stender defeated Democrat Trevor Finn. With more than 90% of the vote in, Stender had 61% to Finn's 36%. Libertarian candidate Elijah Scretching had 3.5%. The special election was to succeed former Rep. Lynda Schlegel Culver (R), who resigned on February 28 after she won a special election in the Pennsylvania State Senate.
In House District 163, Heather Boyd (D) defeated Katie Ford (R) 60% to 39%. Libertarian candidate Alfe Goodwin received 1% of the vote. Boyd will succeed Michael Zabel (D) — who resigned on March 16.
Heading into the elections, Democrats had a 101-100 majority. Following the election results on Tuesday, Democrats will have a 102-101 majority, the same number they had following the 2022 elections. If Republicans had won both special elections on Tuesday, the party would have gained control of the chamber.
Pennsylvania is one of 11 states with a divided government. Democrats control the state house and the governorship, while Republicans control the state Senate.
Philadelphia's Democratic mayoral primary
Cherelle Parker defeated eight other candidates in the Democratic primary for mayor of Philadelphia. She will face David Oh—the only candidate who ran for the Republican nomination—in the general election on November 7. Incumbent Jim Kenney (D), who was first elected mayor in 2015 and re-elected in 2019, is term-limited.
As of this writing, Parker had received 33% of the vote. Former Philadelphia City Controller Rebecca Rhynhart was in second place with 23% of the vote, while former council member Helen Gym was in third place with 21%. Former Councilman Allan Domb was in fourth place with 12%. No other candidate had received more than 10% of the vote.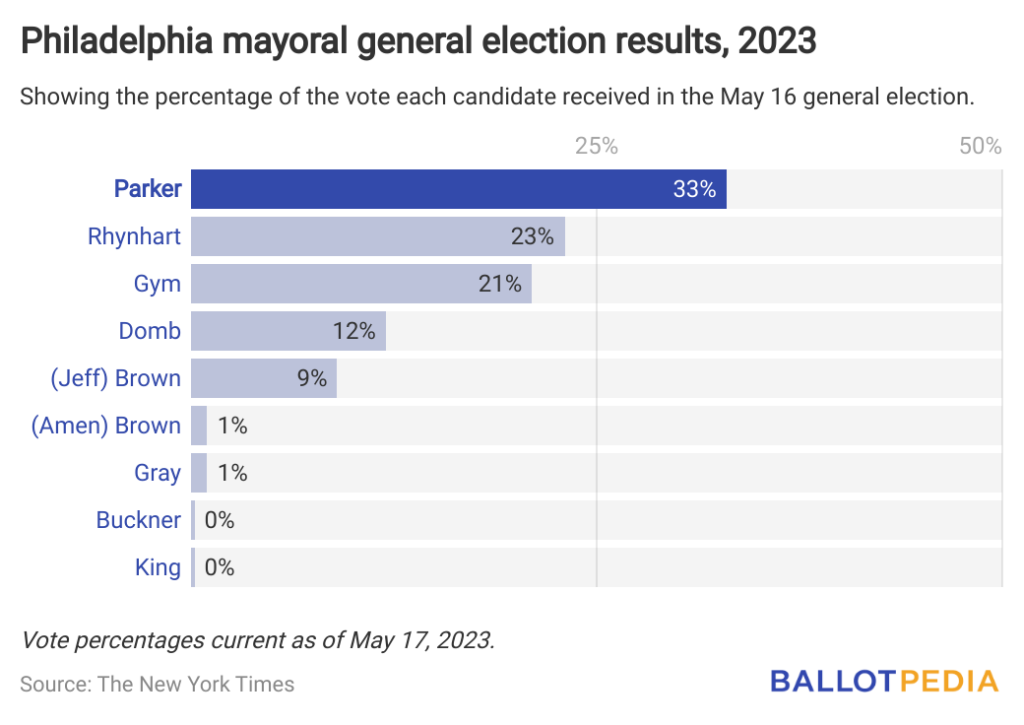 Parker was elected to the city council in 2016 and served until 2022, when she resigned to run for mayor. She began her political career as a city council staff member and served in the Pennsylvania House of Representatives from 2005 to 2016.
Parker had the endorsements of City Council President Darrell Clarke (D), U.S. Rep. Dwight Evans (D), and the Building Trades Union. Rhynhart had the endorsements of former Philadelphia mayors Ed Randell (D), Michael Nutter (D), and John Street (D). U.S. Sen. Bernie Sanders (D), U.S. Rep. Alexandria Ocasio-Cortez (D), and the Working Families Party endorsed Gym.
In the three elections since 1999 that did not have an incumbent, the winner of the Democratic primary received a majority of the vote once—Jim Kenney received 56% in 2015. Michael Nutter won the Democratic primary in 2007 with 37% of the vote, and John Street won the Democratic primary in 1999 with 36%. Parker's current vote share will continue this trend.
Philadelphia's last 10 mayors were all elected as Democrats, and the last Republican to serve as mayor was Bernard Samuel, whose term ended in 1952.
The filing deadline for the general election for independent candidates is August 1, 2023.
Pennsylvania also held primaries for two seats on the Pennsylvania Superior Court, one seat on the Pennsylvania Commonwealth Court, and a number of local elected offices. Click below to see results for all the Pennsylvania elections we covered on Tuesday.
---
Kentucky gubernatorial primaries
Meanwhile, in Kentucky, incumbent Gov. Andy Beshear (D) and State Attorney General Daniel Cameron (R) will face each other in the Nov. 7 general election for governor after each advanced from their respective primaries.
In Kentucky, the candidate who receives the largest number of votes wins the primary, even if he or she does not win an outright majority of votes cast.
On the Democratic side, Beshear received 91% of the vote.
Beshear was first elected in 2019, when he defeated incumbent Gov. Matt Bevin (R) 49.2% to 48.8%. He previously served as attorney general from 2015 to 2019.
Speaking to supporters on Tuesday night, Beshear said, "Right now, in every corner of our commonwealth, what I see is hope and optimism. … Together, we're working to build on the progress we've made and emerge even stronger than ever."
On the Republican side, Cameron defeated Commissioner of Agriculture Ryan Quarles, former U.S. Ambassador to the United Nations Kelly Craft, and nine other candidates. As of this writing, Cameron had received 47% of the vote. Quarles was in second place with 22%, while Craft was third with 18%.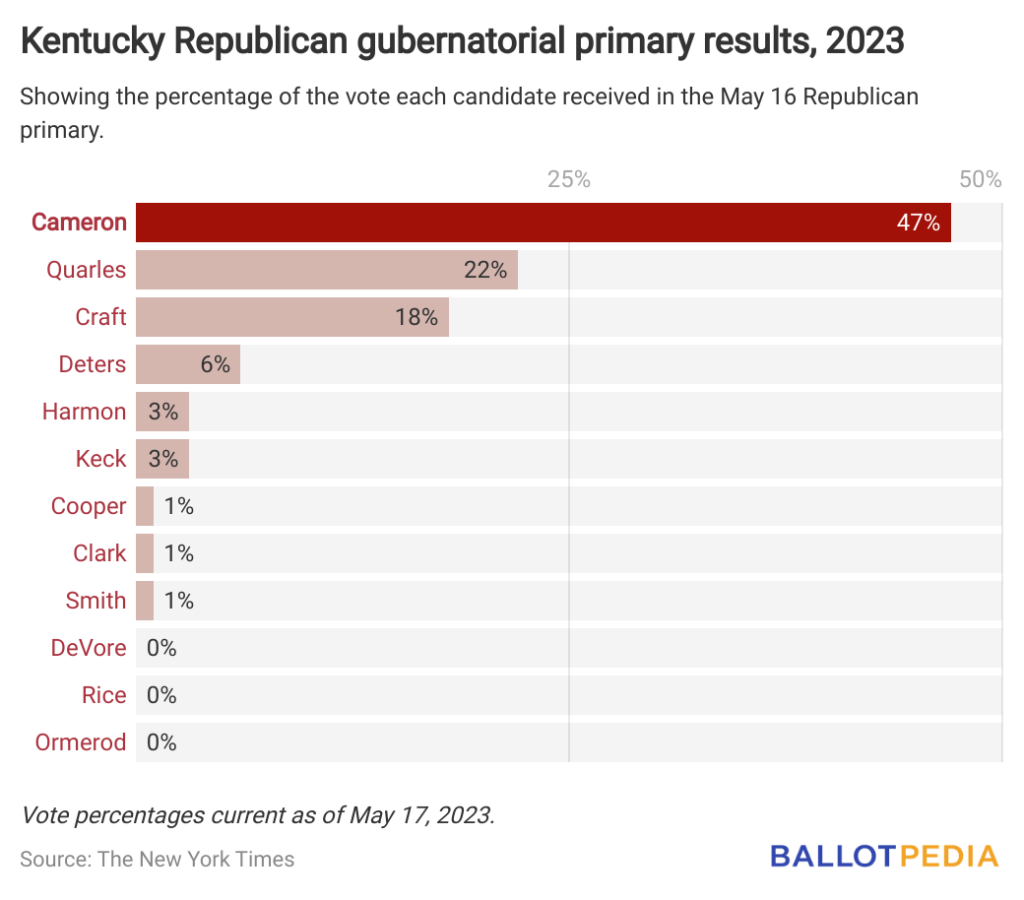 Cameron, a former aide to Sen. Mitch McConnell (R), had the endorsement of former President Donald Trump (R). Quarles had the endorsements of four state senators, 22 state representatives, and other local state officials, while Craft was endorsed by U.S. Rep. James Comer (R-Ky.), Florida Gov. Ron DeSantis (R), U.S. Sen. Ted Cruz (R), and Vivek Ramaswamy (R).
Following the results, Cameron said, "To anyone who looks like me, know that you can achieve anything. … Know that in this country and in Kentucky, all that matters are your values." Cameron is the state's first Black attorney general.
The outcome of the general election will determine the state's trifecta status for at least the next year (with legislative elections scheduled for 2024). The state currently has a divided government: Democrats control the governorship, and Republicans control both legislative chambers. The Cook Political Report rates the general election Lean D.
The lieutenant governor is also up for election. In Kentucky, gubernatorial and lieutenant governor candidates run as a ticket, and gubernatorial candidates have until Aug. 8 to designate a running mate.
Kentucky also held primaries for Attorney General, Secretary of State, Treasurer, Auditor of Public Accounts, and Commissioner of Agriculture on Tuesday, as well as a special election for State Senate District 28. Click here to see the results of those elections.
---
Jacksonville mayoral election runoff
In Jacksonville, Florida, Donna Deegan (D) defeated Daniel Davis (R) 52% to 48% in the general election runoff for mayor.
Tuesday's election in Jacksonville is one of two mayoral elections in the 100th most populous U.S. cities that has resulted in partisan change this year. The other one—the mayoral election in Colorado Springs, Colorado—also took place on Tuesday. Independent Yemi Mobolade defeated Republican Wayne W. Williams in that election.
Eighteen mayoral elections in the top 100 most populous cities have resulted in partisan changes since 2019.
As of May 2023, the partisan breakdown of the mayors of the 100 most populous U.S. cities was 62 Democrats, 26 Republicans, three independents, and seven nonpartisans. Two mayors' partisan affiliations were unknown.

Once Deegan and Mobolade are sworn in, the partisan breakdown of the mayors of those cities will change to 63 Democrats, 24 Republicans, four independents, and seven nonpartisans.
Jacksonville is also the most populous American city with a Republican mayor. Once Deegan is sworn in, the most populous Republican city will be Fort Worth, Texas.
Twenty-nine of the 100 largest cities are holding mayoral elections in 2023. Twelve of those have already taken place, and 17 are scheduled to take place later in the year. Heading into the year, 20 of those cities had a Democratic mayor, six had a Republican mayor, two mayors were independent or nonpartisan, and one mayor's partisan affiliation was unknown.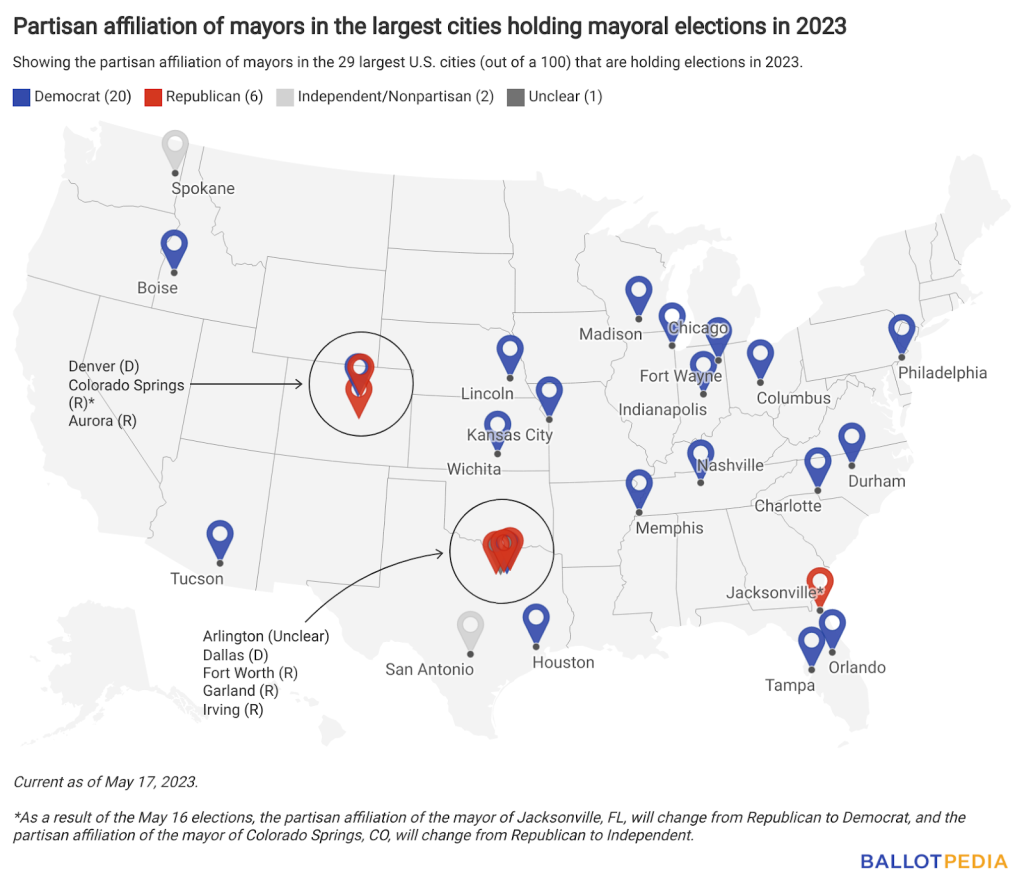 ---
Ballotpedia Staff Writer Doug Kronaizl talks school board elections, endorsements in the latest episode of On the Ballot, our weekly podcast
Finally, don't forget to join our host, Victoria Rose, and Ballotpedia Staff Writer Doug Kronaizl as they discuss the most recent developments in school board elections in the latest episode of On the Ballot, our weekly podcast.
In the episode, Victoria and Doug dive into the results of the April 4 elections and walk our listeners through Ballotpedia's efforts to cover school board elections this year. These efforts include gathering endorsements in thousands of key races as well as covering elections in the 200 largest school districts by student enrollment and all school districts within the 100 largest cities by population. We're also proving comprehensive coverage of every school board election in ten states: Colorado, Kansas, Minnesota, Ohio, Oklahoma, Pennsylvania, South Dakota, Virginia, Washington, and Wisconsin. Tune in to find out more!
New episodes of On the Ballot come out Thursday afternoons, so if you're reading this on the morning of May 18, you've still got time to subscribe to On the Ballot on your favorite podcast app before this week's episode comes out!
Click below to listen to older episodes and find links to where you can subscribe.