Welcome to the Monday, May 22, Brew.
By: Juan Garcia de Paredes and Samuel Wonacott
Here's what's in store for you as you start your day:
Here's why an initiative to create a power company is on the ballot in Maine this November
A look at recent state supreme court activity
States enacting more election-related legislation in 2023 than 2022
---
Here's why an initiative to create a power company is on the ballot in Maine this November
Canada. Spain. Maine. Ballot measures. Power lines. It's not every day we see those subjects appear in one Brew story, but here we are. So, let's dive right in and see what this is all about.
As of this writing, one initiative has been certified for the November ballot in Maine—the Maine Creation of Pine Tree Power Company Initiative. If approved, the initiative would create a municipal electric transmission and distribution utility called the Pine Tree Power Company.
Voters use ballot measures as a vehicle for enacting all sorts of policies and reforms, but it's not every day—or every year—that you see one that would establish an electric utility company. I called up Ryan Byrne, managing editor of our ballot measures team, to get some background on the campaign that put this initiative on the ballot—and the contrasting campaign to stop it. Here's what I learned.
What's the initiative?
The Maine Creation of Pine Tree Power Company Initiative would create a municipal consumer-owned electric transmission and distribution utility called the Pine Tree Power Company, run by a publicly elected board, and allow it to purchase and acquire all investor-owned transmission and distribution utilities in Maine.
Why is this happening in Maine?
Two investor-owned companies distribute the majority of Maine's power—Central Maine Power (CMP) and Versant. CMP services 79.6% of Maine's residents, while Versant services 16.8%. Spanish-based electric utility company Iberdrola holds a majority stake in Avangrid, CMP's parent company. Enmax, an energy company in Alberta, Canada, owns Versant. Maine also has nine consumer-owned utilities which serve around 3.5% of residents.

In 2018, various Massachusetts utility companies signed an agreement with CMP to build a 145-mile high-voltage transmission line, known as New England Clean Energy Connect (NECEC) that would bring hydroelectric power from Quebec, in Canada, to Massachusetts. In 2021, Maine residents voted 59.2% to 40.8% to approve Question 1, an initiated state statute which prohibited the construction of the NECEC. Question 1 was the most expensive ballot measure in Maine's history, with around $100 million raised in support and opposition. When Question 1 passed, NECEC Transmission, LLC and Avangrid filed a lawsuit to overturn it. On April 20, 2023, a jury decided in a 9-0 unanimous verdict that the construction of the NECEC can resume.
Why is so much money going into these measures?
Supporters of the Pine Tree Power Company have said a consumer-owned utility company would be more affordable and reliable and have criticized CMP and Versant for their ties to foreign-owned businesses. Critics of the initiative have said that buying CMP and Versant would require billions of dollars worth of debt that consumers would pay through their electric bills.
Our Power, the PAC registered to support the initiative to create the Pine Tree Power Company, and Maine Affordable Energy, the PAC registered to oppose the initiative, have collectively spent over $14 million. The vast majority of those funds have come from Avangrid, CMP's parent company, which has contributed over $13 million.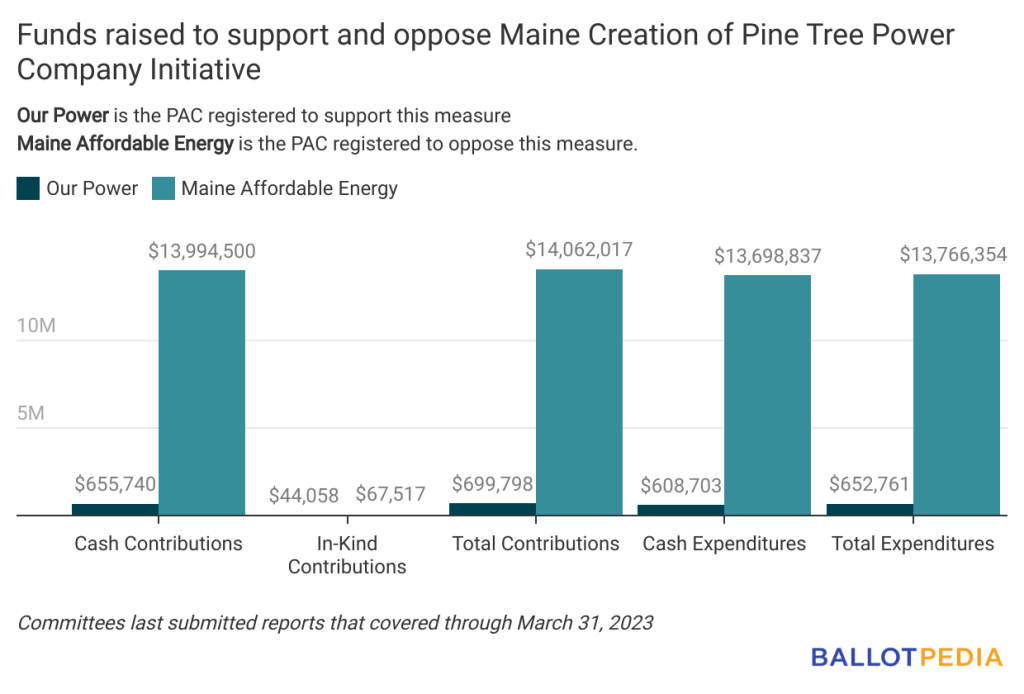 Who generally lines up on the differing sides?
Support for and opposition to the various ballot measures that have related to CMP, including Question 1 and the Pine Tree Power Company initiative, have not broken down along predictable partisan lines.
Gov. Janet Mills (D) opposed Question 1, arguing hydropower would get Maine closer to a zero-carbon economy. She was joined by Dana Connors, president of the Maine State Chamber of Commerce, who based her support on what she saw as the NECEC's economic benefits.
On the other side, the Sierra Club supported Question 1 on the grounds that the NECEC would cause ecological damage. Former state Sen. Thomas Saviello (R), who was one of several Republicans in the state legislature to support the measure, said, "Mainers know they're being lied to by these two foreign corporations, and they know that this project will forever change our state's character, environment and economy in ways that will not benefit us."
This time around, the Maine State Chamber of Commerce has joined several local labor unions in opposing the creation of the Pine Tree Power Company. Supporters of the initiative have included Democratic and Republican lawmakers, including State Sen. Richard Bennett (R) and State Sen. Nicole Grohoski (D).
Have any other states had measures like this one?
The most recent measure similar to Maine's to make the ballot was in Massachusetts in 1976. Voters defeated Massachusetts Public Power Authority, Question 4 in a 85.12% to 14.88% vote. According to a Harvard Crimson story from that year, "Question 4, the proposal for a state takeover of wholesale electric power generation, lost by a margin of more than 2 to 1. The referendum was drafted by Rep. Michael J. Harrington '58 (D-Mass.) and was opposed by the state's power companies."
How do other states have power companies set up?
In 2017, according to a U.S. Energy Information Administration report, 1,958 electric utilities were publicly owned, 812 were cooperatives, and 168 were investor owned.

The Maine Supreme Judicial Court is scheduled to weigh in on several other initiatives that could appear on the November ballot. Click below to read more about the Pine Tree Power Company initiative.
---
A look at recent state supreme court activity
State supreme courts issued 110 opinions between May 8-14. The North Dakota Supreme Court led the field with 12 opinions issued, closely followed by Pennsylvania with 11 and Arkansas with eight.
Last week's 110 opinions account for 4% of the year-to-date total of 2,474. The Supreme Court of Appeals of West Virginia still sits at the top of the yearly leader board with 178 opinions issued this year, followed by Pennsylvania with 170 and Delaware with 151.
State supreme courts have been issuing an average of 130 opinions per week so far this year. This figure is lower compared to the total weekly average in 2022, which stood at 143 opinions per week, and also lower than the average of 160 opinions issued per week in 2021.
Supreme courts in 18 states have issued fewer than 25 opinions since the start of the year.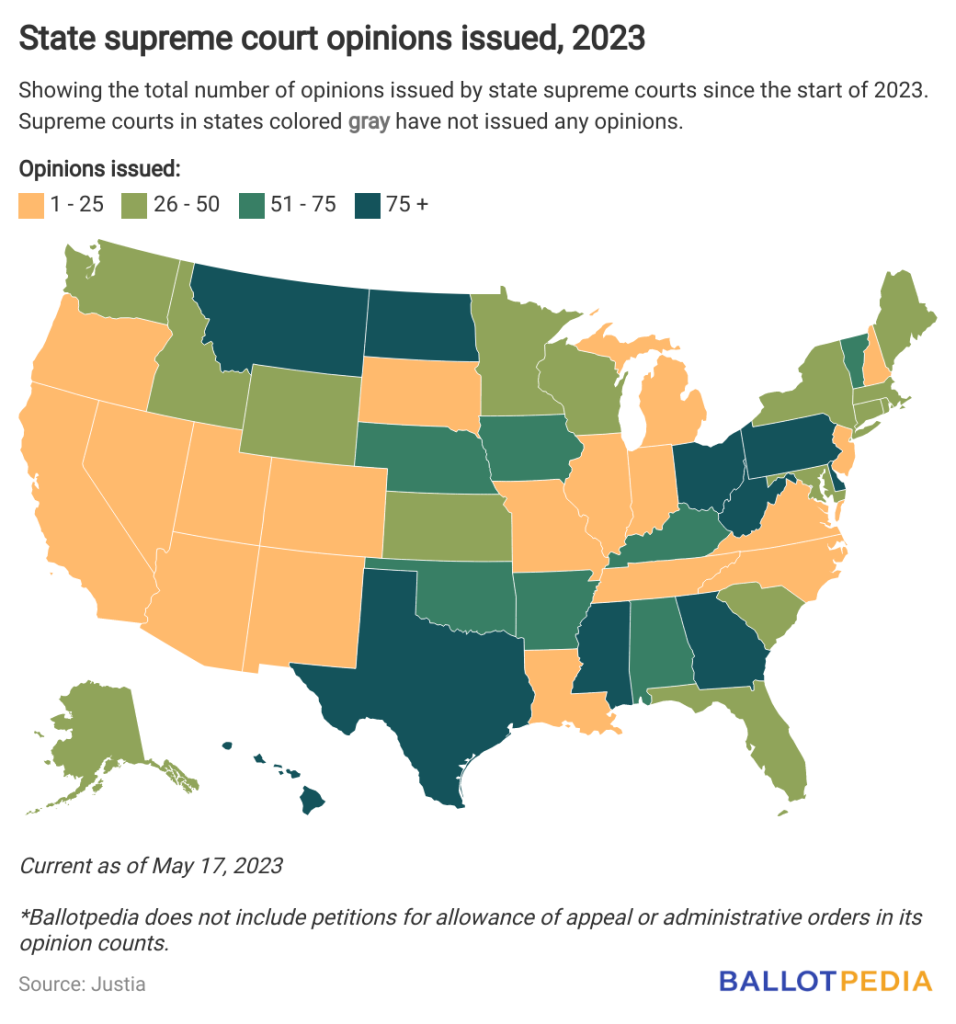 Some of the state supreme court opinions issued this year include those in:
Wisconsin, where the court affirmed that an arbitrator did not exceed his powers when disciplining a Green Bay Police Department detective;
Texas, where the court "held that Texas courts have specific jurisdiction over German automobile manufacturers based on their intentional post-sale tampering with affected vehicles that were owned, operated, and serviced in Texas;" and,
Iowa, where the court dismissed the Iowa Department of Human Services' (DHS) appeal against a district court's ruling that Iowa's Medicaid program must pay for sex reassignment surgery.
Supreme courts in Pennsylvania, West Virginia, Texas, and Delaware regularly end the year as some of the country's most active courts. Collectively, they accounted for 26% of all opinions issued in 2021 and 2022, and, to date, 28% in 2023.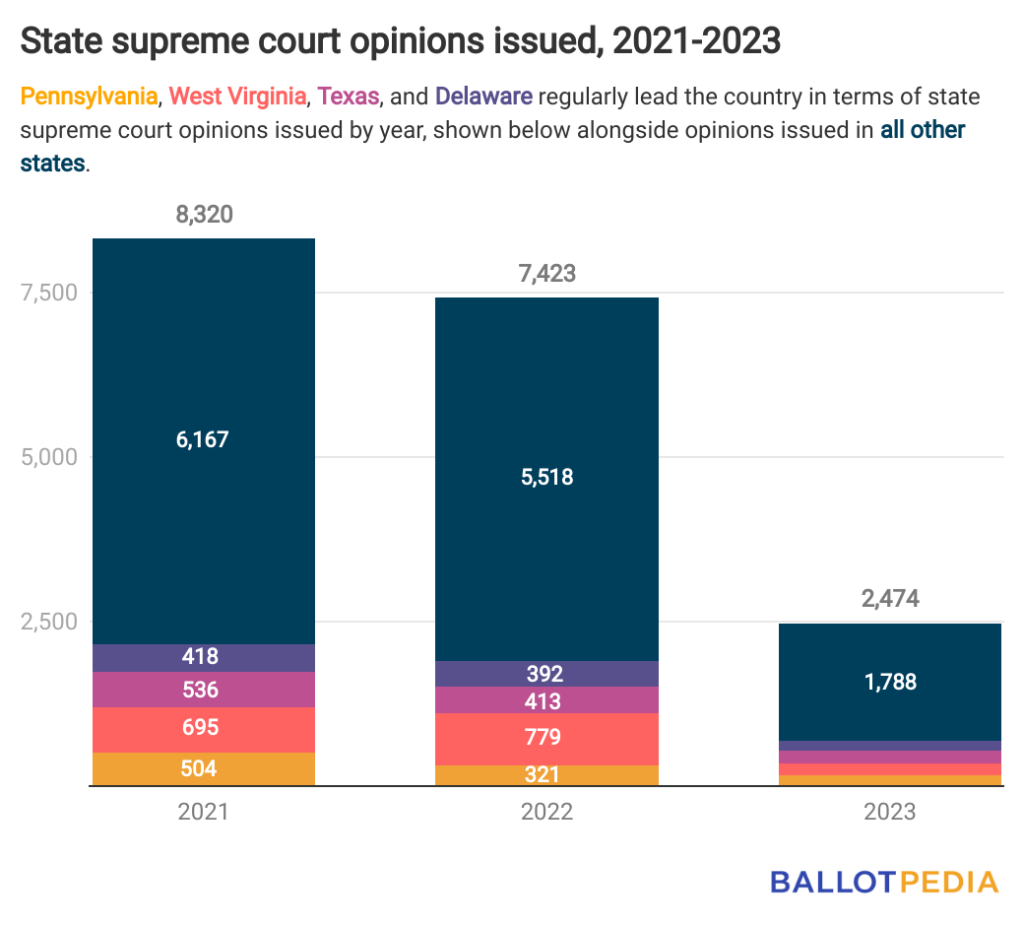 Every state and the District of Columbia have at least one supreme court, known as a court of last resort. Oklahoma and Texas have two courts of last resort, one for civil cases and one for criminal proceedings. Supreme courts do not hear trials of cases. Instead, they hear appeals of decisions made in lower courts. The number of justices on each state supreme court ranges between five and nine.
In 2020, we conducted a study identifying the partisan balance in every state supreme court. You can find that research here. We also identified which justices ruled together most often in our Determiners and Dissenters report found here.
---
States enacting more election-related legislation in 2023 than 2022
As of May 18, legislators across the country have enacted 148 election-related bills this year, 33 more than the 115 bills states had enacted at this point in 2022.
Of this year's 148 enacted bills, Republicans sponsored 91, or 61%, up from 52% of the total enacted at this point last year. Democrats sponsored 15%, down from 20% in 2022. Bills with bipartisan sponsorship make up 13% of the total enacted, down from 19% last year. Those with unclear partisan sponsorship are up to 11% from 9% in 2022.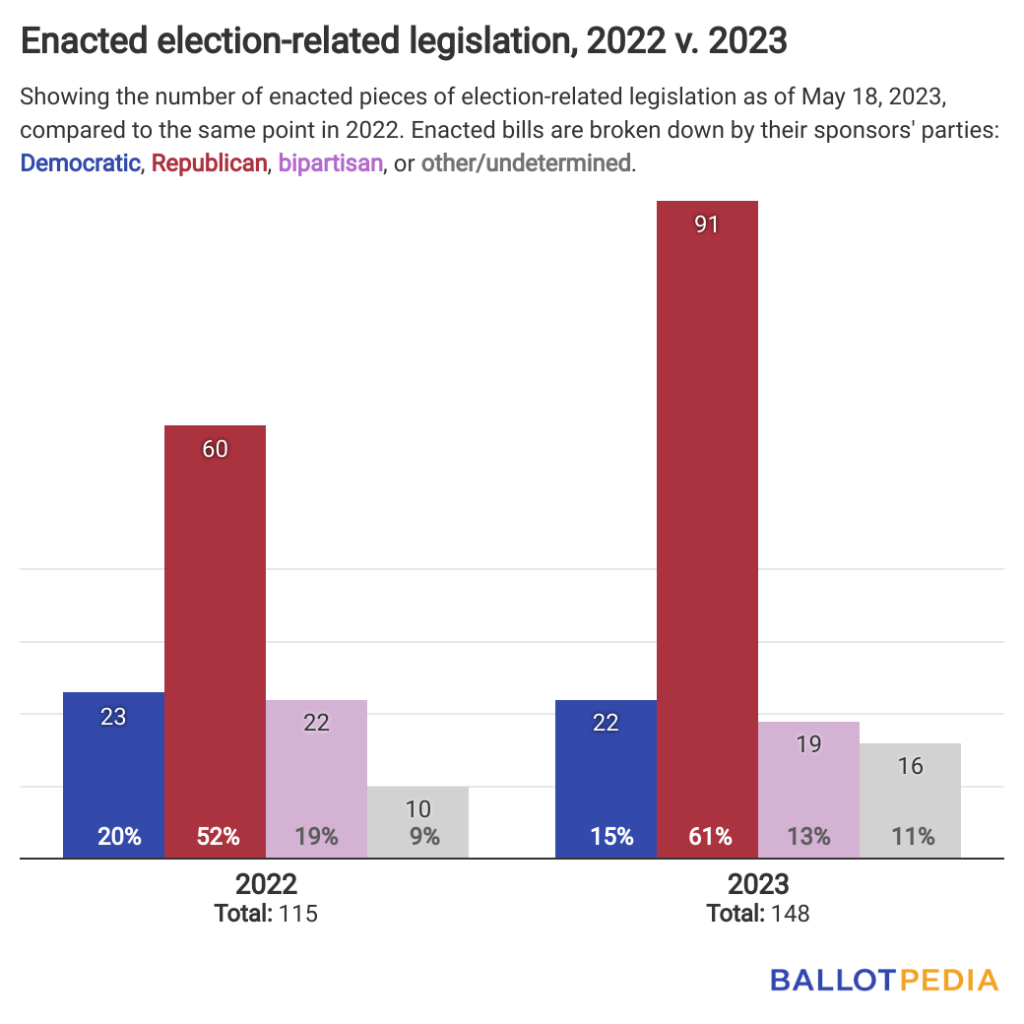 This past week, state legislators enacted six new election-related bills, including:
House Bill 4350, in South Carolina, which specifies the official map number designating Cherokee County precinct locations created by the Board of Voter Registration and Elections.
Senate Bill 0978, in Tennessee, which requires a specific sign be placed at each polling place reminding voters that it is a crime to vote in a party primary when a voter is not a bona fide party member.
Senate Bill 112, in Washington, which updates processes related to voter registration, including providing for automatic voter registration when a person applies for government services requiring proof of citizenship.
In addition to these six newly-enacted bills, 83 other bills passed one chamber this week, moving on to the next.
You can view a full list of enacted bills this year here.
To stay up-to-date with the latest news in election-related legislation, subscribe to The Ballot Bulletin, our weekly newsletter—dropping every Friday afternoon—that delivers the latest updates on election policy. Every week, we track legislative activity, big-picture trends, recent news, and in-depth data from our Election Administration Legislation Tracker.