Welcome to the Tuesday, May 30, Brew.
Here's what's in store for you as you start your day:
A look at next week's mayoral runoff in Denver
States enacting more election-related legislation in 2023 than 2022
Latest edition of Hall Pass: Montana becomes the 46th state to authorize charter schools
---
Denver to elect a new mayor for the first time since 2011
Welcome back! We hope you had a restful Memorial Day weekend. Let's start the day with a look at one of the key elections set to take place next week: the runoff election for Mayor of Denver, Colorado. This is Denver's fifth open mayoral election since 1959. Incumbent Michael Hancock (D), first elected in 2011, is term-limited.
Kelly Brough and Mike Johnston are running in the June 6 runoff. They advanced from a field of 22 candidates in the April 4 general election, where Johnston received 25% of the vote, and Brough received 20%.
Denverite's Kyle Harris wrote that residents "are worried about the city's affordability … public safety and rising crime … [and] homelessness. People want solutions, and it's clear that the people of the city understand that the mayor's seat can try to tackle many of these issues." Harris added, "The mayor is powerful … [and] often described as the strongest elected position in the state."
Harris said Brough and Johnston are "centrist candidates … [who] cleaved toward the middle, offering an optimistic vision while gently pushing for using policing in their homelessness solutions." While the election is officially nonpartisan, Brough and Johnston are both Democrats. Denver's last Republican mayor was Richard Batterton, who served from 1959 to 1963.
Brough was chief of staff for former Mayor John Hickenlooper (D) from 2003 to 2009 before becoming president and C.E.O. of the Denver Metro Chamber of Commerce, a post she held until 2021.
Brough's endorsers include former Gov. Bill Ritter (D), former mayors Bill Vidal (D) and Wellington Webb (D), the Denver Police Protective Association, and the Marijuana Industry Group. The Republican Party of Denver also endorsed Brough. Andy Rougeot, the only Republican candidate to run this year, did not advance to the runoff.
Johnston is a former educator and school administrator who served in the state Senate from 2007 to 2019. He finished third in the state's 2018 Democratic gubernatorial primary.
Johnston's endorsers include U.S. Rep. Brittany Pettersen (D), former Mayor Federico Peña, and a number of local unions, including the Denver Area Labor Federation. Six candidates who ran in the April general election but did not advance to the runoff, including third-place finisher Lisa Calderón and fifth-place finisher Leslie Herod, also endorsed Johnston.
An April poll found 38.9% of respondents supported Johnston and 34.1% supported Brough, a difference within the poll's 4.8% margin of error. Twenty-seven percent of respondents were undecided.
The candidates have raised a combined $3.5 million dollars: $1.8 million for Brough and $1.7 million for Johnston.

Satellite spending has also played a role in this race. Advancing Denver has spent $4.1 million supporting Johnston, and A Better Denver has spent $1.3 million supporting Brough. Both organizations were created specifically to support their respective candidates.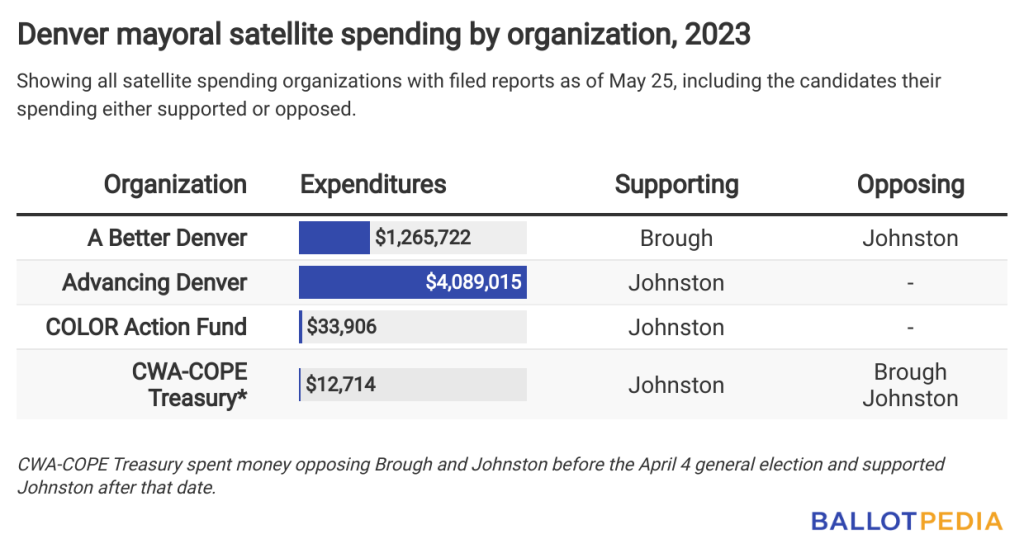 Both candidates say public safety, homelessness, and housing affordability are key issues in this race.
On the topic of homelessness, Brough said, "[T]here is not a single, monolithic homeless population and so we need a coordinated set of nuanced, population-specific approaches." Among these approaches, Brough included updates to the city's shelter system, creating supportive housing units, and investing in services.
Johnston said the city had to address "the lack of affordable housing, the absence of mental health support, and an explosion in the severity of addiction drugs." Johnston pledged to "build 1,400 additional units of housing … ending homelessness in Denver by the end of my first term."
Denver is the most populous city in Colorado and the 19th most populous city in the U.S. Twenty-nine of the 100 most populous cities, including Denver, are holding mayoral elections this year. Twelve of those have already taken place, and 17 are scheduled to take place later in the year. Of those, the elections in Jacksonville, Florida, and Colorado Springs, Colorado, are the only ones to have resulted in partisan change. Heading into the year, 20 of those cities had a Democratic mayor, six had a Republican mayor, two mayors were independent or nonpartisan, and one mayor's partisan affiliation was unknown.
As of May 2023, Democrats hold 62 top-100 mayoral offices, Republicans hold 26, independents hold three, and nonpartisan mayors hold seven. Two mayors' partisan affiliations are unknown.

Denver has a strong mayor government, where the mayor serves as chief executive, and the city council operates as a legislative branch. The mayor sets the city budget, nominates department heads, and appoints more than 700 officials citywide. The mayor also oversees the Denver International Airport, police and sheriff departments, and the community planning and development department.
---
States enacting more election-related legislation in 2023 than 2022
As of May 25, legislators across the country have enacted 164 election-related bills this year, 33 more than the 131 bills states had enacted at this point in 2022.
Of this year's 164 enacted bills, Republicans sponsored 103, or 63%, up from 54% of enacted bills at this point last year. Democrats sponsored 16%, down from 18% in 2022. Bills with bipartisan sponsorship make up 12% of the total enacted, down from 18% last year. Those bills with unclear partisan sponsorship are up to 10% from 9% in 2022.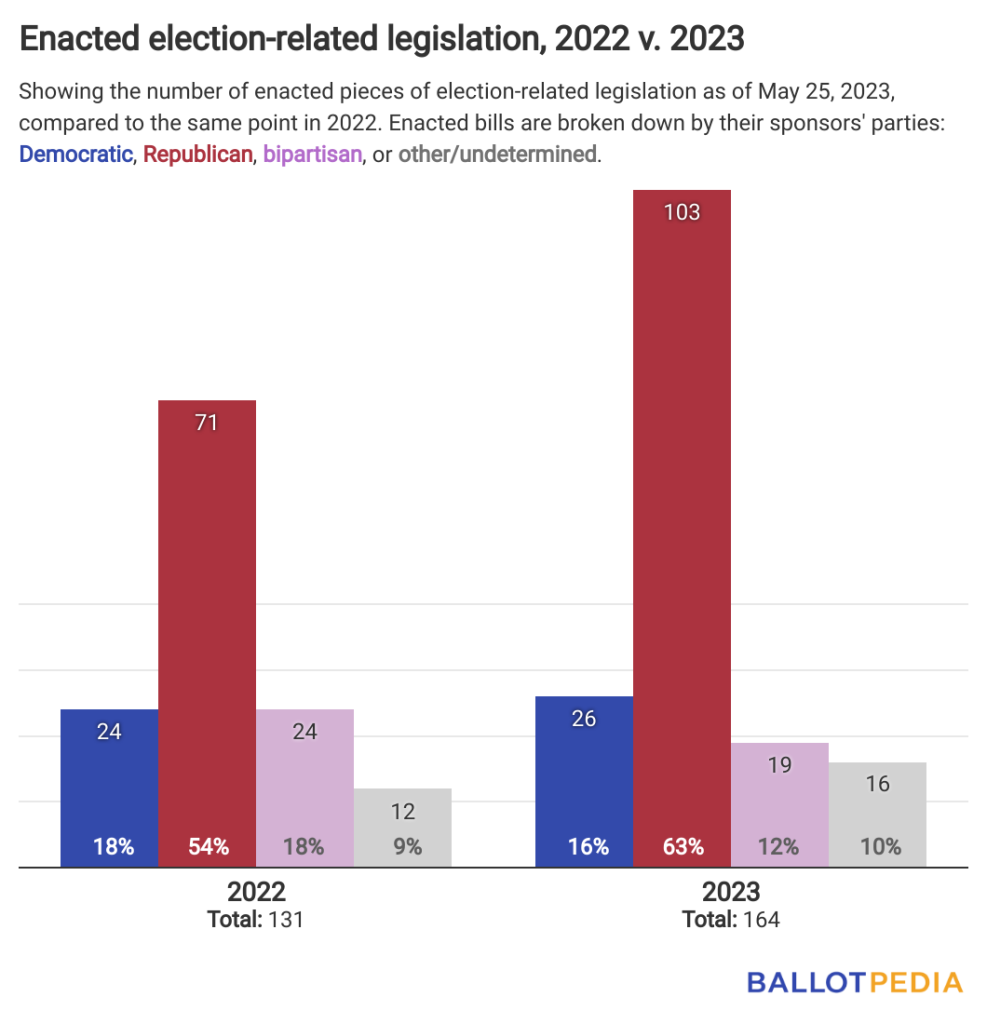 Last week, we tracked 12 newly enacted election-related bills, including:
Senate Bill 7050, in Florida, changes a number of election procedures in the state, and exempts officials running for president or vice president from the state's resign-to-run law.
House Bill 0828, in Tennessee, states that a visible sign informing voters of misdemeanor penalties for voting in a party's primary without being a party member must be posted at each polling place.
House Bill 229, in North Carolina, establishes four-year staggered terms for mayor and commissioners in the town of Halifax, makes the elections to these positions nonpartisan, and aligns municipal elections with the general election in odd-numbered years.
In addition to these 12 newly-enacted bills, we tracked 45 bills passing one chamber last week, moving on to the next. No bills have passed both chambers since May 19.
You can view a full list of enacted bills this year here.
To stay up-to-date with the latest news in election-related legislation, subscribe to The Ballot Bulletin, our weekly newsletter—dropping every Friday afternoon—that delivers the latest updates on election policy. Every week, we track legislative activity, big-picture trends, recent news, and in-depth data from our Election Administration Legislation Tracker.
---
In the latest edition of Hall Pass: Montana becomes the 46th state to authorize charter schools
Hall Pass is Ballotpedia's free weekly newsletter that keeps you informed about the conversations driving school board politics and education policy. New editions reach your inbox Wednesday afternoons.
In last week's edition, we looked at how Montana became the 46th state to authorize charter schools.
On May 18, Gov. Greg Gianforte (R) signed two bills—House Bill 549 (HB 549) and House Bill 562 (HB 562)—authorizing the creation of charter schools in Montana. Both bills provide for charter schools but differ on which government bodies are authorized to submit and approve charter applications. HB 549 puts the authority in the hands of local school boards, while HB 562 creates a new, seven-member appointed commission with the authority to review applications and authorize qualified school districts to do the same.
According to the National Alliance for Public Charter Schools, roughly 3.7 million students, 7.5% of all public school students nationwide, were enrolled in charter schools during the 2020-2021 school year. In 2000, the National Center for Education Statistics estimated that 448,343 students were enrolled in charter schools.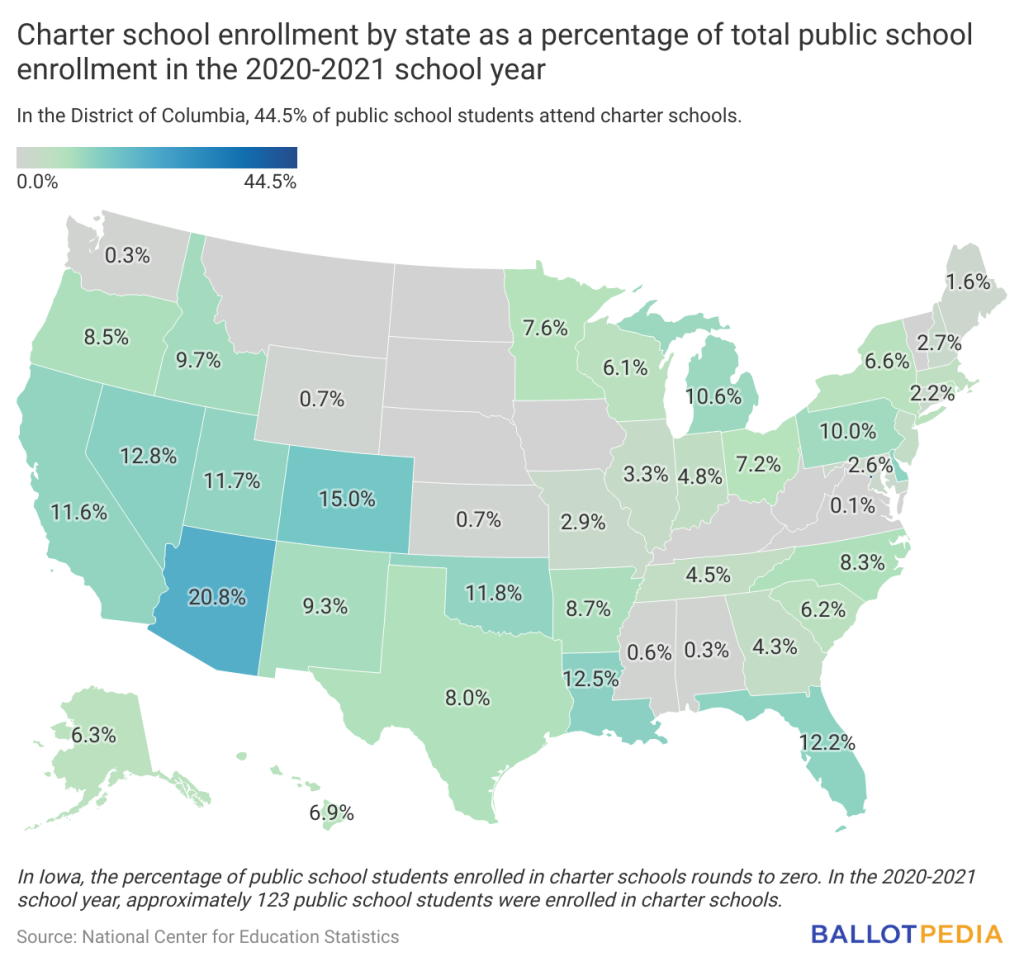 Only Nebraska, North Dakota, South Dakota, and Vermont do not have laws authorizing charter schools. Kentucky authorizes charter schools but does not currently have any in operation.
To read more about this and other stories in the latest edition of Hall Pass, click the link below! Click here to subscribe now and look for tomorrow's edition in the afternoon, where we'll take an in-depth look at this year's Wisconsin's school board elections.