As of May 28, Ballotpedia has tracked 29 election-related bills in the New Jersey State Senate since the beginning of the year. Of the 29, Ballotpedia tracked one from May 22-28. A bipartisan group of legislators sponsored the bill. The one bill is below:
NJ S3851: Provides additional ways for transferring deceased voter's record to Statewide voter registration system's death file; requires Secretary of State match registration system with Social Security Administration deceased persons database, Sens. Vin Gopal (D) and Kristin Corrado (R).

As introduced, this bill outlines procedures for notification and removal of a deceased person's voter registration record.
During the week of May 22-28, Ballotpedia tracked 15 Senate election-related bills nationally. As of May 28, Ballotpedia has tracked 965 Senate bills nationally. Ballotpedia tracked the most Senate bills this year in the New York State Senate with 157, while Ballotpedia tracked the fewest Senate bills in the Massachusetts State Senate with zero.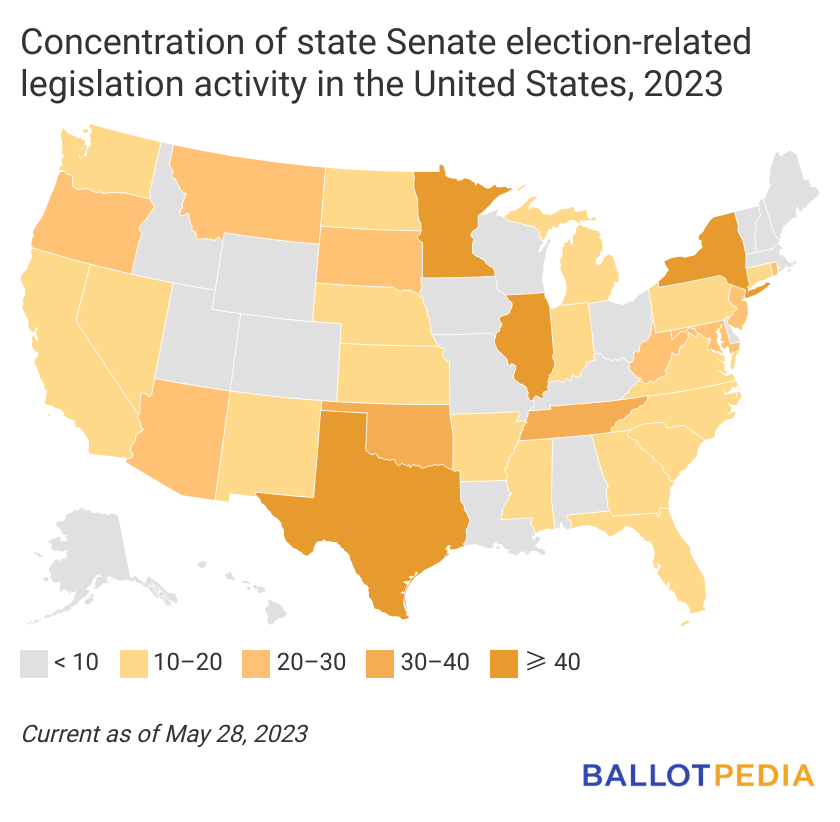 As of May 28, Ballotpedia has tracked 441 Senate bills in Democratic trifectas and 403 Senate bills in Republican trifectas. A trifecta is when one political party holds the governorship and majorities in both chambers of the state legislature. Ballotpedia has tracked 121 Senate bills in states where neither party holds trifecta control.
The New Jersey Senate is scheduled to be in session from Jan. 10 to Dec. 31 this year. In 2022, Ballotpedia tracked 57 Senate bills related to election administration. Zero of these bills passed both chambers. New Jersey is a Democratic trifecta.
Additional reading: