As of May 28, Ballotpedia has tracked seven election-related bills in the Wisconsin State Assembly since the beginning of the year. Of the seven, Ballotpedia tracked one from May 22-28. A bipartisan group of legislators sponsored the bill. The bill is below:
WI AB283: Aids to counties and municipalities for certain special election costs and making an appropriation, click hyperlinked bill for list of sponsors.

As introduced, this bill provides that the commission will reimburse counties and municipalities for the costs of administering a special primary or election for state office.
During the week of May 22-28, Ballotpedia tracked 14 House election-related bills nationally. As of May 28, Ballotpedia has tracked 1,398 House bills nationally. Ballotpedia tracked the most House bills this year in the Texas House of Representatives with 184, while Ballotpedia tracked the fewest House bills in Massachusetts and Ohio with one.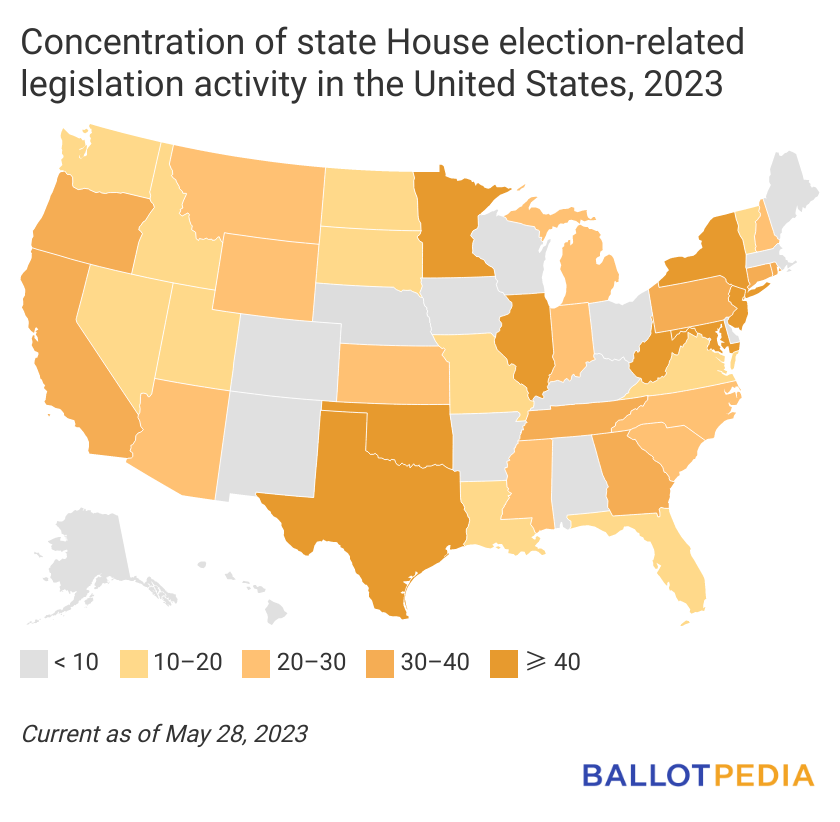 As of May 28, Ballotpedia has tracked 613 House bills in Democratic trifectas and 617 House bills in Republican trifectas. A trifecta is when one political party holds the governorship and majorities in both chambers of the state legislature. Ballotpedia has tracked 168 House bills in states where neither party holds trifecta control.
The Wisconsin Assembly is scheduled to be in session from Jan. 3 to Dec. 31 this year. In 2022, Ballotpedia tracked 45 House bills related to election administration. One of these bills passed both chambers and was enacted into law. Wisconsin is a divided government, meaning neither party holds trifecta control.
Additional reading: