Welcome to the Thursday, June 1, Brew.
Here's what's in store for you as you start your day:
Three special elections called so far in the 118th Congress
A look at Texas Attorney General Ken Paxton's Impeachment
Biden issues the fourth veto of his presidency
---
Three special elections called so far in the 118th Congress
U.S. Rep. David Cicilline (D-R.I., 1st) is expected to leave Congress today to become president of the Rhode Island Foundation, a nonprofit organization based in Providence. A special election to replace Cicilline is scheduled for Nov. 7, 2023, so we thought it would be a good time to look at the special elections that have been called so far in the 118th Congress, and how they compare to the ones called in recent Congresses.
Special elections occur when a lawmaker resigns, dies, or is removed from office. State laws vary, but special elections can be held either within the same calendar year or wait until the next regularly scheduled election.
The special election to replace Cicilline is one of three scheduled so far during the 118th Congress. The other two are a special election for a U.S. Senate seat in Nebraska, scheduled for Nov. 5, 2024, and a special election for Virginia's 4th Congressional District, which took place on Feb. 21.
A fourth special election will be called to complete the term of Rep. Chris Stewart (R-Utah, 2nd) once he leaves Congress. On May 31, Stewart announced he would resign from the House due to his wife's health, but did not give a date for his resignation. According to state law, once the vacancy occurs, Utah Gov. Spencer Cox (R) will have seven days to call a special election.
The special election in Nebraska is to fill the last two years of the six-year term that former Sen. Ben Sasse (R) was elected to in 2020. Sasse resigned on Jan. 8, 2023, after being appointed president of the University of Florida. On Jan. 12, 2023, Nebraska Gov. Jim Pillen (R) appointed his predecessor, former Gov. Pete Ricketts (R), to fill the vacancy. Rickets is running in the November special election.
The special election for Virginia's 4th Congressional District was held to complete the term of Rep. Donald McEachin (D), who died in November. Jennifer McClellan (D) defeated Leon Benjamin (R) 72.2% to 27.8% in that election, and she was sworn in on March 7.
As of May 30, the 4th District election is, so far, the only special election to occur during the 118th Congress.
By this point in time during the 117th Congress (2021-2022), two special elections had ocurred. One special election was held at this point in time during the 116th Congress (2019-2020), and two were held at this point during the 115th (2017-2018), 114th (2015-2016), and 113th (2013-2014) Congresses.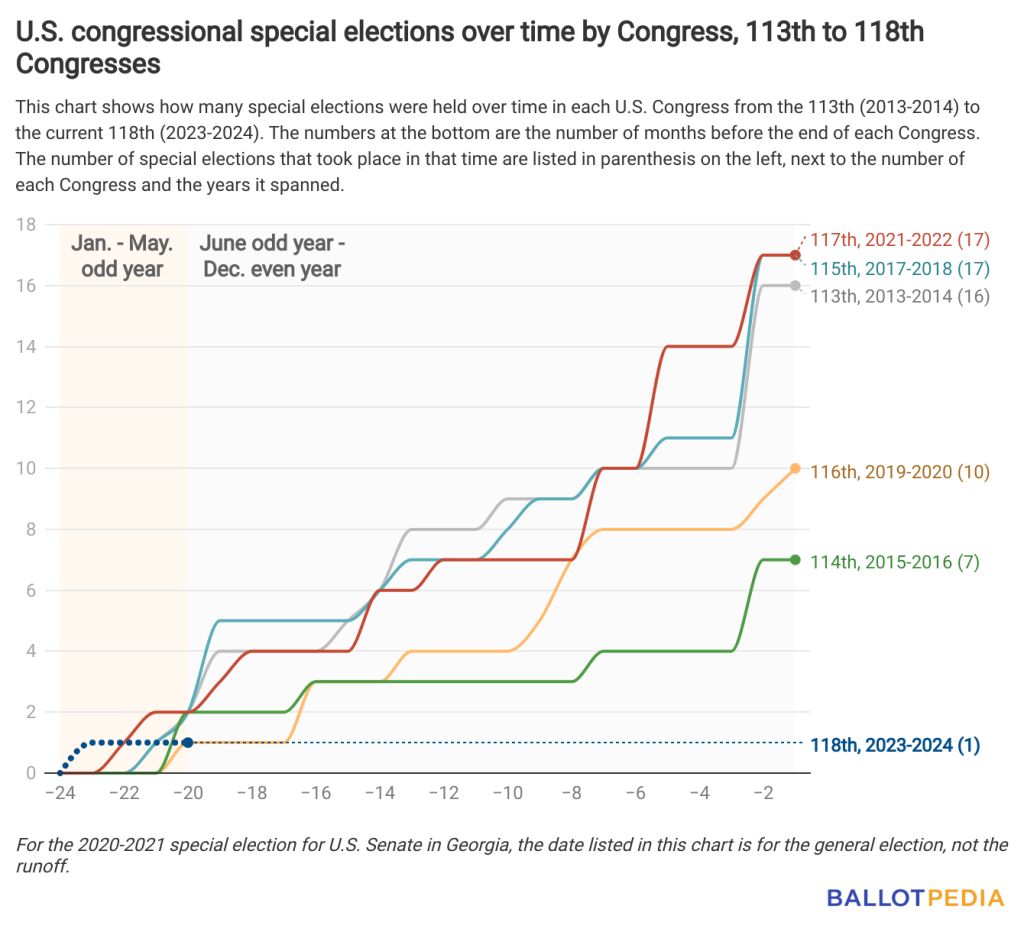 We can expect the number of special elections called during the current Congress to increase in the following months. Sixty-seven special elections were called during the 113th through 117th Congresses, for an average of 13 special elections per Congress.
The 117th and the 115th Congresses had the most special elections in that time, with 17 special elections each, while the 114th had the fewest, with seven. Democrats vacated 23 of the seats up for special elections during that time, while Republicans vacated 44.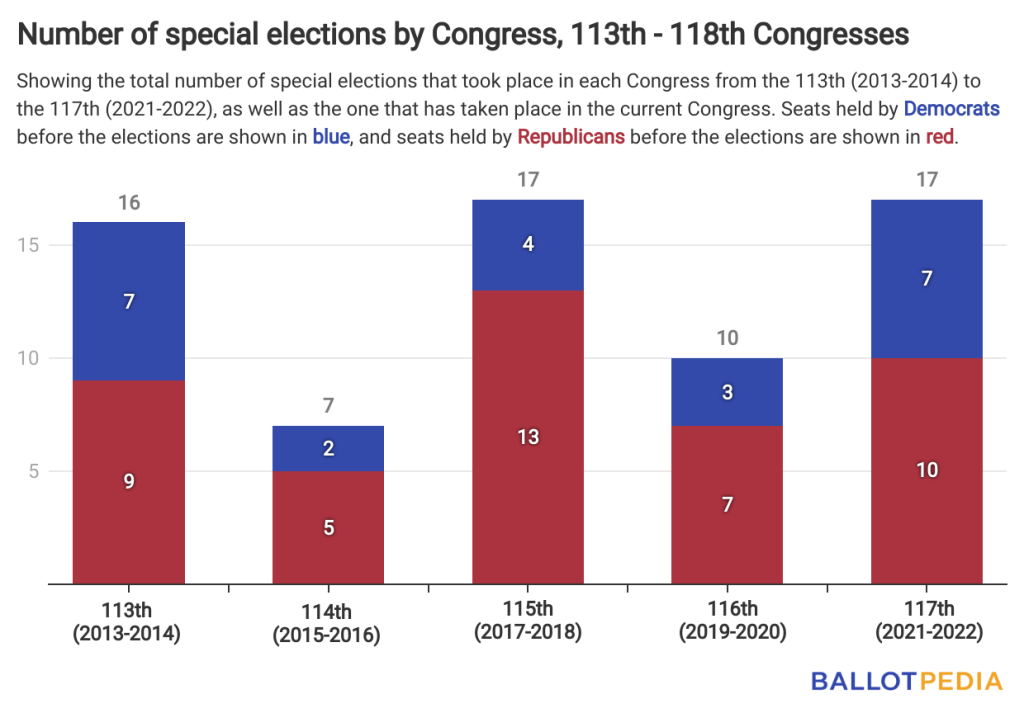 The 67 special elections resulted in nine districts switching party control. Seven districts went from Republican control to Democratic control, while two went from Democratic control to Republican control, for a net gain of five members for the Democratic Party.
---
A look at Texas Attorney General Ken Paxton's impeachment
In case you missed it over the weekend, the Texas House of Representatives impeached Texas Attorney General Ken Paxton (R). Here's a quick summary of what happened and what comes next.
What happened?
On May 27, the Texas House of Representatives voted 121-23 to impeach State Attorney General Ken Paxton.
In accordance with the state constitution, Paxton was suspended from office after the impeachment vote and he will remain suspended until a trial is held in the Texas Senate. First Assistant Attorney General Brent Webster (R) assumed the role of Acting Attorney General following Paxton's suspension.
The vote to impeach Paxton took place after the House General Investigating Committee—composed of three Republicans and two Democrats—unanimously recommended his impeachment on May 25. The Texas constitution does not list specific grounds for impeachment. That decision is left to House members.
A simple House majority is needed to impeach a state official. Sixty Republicans and 61 Democrats voted to impeach, while 23 Republicans voted against the measure. Two members—one Republican and one Democrat—voted present, and three members were absent.
What is the partisan breakdown of the Texas state legislature?
Republicans have an 85-64 House majority, with one vacancy, and a 19-12 majority in the Senate. Governor Greg Abbott is a Republican.
Texas is one of 22 Republican trifectas, meaning the Republican Party controls the office of governor and both chambers of the state legislature.
What are the reasons for impeachment?
The House investigative committee recommended 20 articles of impeachment against Paxton, including for disregard of official duty, misapplication of public resources, and obstruction of justice.
The Texas Tribune's Zach Despart and James Barragán wrote that, "[m]any of the articles of impeachment focused on allegations that Paxton had repeatedly abused his powers of office to help a political donor and friend, Austin real estate developer Nate Paul."
During the House vote, Rep. David Spiller (R), a member of the investigating committee, said "[Paxton] put the interest of himself above the laws of the state of Texas. … He put the interest of himself over his staff who tried to advise him on multiple occasions that he was about to violate the law."
What did Paxton say in response?
Following the House vote, Paxton said, "The ugly spectacle in the Texas House today confirmed the outrageous impeachment plot against me was never meant to be fair or just. It was a politically motivated sham from the beginning. … What we witnessed today is not just about me. It is about the corrupt establishment's eagerness to overpower the millions of Texas voters who already made their voices heard when they overwhelmingly re-elected me."
Paxton was first elected Attorney General in 2014 and was re-elected in 2018 and 2022. In the 2022 election, Paxton defeated Rochelle Garza (D) 54%-43%.
In his statement, Paxton said "[he looked] forward to a quick resolution in the Texas Senate, where [he had] full confidence the process will be fair and just."
What comes next?
The process now goes to the Texas Senate, where the impeachment trial will take place. The chamber adopted a resolution on May 30 setting a date for Paxton's trial no later than August 28, 2023.
A group of 12 House members—seven Republicans and five Democrats—will handle the prosecution.
A two-thirds vote is required to convict Paxton and remove him from office. Paxton's wife, Angela Paxton (R), is a state senator.
What have others said?
Following the vote, U.S. Sen. Ted Cruz tweeted, "What is happening to Ken Paxton is a travesty. For the last nine years, Ken has been the strongest conservative AG in the country, bar none. … Virtually all of the information in the articles was public BEFORE Election Day, and the voters chose to re-elect Ken Paxton by a large margin."
House Democratic Leader Trey Martinez Fischer, who voted to impeach Paxton, said, "This vote is not about a political party. It is not about Ken Paxton. It is not about any one of us. … This vote is about the people of Texas and ensuring their elected officials are held accountable when they violate the people's trust."
Texas Republican Party Chair Matt Rinaldi criticized the vote, saying, "The impeachment proceedings against the Attorney General are but the latest front in the Texas House's war against Republicans to stop the conservative direction of our state."
In a joint statement released after the vote, Republican State Reps. Jeff Leach, Matt Shaheen, Justin Holland, Candy Noble, and Frederick Frazier, said: "This was a vote we wish we didn't have to make and a vote we did not take lightly. […] [A]fter hours of deliberation – and upon a thorough analysis of the relevant law – it became clear to us that sufficient evidence indeed exists to vote to commend articles of impeachment to the Texas Senate for full-trial."
How often are elected officials impeached in Texas?
Not often. Paxton is the second statewide official, and the third overall, to be impeached in Texas history. In 1917, the Legislature impeached Gov. James Ferguson (D) following his indictment on nine charges including misapplication of public funds and embezzlement. Ferguson resigned a day before the Senate vote, but the body still voted for his removal. Ferguson is one of 16 state governors to be impeached in U.S. history, and one of nine to have been removed from office following impeachment.
In 1976, the Texas Legislature impeached and removed State District Judge O.P. Carrillo for "schem[ing] to take Duval County taxpayers' money through phony equipment rentals."
---
Biden issues the fourth veto of his presidency
On May 25, President Joe Biden (D) vetoed H.J. Res. 42, a resolution disapproving a policing law the D.C. council passed last year. This was the fourth veto of his presidency.
H.J.Res.42 was a joint resolution of disapproval under the terms of the District of Columbia Self-Government and Governmental Reorganization Act, also known as the Home Rule Act. The act allows Congress to nullify D.C. laws within a certain review period.
The D.C. law at issue was the Comprehensive Policing and Justice Reform Amendment Act of 2022. The law "[set] forth a variety of measures that focus on policing in the District, including measures prohibiting the use of certain neck restraints by law enforcement officers, requiring additional procedures related to body-worn cameras, and expanding access to police disciplinary records."
In his veto message, Biden said, "While I do not support every provision of the Comprehensive Policing and Justice Reform Amendment Act of 2022, this resolution from congressional Republicans would overturn commonsense police reforms such as: banning chokeholds; setting important restrictions on use of force and deadly force; improving access to body-worn camera recordings; and requiring officer training on de-escalation and use of force. The Congress should respect the District of Columbia's right to pass measures that improve public safety and public trust."
Sen. J.D. Vance (R-Ohio), who discharged the resolution on the Senate floor, said, "Congress must exert our constitutional authority to keep our nation's capital safe. It's a disgrace that the capital of the most powerful nation on earth has become so dangerous, but this sad reality is exactly what we should expect when far-left activists are calling the shots." After Biden vetoed the resolution, Vance said, "With today's veto, President Biden rejected a bipartisan and commonsense effort to make our nation's capital safer."
Overriding a presidential veto requires a two-thirds majority vote in both chambers of Congress. The House of Representatives and Senate both passed the resolution by a simple majority.
The House of Representatives voted 229-189 to approve the resolution on April 19, 2023, with 14 Democrats and 215 Republicans voting in favor. The Senate voted 56-43 to approve the resolution on May 16, with six Democrats, one Independent who caucuses with Democrats, and 48 Republicans voting in favor. Rep. Andrew Clyde (R-Ga.) introduced the resolution on March 9.
This was the second Home Rule Act resolution related to D.C. criminal law to make it to Biden's desk during the 118th Congress. The first was H.J.Res.26, which sought to nullify a D.C. law that would make "a variety of changes to DC criminal laws, including by providing statutory definitions for various elements of criminal offenses, modifying sentencing guidelines and penalties, and expanding the right to a jury trial for certain misdemeanor crimes." Biden signed the resolution into law on March 20, 2023, marking the fourth time the federal government had nullified a D.C. law since the Home Rule Act was adopted in 1973.
President Ronald Reagan (R) issued the most vetoes (87) of all presidents since 1981. Biden, with four vetoes, has issued the fewest. President Donald Trump (R) issued the second-fewest vetoes (10) within this timeframe.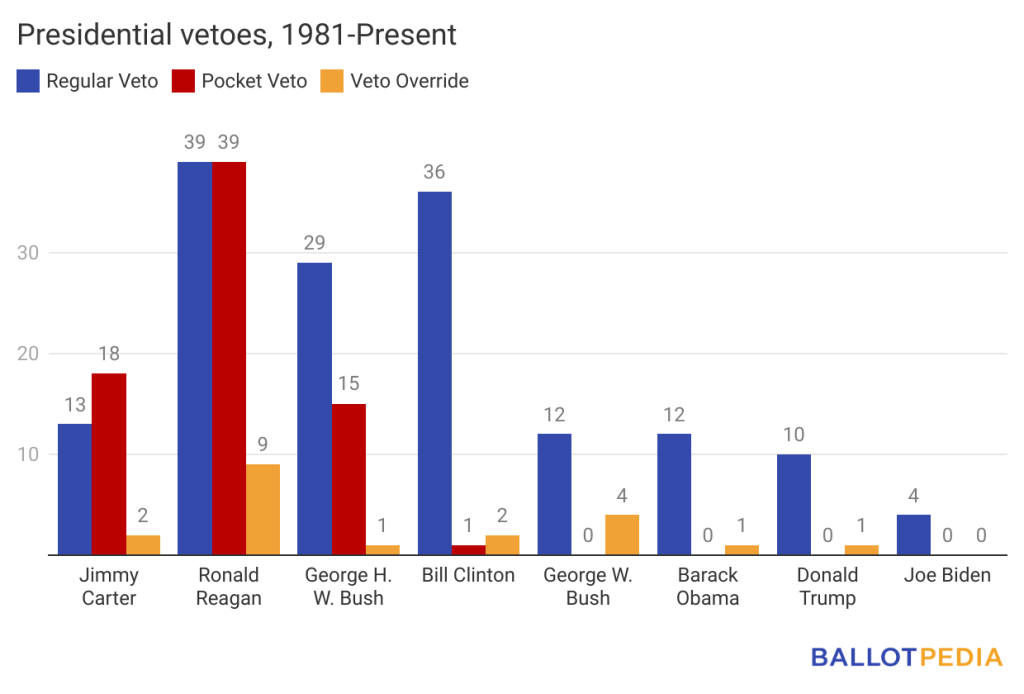 Presidents have issued 2,586 vetoes in American history. Congress has overridden 112. President Franklin D. Roosevelt vetoed 635 bills, the most of any president. Presidents John Adams, Thomas Jefferson, John Q. Adams, William H. Harrison, Zachary Taylor, Millard Fillmore, and James A. Garfield did not issue any vetoes.