Welcome to the Friday, June 2, Brew.
By: Samuel Wonacott and Juan Garcia de Paredes
Here's what's in store for you as you start your day:
An update on this year's ballot measure certifications
State supreme courts issued 89 opinions from May 22-28
#FridayTrivia: How many states have laws allowing for charter schools?
---
An update on this year's ballot measure certifications
Now that we've entered June, let's see where ballot measure certifications stand right now.
Thus far, 26 statewide measures have been certified for the ballot in eight states. That's 11 more than the average number—15—certified at this point in odd-numbered years from 2011 to 2021.
The last time we looked at this year's certified measures, on May 19, 13 had been cleared for the ballot. We often see a jump in certifications around this time of the year because, in many states, legislative sessions are ending, and lawmakers often wait until the end of the session to pass legislation.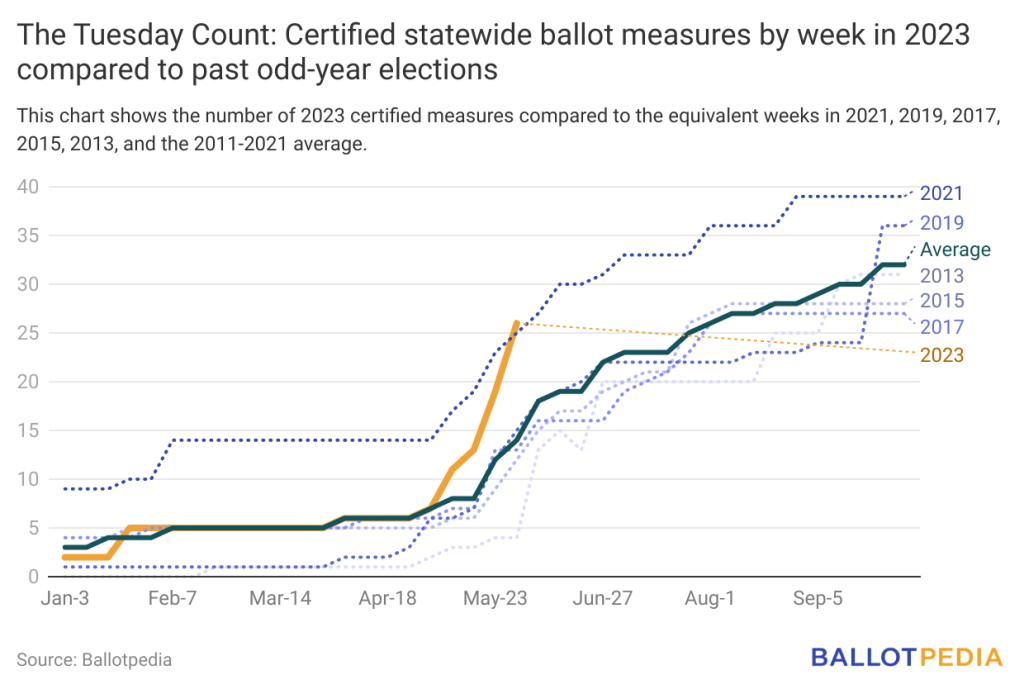 Here's an update on the latest ballot measure activity.
Seven new measures were certified for the 2023 ballot last week:
Signatures have been submitted and are pending verification for one initiative in Michigan:
Signatures were verified for three indirect initiatives in Maine, and the initiatives are now before legislators:
Maine Voter Approval of Borrowing Above $1 Billion by State Entities and Electric Cooperatives Initiative
The first two Maine measures above are related to another measure certified for the ballot this year in the Pine Tree State—the Maine Creation of Pine Tree Power Company Initiative. The story of that initiative spans from Canada to Maine to Spain and includes power lines, consumer-owned utility companies, and fierce disagreement over a cross-border electricity transmission project. Click here to read more.
In Ohio, one initiative to legalize marijuana was certified to the Legislature, which had four months to act on the proposal. Because the Legislature took no action, a second 90-day signature-gathering period began on May 3.
For 2024, 38 statewide measures have been certified in 20 states. That's six more measures than the average number certified at this point from 2010 to 2022.
Two new measures were certified for the 2024 ballot last week:
Learn more about 2023 and 2024 ballot measures at the link below.
---
State supreme courts issued 89 opinions from May 22-28
We're at that time of the year when the U.S. Supreme Court (SCOTUS) releases its most consequential rulings, inevitably drowning out news from the country's lower courts (bookmark this page to stay up to date on those decisions as they're released through June). That said, we like to keep a close eye on rulings from the country's 52 state courts of last resort, otherwise known as state supreme courts (yes, 52 – Oklahoma and Texas each have two different courts of last resort).
Here's a look at recent state supreme court rulings.
State supreme courts issued 89 opinions from May 22-28. The Delaware Supreme Court led the field with nine opinions issued, followed by Massachusetts, Montana, and New York, with six each. Last week's 89 opinions account for 3% of the year-to-date total of 2,754. The West Virginia Supreme Court leads with 201 opinions issued since Jan. 1, followed by Pennsylvania with 194 and Delaware with 168.
State supreme courts have been issuing an average of 131 opinions per week so far this year. This figure is less than the 2022 weekly average of 143. It's also less than the average of 160 opinions issued per week in 2021.
Supreme courts in 16 states have issued fewer than 25 opinions since the start of the year.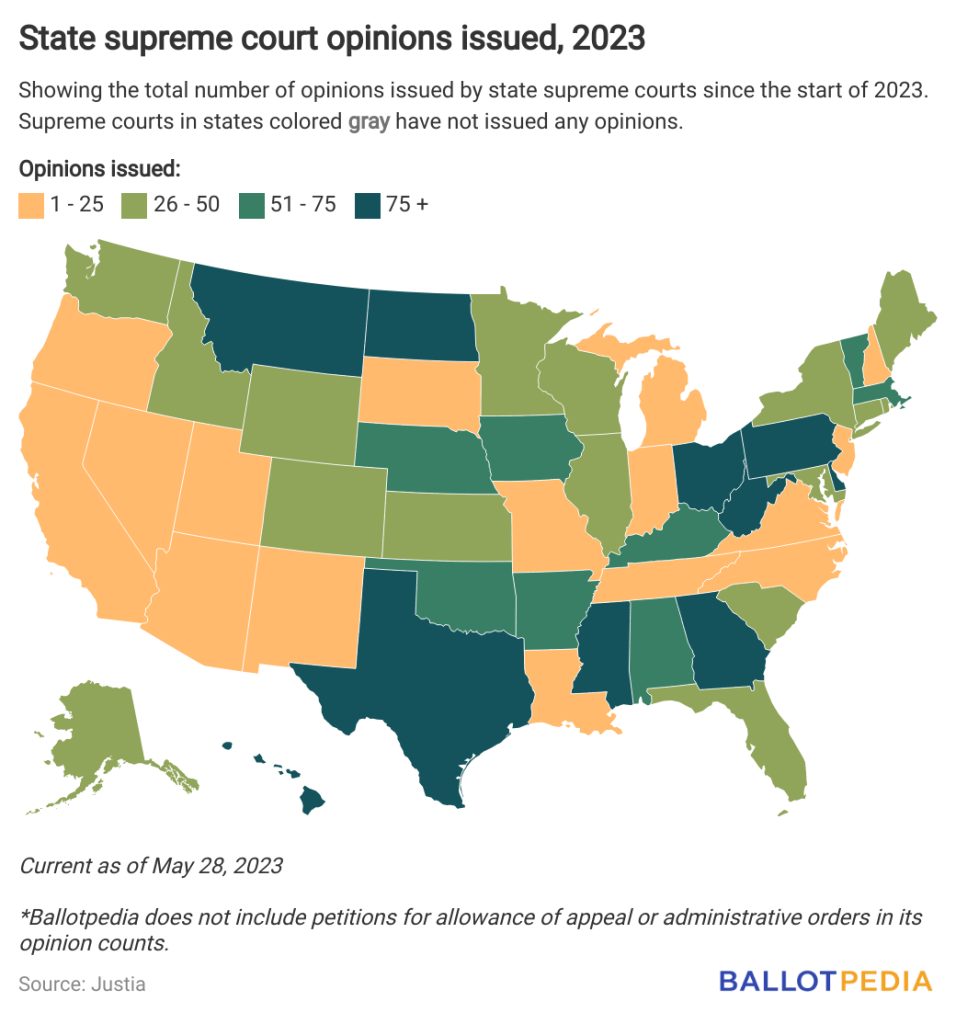 Some of the state supreme court opinions issued this year include those in:
Tennessee, where the court held that "a defendant healthcare provider cannot be compelled to provide expert opinion testimony about a co-defendant healthcare provider's standard of care and/or deviation from that standard;"
New York, where the court "held that the negligence claims brought in this case involving two separate murders on property owned by the New York City Housing Authority (NYCHA) should advance to a jury trial;" and,
Colorado, where the court affirmed that "when a defendant presents psychiatric evidence supporting their insanity defense, they can open the door to the admission of psychiatric evidence rebutting that defense, even if the evidence includes the defendant's voluntary but non-Miranda-compliant statements. Additionally, the Court held that § 16-8-103.6(2)(a), C.R.S. (2022)'s waiver of privilege as to 'communications made by the defendant to a physician or psychologist' includes communications made to a physician's or psychologist's agents."
Supreme courts in Pennsylvania, West Virginia, Texas, and Delaware regularly end the year as some of the country's most active courts. Collectively, they accounted for 26% of all opinions issued in 2021 and 2022, and, to date, 28% in 2023.
Supreme courts do not hear trials of cases. Instead, they hear appeals of decisions made in lower courts. The number of justices on each state supreme court ranges between five and nine.
In 2020, we conducted a study identifying the partisan balance on every state supreme court. You can find that research here. We also identified which justices ruled together most often in our Determiners and Dissenters report found here.
Learn more about state supreme court rulings at the link below.
---
#FridayTrivia: How many states have laws allowing for charter schools?
In the May 30 Brew, we looked at a recent story we featured in Hall Pass, our school board and education newsletter, about Montana becoming the latest state to allow for public charter schools. Montana Gov. Greg Gianforte (R) signed legislation authorizing the creation of charter schools on May 18.
Minnesota was the first state to pass a law authorizing charter schools in 1991. Since then, such schools have expanded across the country.
How many states now have laws allowing for the creation of charter schools?