One-third of the incumbents in Virginia's House of Delegates are not running for re-election in 2023, the most in the chamber in more than a decade.
Virginia's statewide primaries are on June 20, including for all 100 districts in the House.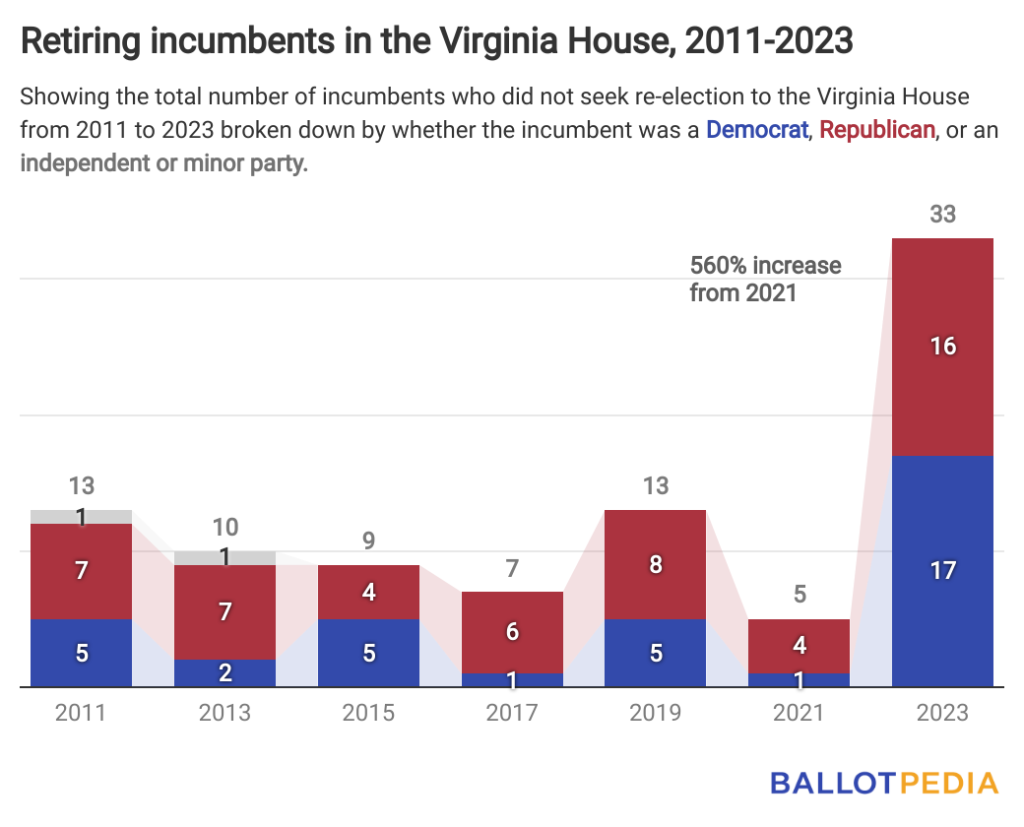 Further, just six incumbents in the 100-member House face primary challengers compared to 11 in the 40-member Senate.
Based on media coverage and other competitiveness metrics, Ballotpedia identified six battleground primaries in the House: four between Democrats and two between Republicans. Two of these primaries feature incumbents, and four are in open districts.
Virginia House District 21 is one such Republican primary.Josh Quill (R) and John Stirrup (R) are running for this open district. Quill is a specialist master with Deloitte and a Marine Corps veteran who later worked for the U.S. Department of Veterans Affairs. Stirrup was a member of the Prince William County Board of Supervisors from 2003 to 2011, representing the Gainesville district.
Elections Daily's Joe Szymanski wrote, "Fundraising numbers for these two candidates have been even," and "Both candidates are running on similar issues: crime, education, and the economy."
CNalysis rates this district as one of its four general election Toss-Ups. While President Joe Biden (D) won the district by a margin of 26.6 percentage points in 2020, Gov. Glenn Youngkin (R) won it by a margin of 3.4 percentage points in 2021.
Virginia House District 55 is a battleground Democratic primary.Amy Laufer (D) and Kellen Squire (D) are running for this open district.
Laufer, a former teacher, served on the Charlottesville City School Board from 2011 to 2019 and is a former Chair of the Albemarle County Democrats. Squire is an emergency room nurse and C.E.O. of a nature advocacy organization.
Szymanski described this race as "a primary that could end up being the closest of them all," and said, "Squire has taken the more progressive wing here- hyping his large base of small donors, one of the largest in Virginia."
Szymanski added that "Laufer is still progressive, albeit slightly less so than Squire, and has key institutional support," pointing to endorsements from state Sens. Scott Surovell (D) and Louise Lucas (D).
While primaries are first on the calendar, control of the chamber will likely come down to just a handful of races in November.
CNalysis rates each election based on the likelihood of a Democratic or Republican victory. Currently, the outlet rates 46 elections as Solid Democratic and 43 as Solid or Very Likely Republican. This leaves 11 elections that either lean towards one party or the other or are categorized as Toss-Ups.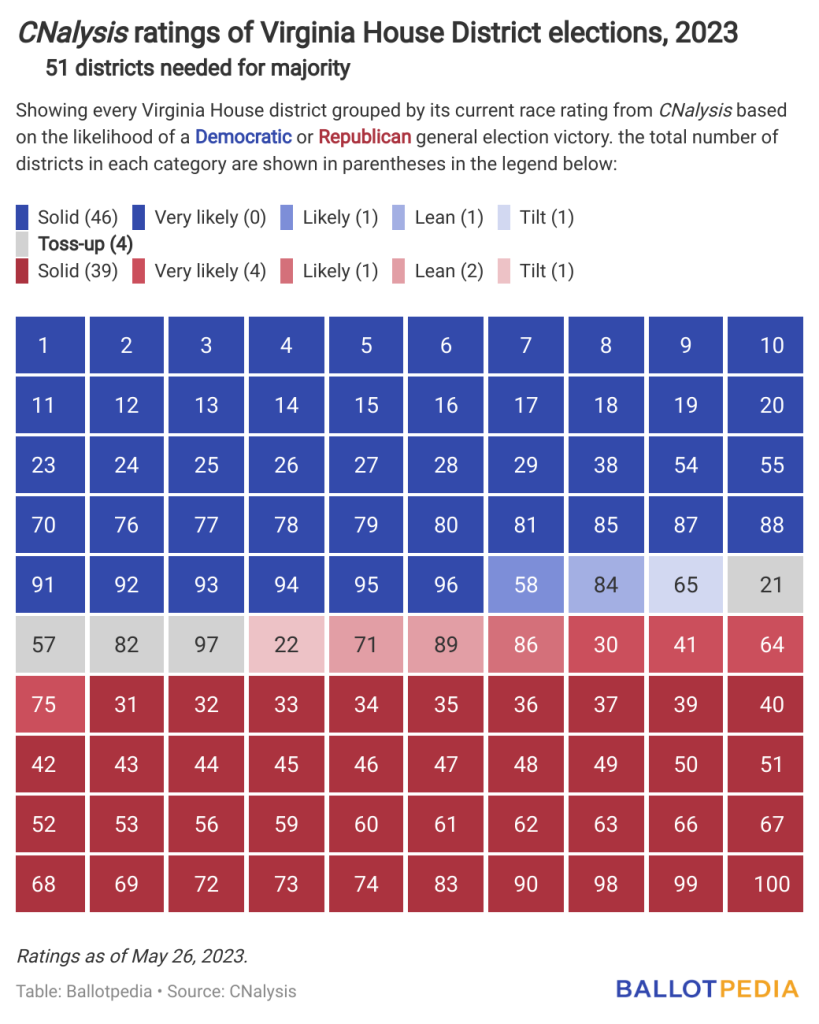 Learn more about the Virginia House elections and the battleground elections Ballotpedia identified using the link below.