U.S. Rep. David Cicilline (D-R.I., 1st) resigned from Congress on June 1 to become president of the Rhode Island Foundation, a nonprofit organization based in Providence. A special election to replace him is scheduled for Nov. 7, 2023.
The special election to replace Cicilline is one of three scheduled so far during the 118th Congress. The other two are a special election for a U.S. Senate seat in Nebraska, scheduled for Nov. 5, 2024, and a special election for Virginia's 4th Congressional District, which took place on Feb. 21.
A fourth special election will be called to complete the term of Rep. Chris Stewart (R-Utah, 2nd) once he leaves Congress. On May 31, Stewart announced he would resign from the House due to his wife's health, but did not give a date for his resignation. According to state law, once the vacancy occurs, Utah Gov. Spencer Cox (R) will have seven days to call a special election.
The special election in Nebraska is to fill the last two years of the six-year term that former Sen. Ben Sasse (R) was elected to in 2020. Sasse resigned on Jan. 8, 2023, after being appointed president of the University of Florida. On Jan. 12, 2023, Nebraska Gov. Jim Pillen (R) appointed his predecessor, former Gov. Pete Ricketts (R), to fill the vacancy. Rickets is running in the November special election.
The special election for Virginia's 4th Congressional District was held to complete the term of Rep. Donald McEachin (D), who died in November. Jennifer McClellan (D) defeated Leon Benjamin (R) 72.2% to 27.8% in that election, and she was sworn in on March 7.
The 4th District election is, so far, the only special election to occur during the 118th Congress.
By this point in time during the 117th Congress (2021-2022), two special elections had occurred. One special election was held at this point in time during the 116th Congress (2019-2020), and two were held at this point during the 115th (2017-2018), 114th (2015-2016), and 113th (2013-2014) Congresses.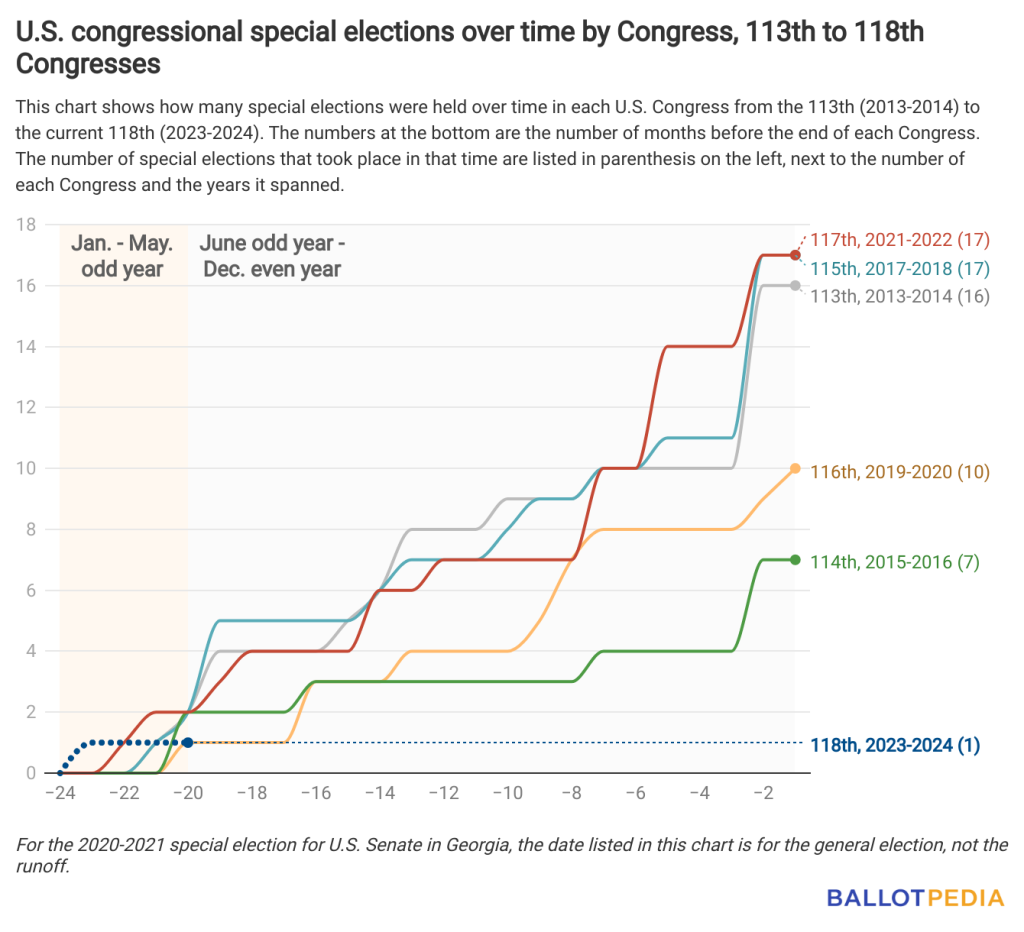 We can expect the number of special elections called during the current Congress to increase in the following months.Sixty-seven special elections were called during the 113th through 117th Congresses, for an average of 13 special elections per Congress.
The 117th and the 115th Congresses had the most special elections in that time, with 17 special elections each, while the 114th had the fewest, with seven. Democrats vacated 23 of the seats up for special elections during that time, while Republicans vacated 44.
The 67 special elections resulted in nine districts switching party control. Seven districts went from Republican control to Democratic control, while two went from Democratic control to Republican control, for a net gain of five members for the Democratic Party.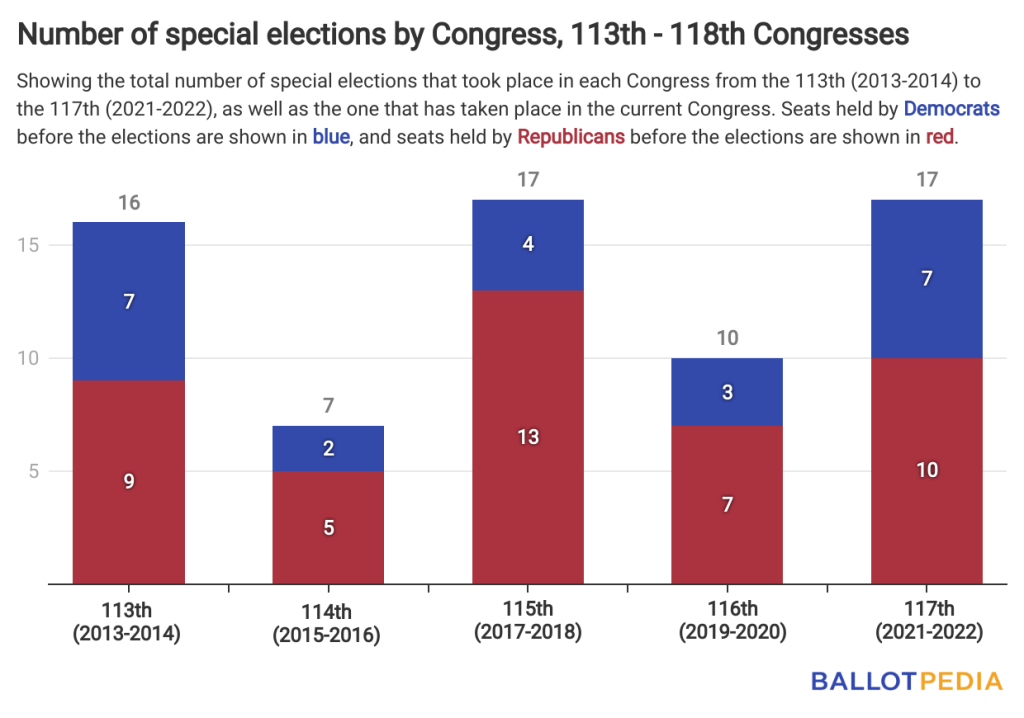 Special elections occur when a lawmaker resigns, dies, or is removed from office. State laws vary, but special elections can be held either within the same calendar year or wait until the next regularly scheduled election.