State supreme courts issued 89 opinions from May 22-28. The Delaware Supreme Court led the field with nine opinions issued, followed by Massachusetts, Montana, and New York with six each.
Last week's 89 opinions account for 3% of the year-to-date total of 2,754. The West Virginia Supreme Court leads with 201 opinions issued since Jan. 1, followed by Pennsylvania with 194 and Delaware with 168.
State supreme courts have been issuing an average of 131 opinions per week so far this year. This figure is lower compared to the total weekly average in 2022, which stood at 143 opinions per week, and also lower than the average of 160 opinions issued per week in 2021.
Supreme courts in 16 states have issued fewer than 25 opinions since the start of the year.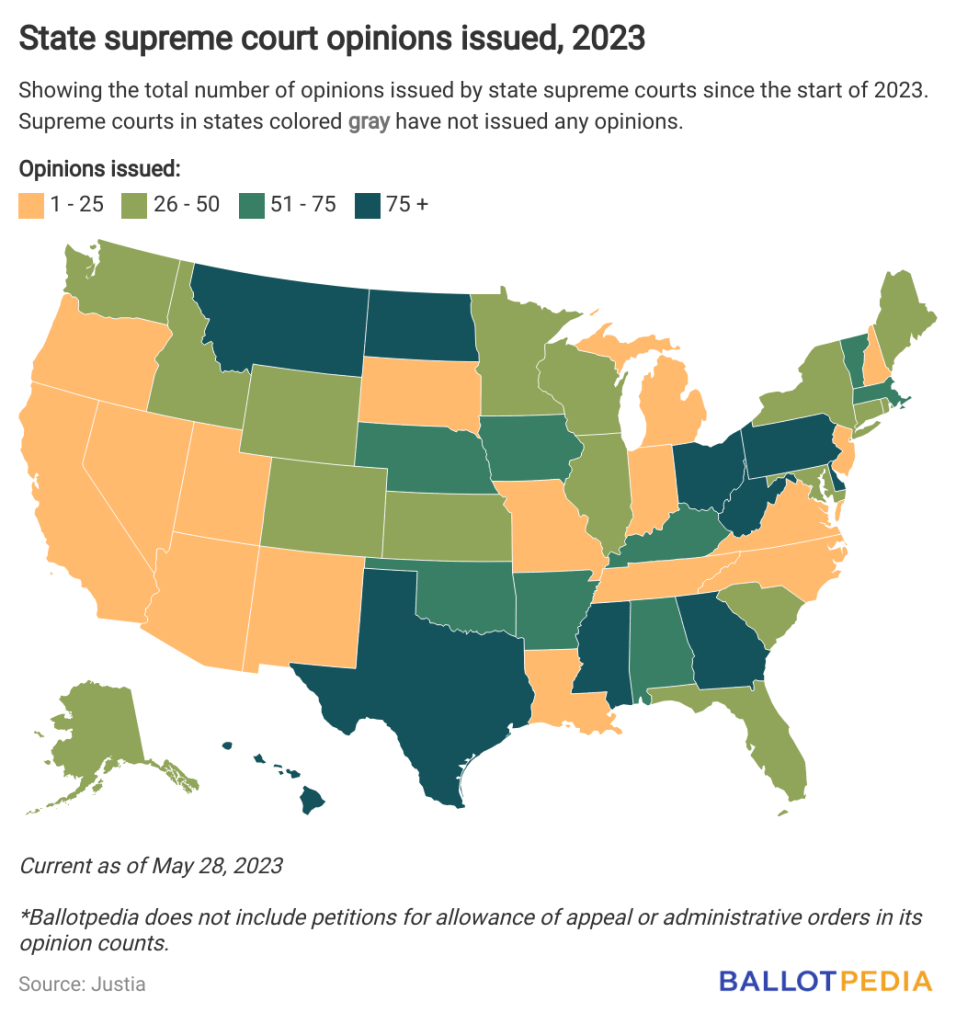 Some of the state supreme court opinions issued this year include those in:
Tennessee, where the court held that "a defendant healthcare provider cannot be compelled to provide expert opinion testimony about a co-defendant healthcare provider's standard of care and/or deviation from that standard;"
New York, where the court "held that the negligence claims brought in this case involving two separate murders on property owned by the New York City Housing Authority (NYCHA) should advance to a jury trial;" and,
Colorado, where the court affirmed that "when a defendant presents psychiatric evidence supporting their insanity defense, they can open the door to the admission of psychiatric evidence rebutting that defense, even if the evidence includes the defendant's voluntary but non-Miranda-compliant statements. Additionally, the Court held that § 16-8-103.6(2)(a), C.R.S. (2022)'s waiver of privilege as to 'communications made by the defendant to a physician or psychologist' includes communications made to a physician's or psychologist's agents."
Supreme courts in Pennsylvania, West Virginia, Texas, and Delaware regularly end the year as some of the country's most active courts. Collectively, they accounted for 26% of all opinions issued in 2021 and 2022, and, to date, 28% in 2023.
Every state and the District of Columbia have at least one supreme court, known as a court of last resort. Oklahoma and Texas have two courts of last resort, one for civil cases and one for criminal proceedings. Supreme courts do not hear trials of cases. Instead, they hear appeals of decisions made in lower courts. The number of justices on each state supreme court ranges between five and nine.
In 2020, we conducted a study identifying the partisan balance on every state supreme court. You can find that research here. We also identified which justices ruled together most often in our Determiners and Dissenters report found here.