Welcome to the Wednesday, June 7, Brew.
Here's what's in store for you as you start your day:
Marijuana legalization on Florida's 2024 ballot pending state supreme court review
Twenty upcoming vacancies among Article III judges
Hall Pass sneak peek: partisan school board elections
---
Marijuana legalization on Florida's 2024 ballot pending state supreme court review
On June 1, state officials in Florida confirmed that Smart & Safe Florida, a campaign supporting a ballot initiative to legalize marijuana in the state, had submitted enough valid signatures to qualify for the 2024 ballot.
This measure would amend the state's constitution to legalize marijuana for adults 21 years and older and allow the possession of up to three ounces of marijuana. If approved, Florida would become the 24th state to legalize marijuana for recreational usage.
Whether the measure goes before voters next year depends on an upcoming state supreme court review required for all proposed initiatives under Florida law. Republican governors appointed all of the court's seven justices.
The court must determine if the measure complies with the state's single-subject rule, the appropriateness of its title and summary, and whether it "is facially valid under the United States Constitution." Briefings are due by June 12.
Attorney General Ashley Moody (R) has already announced she does not believe the measure meets these requirements.
In 2021, Moody similarly argued against a proposed 2022 initiative to legalize marijuana, saying the ballot title was misleading and inaccurately stated the measure would legalize something that is illegal under federal law.
The state supreme court agreed and ruled 5-2 that the measure could not appear on the 2022 ballot.
The ballot language for the proposed 2024 initiative includes a sentence saying, "Applies to Florida law; does not change, or immunize violations of, federal law."
If this measure passes supreme court review, it would be the first marijuana-related measure to qualify for a statewide ballot in 2024.
Ballotpedia is tracking three other potential statewide marijuana-related ballot measures in:
Florida, where there is a separate measure to legalize the home cultivation of medical marijuana. Florida legalized medical marijuana in 2016, with 71% of voters in favor and 29% opposed;
Nebraska, where supporters have until July 5, 2024, to submit the required number of valid signatures; and,
Ohio, where supporters qualified to submit a marijuana legalization measure to the Legislature for consideration. The Legislature did not act on the proposal by May 3, meaning supporters now have until August to gather 124,046 additional signatures in order to qualify for the 2023 ballot.
Beyond ballot measures, state legislatures in Delaware and Minnesota have legalized marijuana this year. Both states have Democratic trifectas.
As of June 5, 23 states and Washington D.C. have legalized the possession and personal use of marijuana for recreational purposes. This includes 16 states with Democratic trifectas, two with Republican trifectas, and five with divided governments.
Voters decided on legalization measures in 14 states and D.C. The average yes vote was 58%, and the average no vote was 42%, with an average margin of victory of 16 percentage points.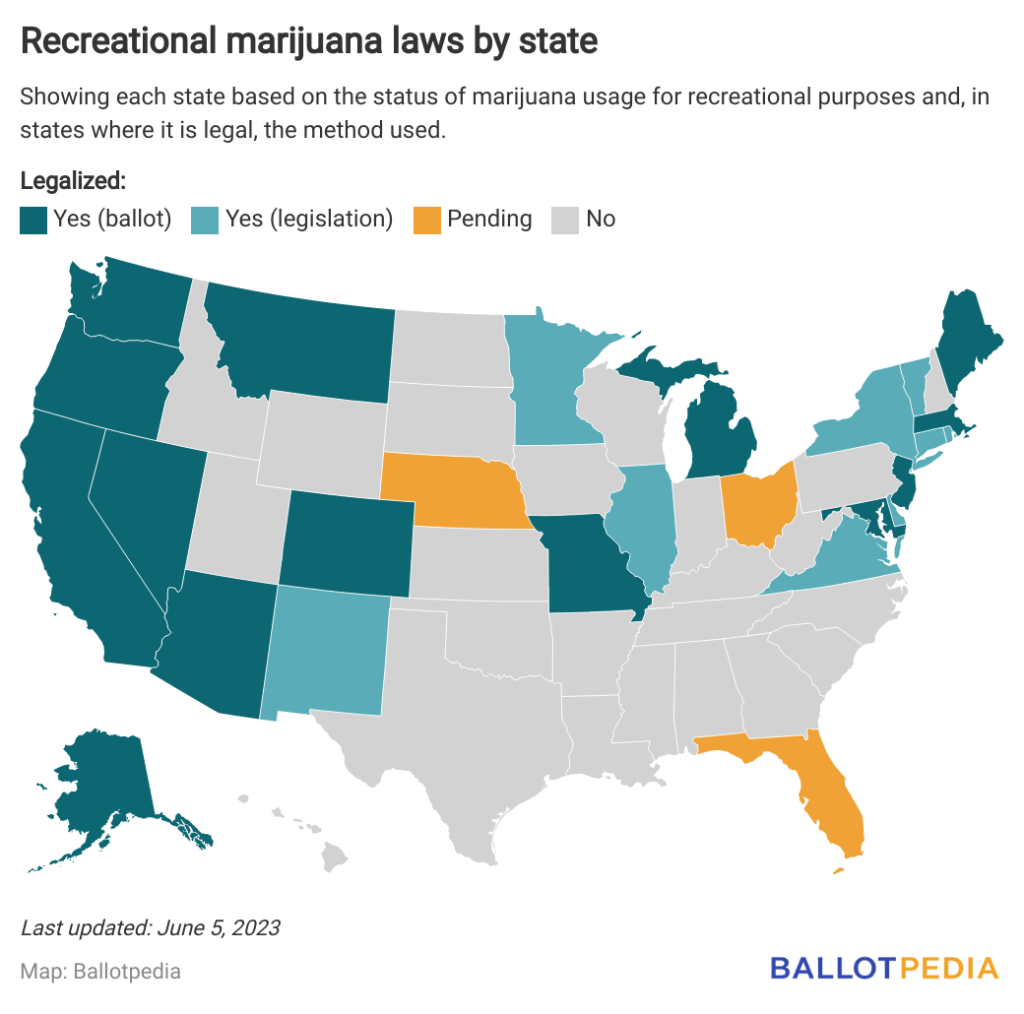 ---
Twenty upcoming vacancies among Article III judges
According to data from the U.S. Courts, there are 20 announced upcoming vacancies for Article III judgeships. This is in addition to the 73 current federal judiciary vacancies out of the 870 such judgeships. The 93 vacancies represent 11% of the federal judgeships.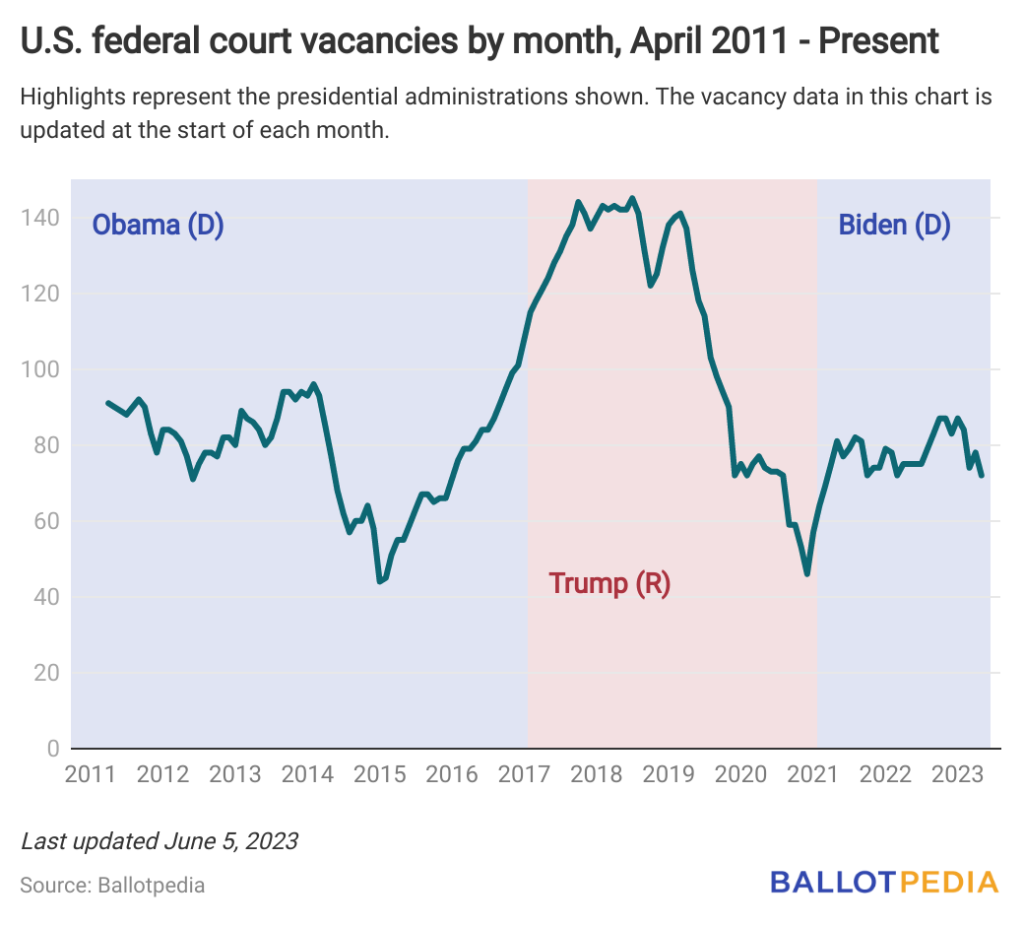 These announced upcoming vacancies are not yet vacant but will be at some point in the future, with every judge having announced their intent to either leave the bench or assume senior status. In the meantime, these judges continue to serve in their current positions.
The president does not need to wait for a judgeship to become vacant before beginning the confirmation process for a successor.
The next scheduled vacancy occurs on June 8, when Judge Micaela Alvarez assumes senior status on the U.S. District Court for the Southern District of Texas.
Article III judgeships refer to federal judges serving on the U.S. Supreme Court, the U.S. Court of International Trade, one of the 13 U.S. courts of appeal, or one of the 94 U.S. district courts. The president appoints judges to lifetime terms subject to Senate confirmation.
As of June 5, the Senate has confirmed 130 of President Joe Biden's (D) Article III nominees. That's the second-most among any president at this point in their presidency since Ronald Reagan's (R). By June 1 of the thor year in his term, only Bill Clinton (D) had made more appointments at 145.
---
Hall Pass sneak peek: partisan school board elections
Today, we're bringing you a sneak peek from one of our latest reader-response questions in Hall Pass, our weekly newsletter on the policies and politics of America's schools.
If you're already a Hall Pass subscriber, you know that we often ask you—the reader—a question about your thoughts and what's happening in your school district. Then, we share some of the replies we receive.
Recently, we've asked questions about district reading programs, four-day school weeks, and proposed budgets.
Last week, we asked Should the law allow school districts to hold partisan elections?
This is an important question, and one more and more voters are experiencing firsthand. In 2021, Tennessee became the most recent state to allow for partisan school board elections. And voters in Florida will decide whether to change to a partisan election method in 2024.
Even in states that hold nonpartisan school board elections, it's common for political parties to weigh in and endorse candidates. This year, in Wisconsin, Republican Party affiliates endorsed 152 candidates, and Democratic Party affiliates endorsed 62.
Here are a few replies we've received so far:
A teacher from Virginia wrote:
No, and I would go farther and prohibit parties from even endorsing candidates. Things are already divisive enough in education and bringing political parties into the process would just make the polarization even worse.
A school board member from Wisconsin wrote:
No. However, non-partisan elections simply means you do not need to declare a party or have a party primary. A candidate can still state their political affiliation/ideology and get support from a political party. Everyone has a political ideology, philosophy or belief as to the role of government and a candidate should not hide their ideology behind the label 'non-partisan.'
Readers from Texas, Colorado, Maryland, and Wisconsin answered "yes" to the question but did not elaborate.
If you want to see more replies, subscribe to Hall Pass, where we will have a full story out later today, June 7!
By subscribing, you'll also be getting a weekly roundup of the sharpest commentary and research from across the political spectrum on education, as well as the latest on school board elections and recall efforts.