Welcome to Ballotpedia's Donor Privacy and Disclosure Digest! This monthly newsletter provides news and information on key policy changes, a breakdown of state legislation, and an overview of pivotal legal decisions and case developments. In this issue, you'll find:
Missouri Legislature passes bill amending privacy act: The Missouri General Assembly approves modifications to the state's Personal Privacy Protection Act.
In the courts: The latest on pivotal judicial decisions and developments across the country.
State by state: An analysis of this month's state legislative activity, including bill status, topic, partisan sponsorship, and more.
What we're reading: Keep up to date on the stories and analyses we've been reading this month.
Dig deeper: Want more information on the topics covered in this issue? We've got you covered.
---
Missouri Legislature passes bill amending privacy act
On May 10, the Missouri General Assembly passed SB28, a bill modifying provisions of the state's Personal Privacy Protection Act. Under the Act, government agencies are prohibited from disclosing information identifying a person as a member, supporter, or donor to a nonprofit organization. The bill now heads to Gov. Mike Parson (R) for consideration.
The Personal Privacy Protection Act was enacted through HB2400. Rep. Dan Houx (R) introduced the bill, which was originally related to retirement and welfare benefits plans, on Jan. 11, 2022. The state House passed the bill unanimously on April 4, and the state Senate passed an amended version 27-6 on May 6, with 10 Democrats and 17 Republicans voting for the bill. Rep. Jered Taylor (R) offered an amendment to the bill containing the Personal Privacy Protection Act on May 12. Taylor said the act would "protect an individual's right or ability to donate to a cause that they believe in." The amended legislation received bipartisan support in the House, with 28 Democrats and 101 Republicans voting in favor of the bill on May 12. Parson signed the bill into law on June 30. Five other states, Georgia, Indiana, New Hampshire, New York, and Virginia, also enacted donor privacy laws in 2022.
SB28 would allow government agencies to disclose information with the written permission of all individuals who might be identified through the release. It also specifies that the Personal Privacy Protection Act does not prevent the disclosure of donor information contained in a financial interest statement. It creates additional exceptions to the Act for information disclosed as part of a legal investigation and records nonprofits submit to obtain government contracts.
SB28 originally focused on regulating access to public records of the Missouri Highway Patrol. Sen. Justin Brown (R) introduced the bill on Jan. 4, 2023, and the Senate passed it on Feb. 3. Lawmakers added the provisions relating to donor privacy on May 1, and the bill passed the House of Representatives on May 10.
The General Assembly considered two other bills modifying Missouri's privacy laws this year. Rep. Sean Pouche (R) introduced a bill that would have changed the Personal Privacy Protection Act, HB667, on Jan. 5, 2023. Rep. Ben Baker (R) introduced the other bill, HB1064, on Feb. 7. Neither bill passed both chambers of the legislature. HB667 advanced from committee on March 21 but was not scheduled for a floor vote before the state's legislative session ended on May 12. HB1064 passed the House on April 11 and was referred to committee in the Senate, but did not advance.
Supporters of SB28 say it allows the state to effectively partner with nonprofits while still protecting donor privacy. Opponents say the original law does not need modifications. Office of Administration representative Chris Moreland said the bill is a compromise that would "allow the state to continue conducting business and partnering with nonprofits while maintaining protections around donor privacy." Jeremy Cady, state director for Americans for Prosperity, said the issue was with the interpretation of the existing act under the current administration, not with its language: "A number of states have passed similar laws. We haven't seen these issues in other states. So we're not entirely sure why this has become as much of an issue as it has been."
Missouri has a Republican trifecta, meaning Republicans control both legislative chambers and the governor's office. Republicans have a 24-10 majority in the Missouri Senate and a 111-52 majority in the Missouri House of Representatives.
---
In the courts
Groups sue New York attorney general over donor records
Nonprofit groups Empire Center and New Yorker's Family Research Foundation (NYFRF) filed a lawsuit against New York Attorney General Letitia James (D) on May 16. The groups alleged James' office improperly received IRS documents containing nonprofit donor information, including donors' names and addresses. Plaintiffs also cited the U.S. Supreme Court ruling in Americans for Prosperity v. Bonta, which held that requiring donors' names and addresses violated the First Amendment. The Empire Center's president and CEO Tim Hoefer said, "For years, the Attorney General's Charities Bureau wrongfully collected confidential donor information, and we now know that data hasn't been kept secure. The Attorney General's actions, or lack thereof, since the leaks have shown she has no plan to stop violating donors' First Amendment rights, leaving us with no option but to take her to court to enforce the law." James has not commented on the lawsuit, but said in October 2022 that her office had conducted an internal investigation into potential disclosures of donor information.
---
State by state
Since May 3, state legislatures have acted on 15 donor privacy and disclosure bills, down from the 16 bills acted on last month. These 15 bills represent 28.8% of the 52 bills we are tracking in 2023. Eight of these bills are from states with Democratic trifectas, five are from states with Republican trifectas, and two are from states with a divided government. In comparison, we tracked 51 bills at this point in 2022 and 40 bills at this point in 2021. Click here for a complete list of all the bills we're tracking.
5 bills were introduced (or had pre-committee action).
Democratic trifectas: 3
Republican trifectas: 2
1 bill advanced from committee
6 bills passed one chamber (or had pre-adoption action in the second chamber). Those bills, with their official titles, are listed below.
Democratic trifectas: 4
Republican trifectas: 1

NH HB195: Relative to the definition of political advocacy organization.

Divided governments: 1

NV AB258: Enacts certain provisions governing the confidentiality of certain personal information of a donor, member or volunteer of a nonprofit organization.
2 bills passed both chambers. Those bills, with their official titles, are listed below.
Republican trifectas: 1

AL HB184: Relating to charitable organizations; to amend Section 13A-9-71, Code of Alabama 1975, to prohibit the imposition of certain filing or reporting requirements on certain charitable organizations.

Divided governments: 1

NV AB52: Makes various changes to the Open Meeting Law.
1 bill was enacted. Those bills, with their official titles, are listed below.
Divided governments: 1

IN HB1212: Privacy of nonprofit donor information.
The charts below show bill progress by state trifecta status and compare tracked legislation by legislative status and partisan sponsorship in 2022 and 2023.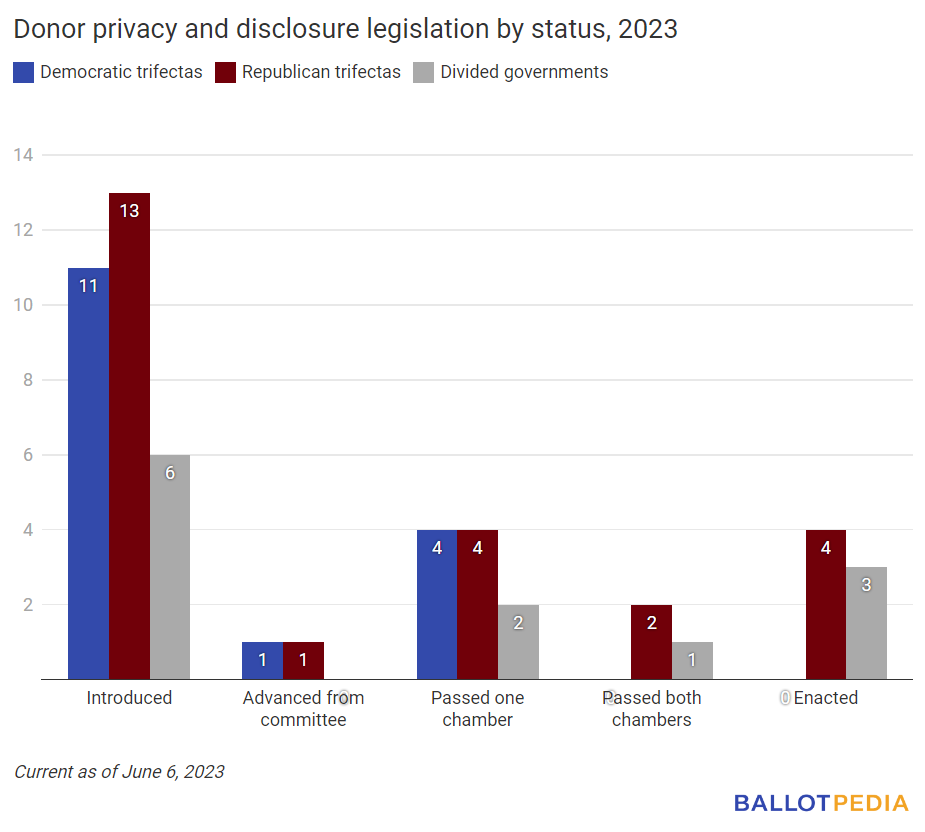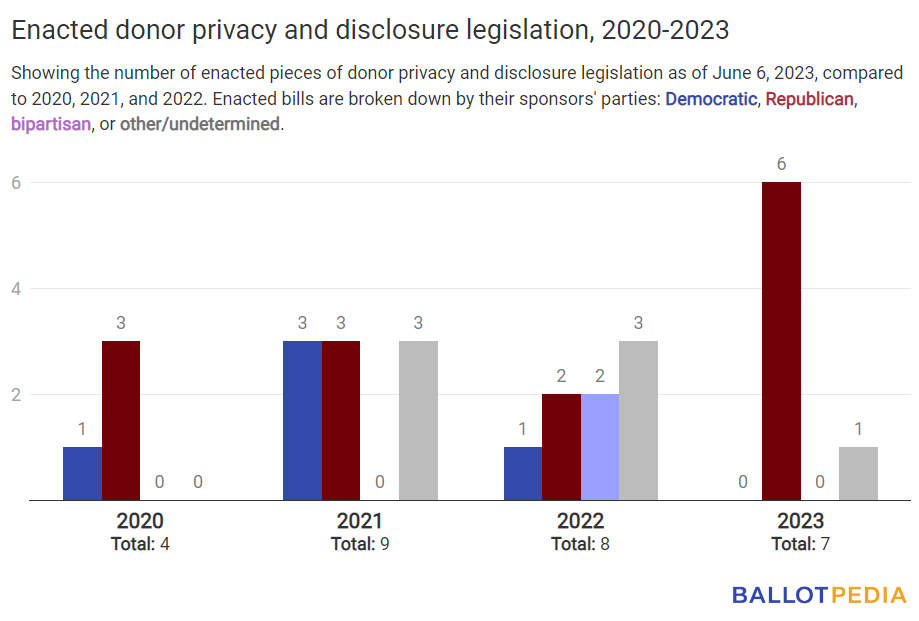 ---
What we're reading
Keep up with the latest events in the world of donor privacy and disclosure policy by exploring the stories linked below.
---
Dig deeper
Are you hungry for more information on the topics we covered in this edition? Check out the following Ballotpedia pages: