As of June 11, members of the General Assembly of North Carolina, which includes the North Carolina House of Representatives and the North Carolina State Senate, have passed five bills related to election administration since the beginning of the year. Of those five bills, legislators passed two during the week of June 5-11. This is two more than the same week last year. Republicans sponsored both bills. The two bills are:
NC H174: W-S/Forsyth Bd. of Ed./Rural Hall Even-Year, Rep. Donny Lambeth (R). 

As amended, this bill:

Changes the number of Winston-Salem/Forsyth County Board of Education members to eight, staggers their four-year terms, and provides for the board composition, future election schedule, and how winners will be chosen.
Changes the town of Rural Hall to a council-manager form of government with a mayor and four council members, provides for regular municipal elections to be held in even-numbered years using the nonpartisan primary election method, and provides for the future election schedule.

NC H99: Wake Co. Board of Comm. Elections, Rep. Erin Pare (R).

As introduced, this bill creates nonpartisan elections for the Wake County Board of Commissioners and specifies that the commissioners shall be elected by district.
Of the five bills passed this year, all have been enacted. This is five more than this point a year ago. Republicans sponsored four bills, while Democrats sponsored one. Of the two bills passed last week, both were enacted into law.
From June 5-11, legislators passed 15 bills related to election administration nationally. As of June 11, Tennessee legislators have passed the most bills this year with 17, while legislators in 14 states have passed none. The state with the most enacted bills is Tennessee with 17, while 14 states have enacted none.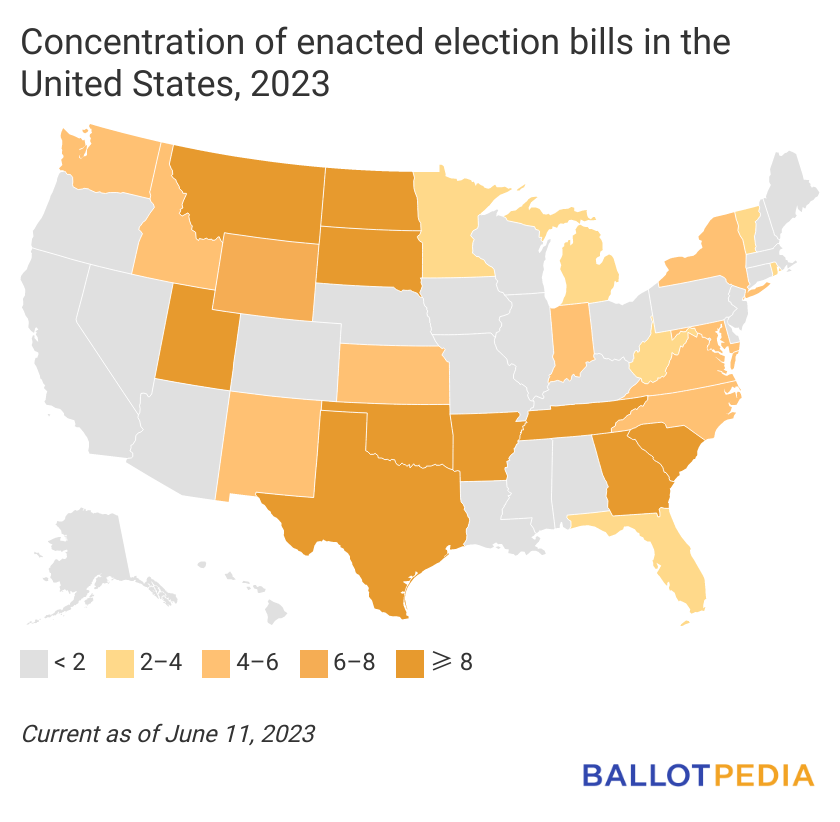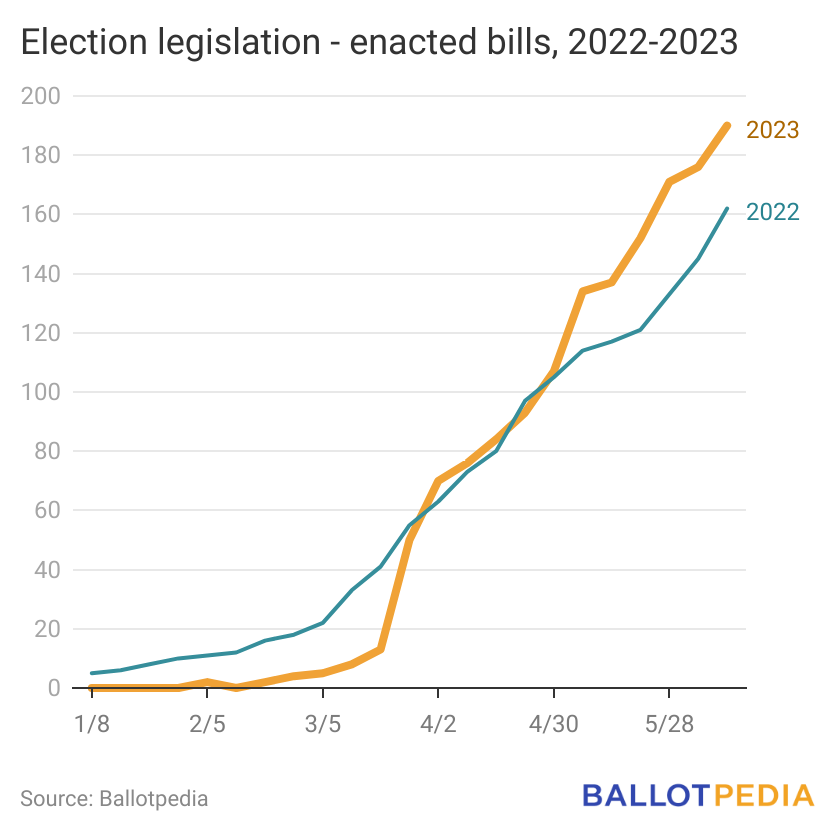 The General Assembly of North Carolina is scheduled to be in session from Jan. 11 to Aug. 31 this year. In 2022, North Carolina legislators passed three election-related bills, two in the state Senate and one in the state House. One of the bills from the state Senate was enacted into law. North Carolina is a divided government, meaning neither party holds trifecta control.
Additional reading: