As of June 11, Ballotpedia has tracked 13 election-related bills in the North Carolina State Senate since the beginning of the year. Of the 13, Ballotpedia tracked two from June 5-11. Republicans sponsored one, while Democrats sponsored the other. The two bills are below:
NC S747: Elections Law Changes, Sens. Kevin Corbin (R), Warren Daniel (R), Carl Ford (R), Ralph Hise (R), Matthew Johnson (R), Paul Newton (R), and Benton Sawrey (R).

As introduced, this bill:

Adds that absentee ballots will be received by 7:30 pm on the day of primaries and general elections. Ballots received later will not be accepted unless federal law requires. Absentee ballots received in a properly executed container-return envelope by 5:00 pm the day before an election, or by 7:30 pm day of as allowed will be counted.
Establishes that the county board of elections will report daily during early voting through the day of election: the number of absentee ballots spoiled, number of outstanding absentee ballots, number of absentee ballots counted, and number of provisional ballots.
Stipulates that if a person is disqualified from jury duty due to not being a United States citizen the court will send that information to the state board of elections. If it determined that the voter is not a U.S. citizen they will be removed from voter registration records.
Adds that affixing a barcode to the absentee ballot or envelope by anyone other than by the state or county board of elections is a class 1 misdemeanor.
Click the hyperlinked bill number above for more information.
NC S748: Voter Fraud Prevention Act, Sens. Valencia Applewhite (D), Sydney Batch (D), Dan Blue (D), Jay Chaudhuri (D), Michael Garrett (D), Lisa Grafstein (D), Rachel Hunt (D), Natasha Marcus (D), Graig Meyer (D), Natalie Murdock (D), Gladys Robinson (D), and DeAndrea Salvador (D).

As introduced, this bill establishes that if an elected or appointed member of the General Assembly changes party affiliation with more than six months of their term left an automatic vacancy will be triggered, and The State Board of Elections will conduct a special election. The member will return any contributions made to the member or candidate campaign committee.
During the week of June 5-11, Ballotpedia tracked 14 Senate election-related bills nationally. As of June 11, Ballotpedia has tracked 983 Senate bills nationally. Ballotpedia tracked the most Senate bills this year in the New York State Senate with 160, while Ballotpedia tracked the fewest Senate bills in the Massachusetts State Senate with zero.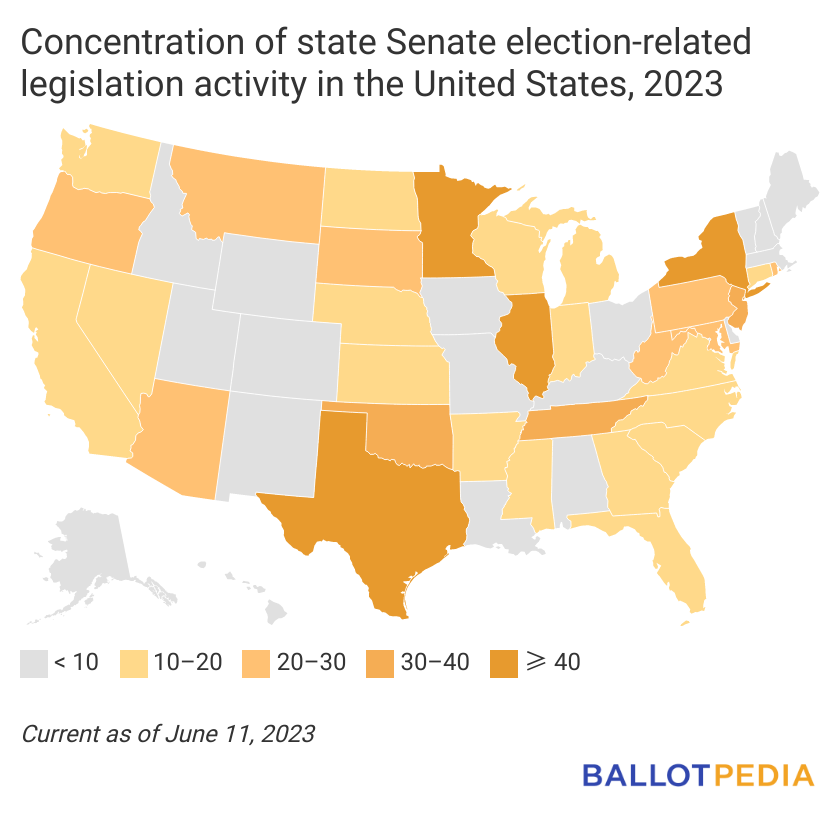 As of June 11, Ballotpedia has tracked 454 Senate bills in Democratic trifectas and 403 Senate bills in Republican trifectas. A trifecta is when one political party holds the governorship and majorities in both chambers of the state legislature. Ballotpedia has tracked 126 Senate bills in states where neither party holds trifecta control.
The North Carolina Senate is scheduled to be in session from Jan. 11 to Aug. 31 this year. In 2022, Ballotpedia tracked eight Senate bills related to election administration. Two of these bills passed both chambers and one was enacted into law. North Carolina is a divided government, meaning neither party holds trifecta control.
Additional reading: