As of June 25, Ballotpedia has tracked 31 election-related bills in the New Jersey State Senate since the beginning of the year. Of the 31, Ballotpedia tracked one from June 19-25. Democrats sponsored the bill. The bill is:
NJ S3594: Requires periodic reporting of election results on night of primary and general election and until final tally thereafter; appropriates $1.5 million, Sens. Shirley Turner (D) and Andrew Zwicker (D).

As amended, this bill:

Stipulates that an unofficial count report, with certain specified information, must be posted on the county clerk's website by 11:59pm on Election Day and 9pm each day after Election Day until all votes are counted.
Requires each county clerk to send the secretary of state each of the daily reports for the secretary to post on the Division of Elections website.
Requires the county clerk to post on their website the number of eligible provisional ballots received beginning on the seventh day after the election, to be updated by 9pm each day until all provisional ballots are counted.
Requires the county clerk to post the results of an election on their website.
Appropriates $1.5 million to implement these requirements.
During the week of June 19-25, Ballotpedia tracked four Senate election-related bills nationally. As of June 25, Ballotpedia has tracked 997 Senate bills nationally. Ballotpedia tracked the most Senate bills this year in the New York State Senate with 160, while Ballotpedia tracked the fewest Senate bills in the Massachusetts State Senate with zero.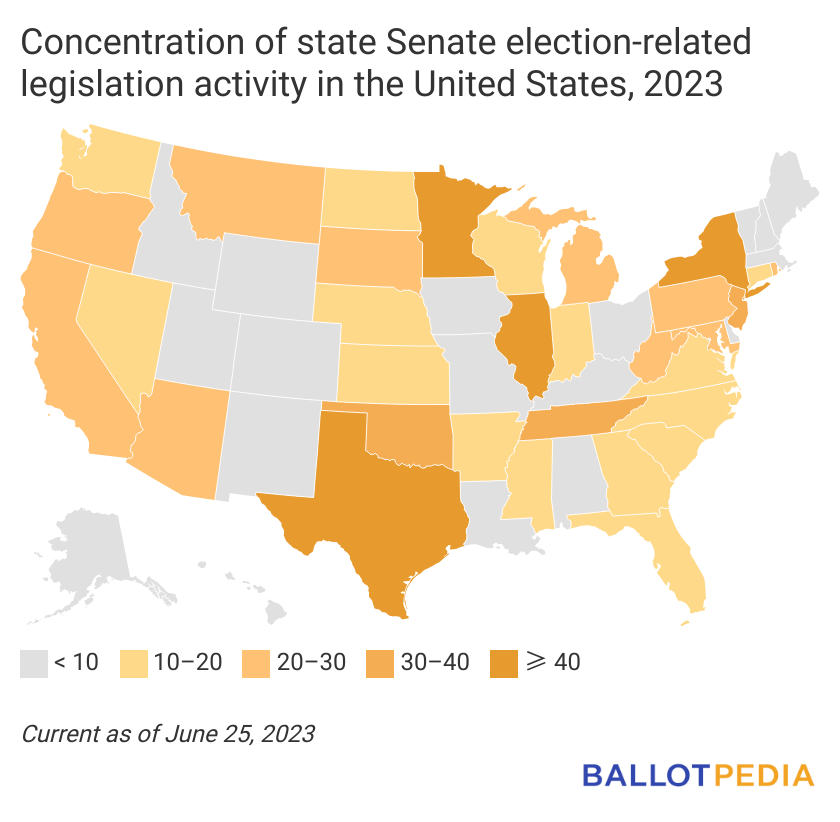 As of June 25, Ballotpedia has tracked 463 Senate bills in Democratic trifectas and 405 Senate bills in Republican trifectas. A trifecta is when one political party holds the governorship and majorities in both chambers of the state legislature. Ballotpedia has tracked 129 Senate bills in states where neither party holds trifecta control.
The New Jersey Senate is scheduled to be in session from Jan. 10 to Dec. 31 this year. In 2022, Ballotpedia tracked 57 Senate bills related to election administration. Zero of these bills passed both chambers. New Jersey is a Democratic trifecta.
Additional reading: