As of June 25, Ballotpedia has tracked 14 election-related bills in the North Carolina State Senate since the beginning of the year. Of the 14, Ballotpedia tracked one from June 19-25. Republicans sponsored the one bill. The bill is below:   
NC S749: No Partisan Advantage in Elections, Sens. Lisa Barnes (R), Kevin Corbin (R), Warren Daniel (R), Ralph Hise (R), and Paul Newton (R).

As amended, this bill:

Arranges for the State Board of Elections to be administratively placed under the Department of the Secretary of State, whereas before it was independent of any administrative department.
Modifies the makeup of the State Board of Elections from five members appointed by the governor to eight members appointed by the General Assembly following specified guidelines.
Provides the State Board of Elections members will serve four-year terms, beginning May 1 after the election of members of the Council of State.
Directs that vacancies on the State Board of Elections will be filled by the General Assembly.
Modifies the number of members required to request to move a meeting to a different location from four to five.
Click the hyperlinked bill number above for more information.
During the week of June 19-25, Ballotpedia tracked four Senate election-related bills nationally. As of June 25, Ballotpedia has tracked 997 Senate bills nationally. Ballotpedia tracked the most Senate bills this year in the New York State Senate with 160, while Ballotpedia tracked the fewest Senate bills in the Massachusetts State Senate with zero.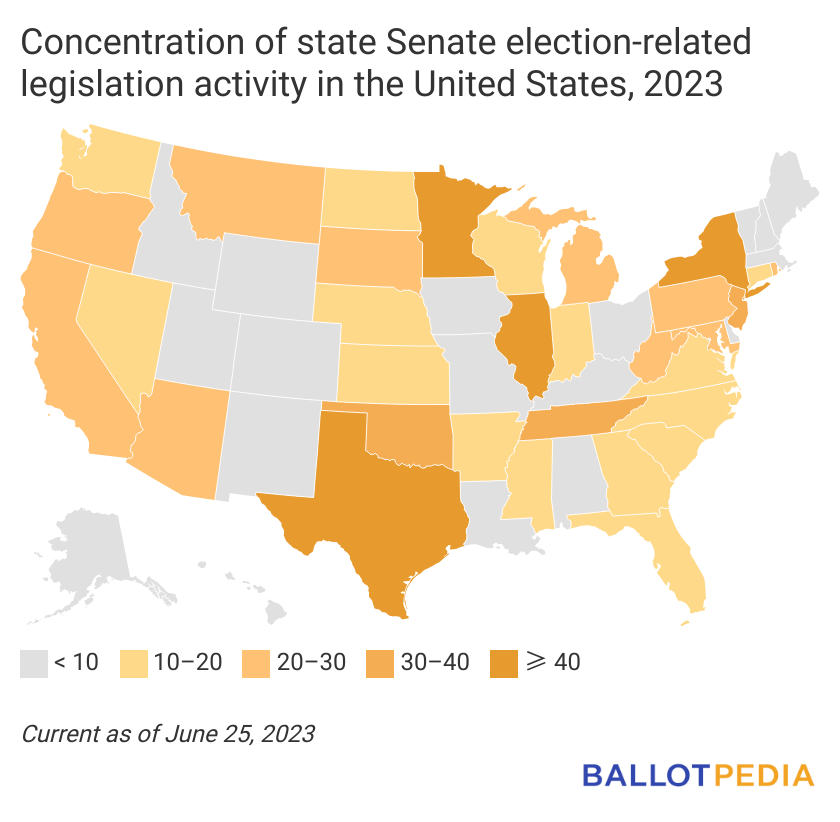 As of June 25, Ballotpedia has tracked 463 Senate bills in Democratic trifectas and 405 Senate bills in Republican trifectas. A trifecta is when one political party holds the governorship and majorities in both chambers of the state legislature. Ballotpedia has tracked 129 Senate bills in states where neither party holds trifecta control.
The North Carolina Senate is scheduled to be in session from Jan. 11 to Aug. 31 this year. In 2022, Ballotpedia tracked eight Senate bills related to election administration. Two of these bills passed both chambers and one was enacted into law. North Carolina is a divided government, meaning neither party holds trifecta control.
Additional reading: