Welcome to the Thursday, June 29, Brew.
Here's what's in store for you as you start your day:
New report: State of Election Administration Legislation 2023
Trends in election legislation
Specific election policy areas
---
New report: State of Election Administration Legislation 2023
State legislators introduce thousands of bills each year affecting the way Americans vote and how our elections are governed. Today, on the first anniversary of the launch of Ballotpedia's Election Administration Legislation Tracker, we're releasing a new report: State of Election Administration Legislation 2023. This report presents our observations and analysis regarding the election-related state legislation we've tracked in the first part of this year.
The report covers election-related state legislative activity from Jan. 1 through May 31.
During that time, we tracked 2,682 election-related bills.
Lawmakers enacted 183 bills, compared to 236 bills enacted in all of 2022, when we tracked 2,520 election-related bills.

Governors had successfully vetoed 17 election-related bills in 2023, the same number as were vetoed in all of 2022.

Democrats sponsored 33, Republicans sponsored 110, and 22 had bipartisan sponsorship. The remaining 18 bills had another type of sponsor, including committees.

State governments with Democratic trifectas enacted 30 bills, Republican trifectas enacted 136, and divided governments enacted 17.
In the report, you'll find summaries of some of the trends we've analyzed this year, as well as information about current state law and legislative activity across various election policy areas. Let's take a look at a few highlights:
---
Trends in election legislation
Here are a few trends highlighted in the report:
State lawmakers have considered more ranked-choice voting bans so far in 2023 than in previous years.

Lawmakers introduced more bills in 2023 than in 2022 that would make ballot access more difficult for political parties.

So far this year, there's been nearly a 50% increase in the number of bills that would consolidate election dates, and more states have considered legislation to change school board election dates.

The total number of bills introduced related to private funding of elections dropped this year, as the majority of Republican-controlled legislatures passed bills on the topic in 2021 or 2022. Some states introduced and enacted bills to amend or adjust existing laws around private funding bans.

Republican trifecta states enacted a majority of the bills on voter list maintenance, and multiple states have considered bills related to the Electronic Registration Information Center (ERIC) this year.
Specific election policy areas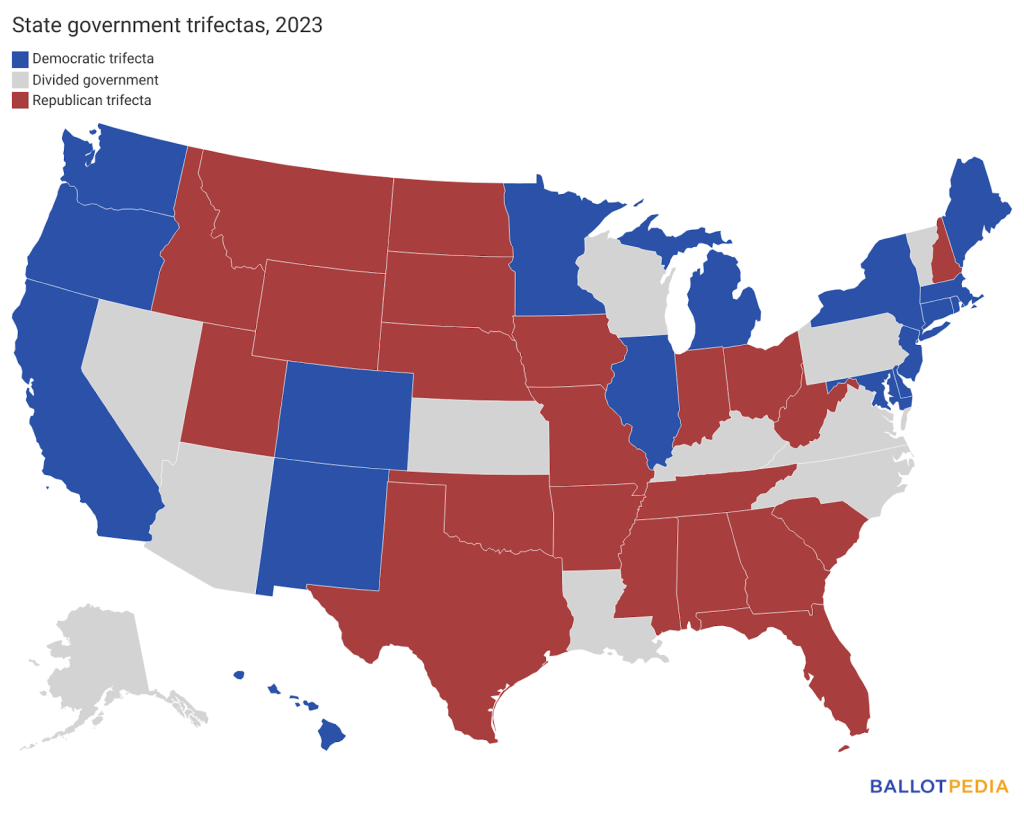 In the report, we provide detailed map breakdowns by state. Three sample maps and breakdowns include:
Ranked-choice voting (RCV): Heading into 2023, two states prohibited RCV, while 17 states had adopted RCV voting either on the state or local level. In 2023, three more states passed laws prohibiting RCV, and two such bans were vetoed.



Photo ID requirements for in-person voting: Heading into 2023, 22 states required voters to provide a photo ID when voting in person. Nebraska and Ohio enacted new voter ID requirements in 2023.
Noncitizen voting: As of May 31, six states had introduced constitutional amendments requiring all voters to be U.S. citizens, and six states had introduced bills requiring proof of citizenship to register to vote or prohibiting noncitizen voting. Five states had introduced bills prohibiting consideration of citizenship for voter registration or explicitly allowing noncitizens to vote in certain elections.
---
About Ballotpedia's Election Administration Legislation Tracker
Ballotpedia launched our Election Administration Legislation Tracker in June 2022. The tracker is a best-in-class resource to help voters, journalists, researchers, and activists quickly and easily track election-related legislation through a portal on our website.
This user-friendly tracker covers thousands of election-related bills in state legislatures and organizes them by topic with neutral, expert analysis from Ballotpedia's election administration researchers.
In addition to providing daily updates on the bills we track, we summarize each bill in neutral language for a general audience and add category tags that allow for trend analysis.
Because it's from Ballotpedia, our tracker is guaranteed to be neutral, unbiased, and nonpartisan.