So far this year, two states, Michigan and Minnesota, have enacted extreme risk protection orders (ERPOs). They became the first states to enact new ERPOs since New Mexico and Virginia did so in 2020. The new laws in Michigan and Minnesota raise the total number of states with ERPOs to 21. ERPOs are also commonly referred to as red flag laws.
Interest in red flag laws expanded after the 2018 Parkland school shooting in Parkland, Florida. Five states had extreme risk protection order laws before 2018, while in 2018 alone eight additional states adopted some form of the law. Six more states joined those with ERPOs between 2019 and 2020.
Of the 21 states with red flag laws, 13 had Democratic trifectas when the law was enacted, including Michigan and Minnesota. One state, Florida, had a Republican trifecta at the time, and the remaining seven states had divided government.
In addition to Michigan and Minnesota, eleven other states that do not currently have extreme risk protection order laws considered legislation this year. The Pennsylvania state House approved HB1018 on May 22 by a 102-99 vote but it has not yet been considered in the state Senate. The other legislatures to consider red flag laws this year were: Arkansas, Georgia, Missouri, Montana, Nebraska, New Hampshire, North Carolina, Ohio, South Dakota, and Tennessee.
Elsewhere this year, four states (Colorado, Connecticut, Vermont, and Washington) have amended existing ERPOs. These amendments included, among other changes, expanding who is eligible to file a petition on behalf of another in the case of Colorado and Vermont; placing new restrictions on the possession of a firearm for individuals found to have violated an ERPO in Washington; and modifying a requirement that multiple law enforcement officers attest to the need for an ERPO in Connecticut.
Four other states have considered changes to their existing laws this year. Legislators in New York have considered 19 amendments. S3340, which would require ERPOs be reported to a statewide registry, passed the state senate by a 47-13 vote on May 9. Other proposed amendments include one that would restrict the applicability of ERPOs to New York City (A4816), one that would create a penalty for purposefully including false information when filing an ERPO (A3359), and one that eliminate a requirement that law enforcement file an ERPO in certain circumstances (A6428). New York made changes to its existing red flag laws in 2022 in the wake of a mass shooting in a Buffalo supermarket. These included S9113, which expanded the list of those eligible to file an ERPO petition, and EO 19 (an executive order) by Gov. Kathy Hochul (D), which requires law enforcement in the state to seek a risk protection order if probable cause exists that indicates one is needed. 
While some states are seeking to implement or expand red flag laws, others are considering preemptively outlawing ERPOs or amending existing bans. Lawmakers in two states, South Dakota and Wyoming, have introduced legislation prohibiting the authorization or use of risk protection orders for firearms. Both of these bills did not pass through committees. Oklahoma considered an amendment that would expand an existing prohibition on the use or enforcement of red flag laws. As of July 2023, Oklahoma and West Virginia are the only states that prohibit the use or enforcement of extreme risk protection orders for firearms in state law.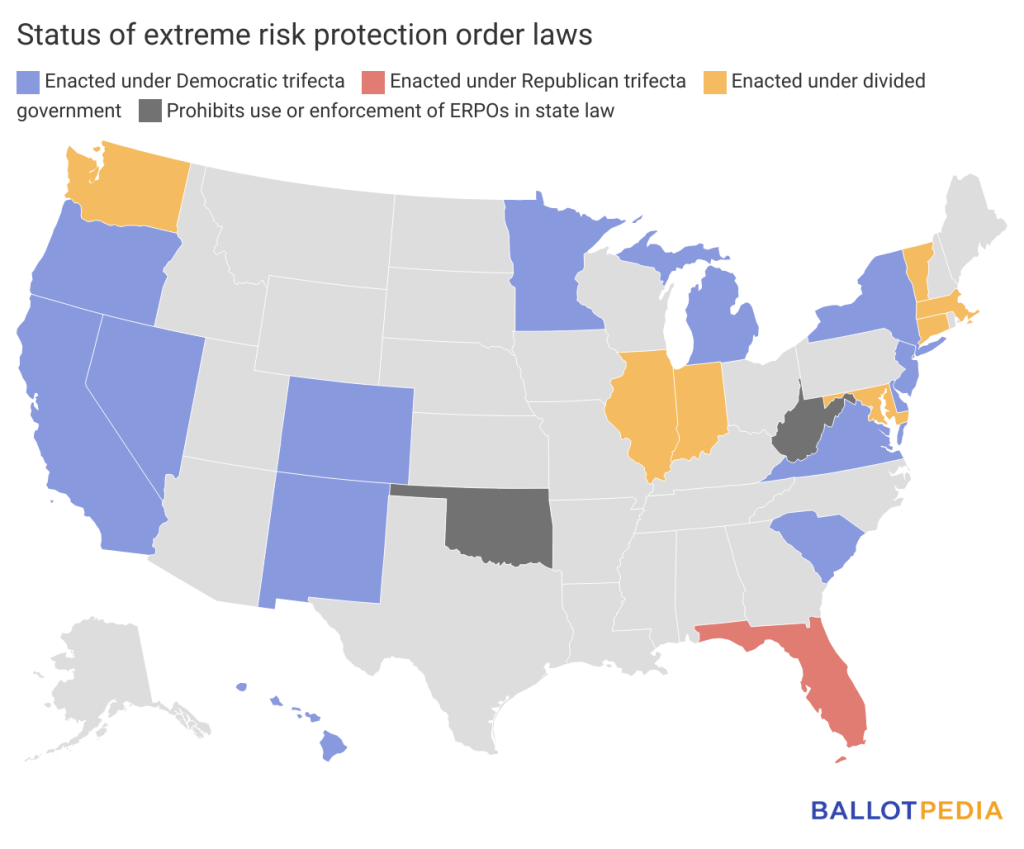 See also: