As of July 9, Ballotpedia has tracked 189 election-related bills in the Texas House of Representatives since the beginning of the year. Of the 189, Ballotpedia tracked two from July 3-9. Democrats sponsored one, while Republicans sponsored the other. The two bills are:   
TX HB33: Relating to electronic voter registration, Rep. John Bucy (D).

As introduced, this bill requires the secretary of state to work with the Department of Public Safety and the Department of Information Resources to implement an online voter registration application program. The bill outlines the identification requirements to complete the application and digital signature requirements.
TX HB59: Relating to the separation of federal elections from state and local elections, and to related practices and procedures, Rep. Mike Schofield (R).

A summary has not been provided yet.
During the week of July 3-9, Ballotpedia tracked 108 House election-related bills nationally. As of July 9, Ballotpedia has tracked 1,542 House bills nationally. Ballotpedia tracked the most House bills this year in the Texas House of Representatives with 189, while Ballotpedia tracked the fewest House bills in the Delaware House of Representatives with five.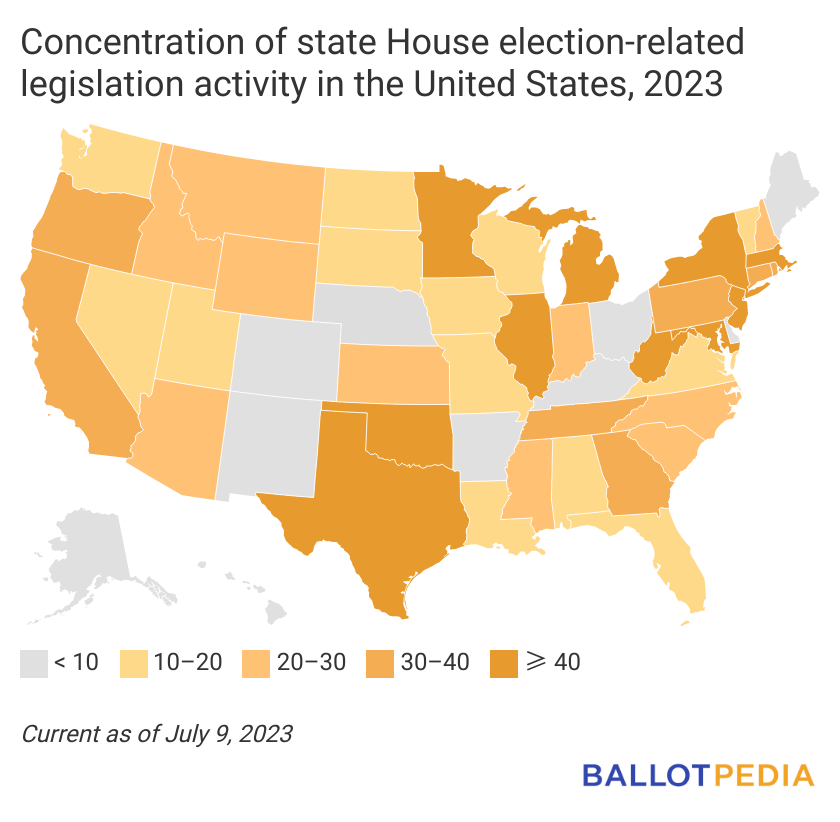 As of July 9, Ballotpedia has tracked 692 House bills in Democratic trifectas and 658 House bills in Republican trifectas. A trifecta is when one political party holds the governorship and majorities in both chambers of the state legislature. Ballotpedia has tracked 192 House bills in states where neither party holds trifecta control.
The Texas House was scheduled to be in regular session from Jan. 10 to May 29 this year. In 2022, Ballotpedia tracked zero House bills related to election administration. Texas is a Republican trifecta.
Additional reading: