As of July 9, Ballotpedia has tracked 115 election-related bills in the Texas State Senate since the beginning of the year. Of the 115, Ballotpedia tracked one from July 3-9. A bipartisan group of legislators sponsored the bill. The bill is:
TX SJR35: Proposing a constitutional amendment clarifying that a voter must be a United States citizen, Rep. Charlie Geren (R) and Sens. Jose Menendez (D), Paul Bettencourt (R), Brian Birdwell (R), Bob Hall (R), and Mayes Middleton (R).

As introduced, this bill proposes a constitutional amendment to submit to voters to decide whether or not to clarify that voters must be U.S. citizens.
During the week of July 3-9, Ballotpedia tracked 64 Senate election-related bills nationally. As of July 9, Ballotpedia has tracked 1,061 Senate bills nationally. Ballotpedia tracked the most Senate bills this year in the New York State Senate with 160, while Ballotpedia tracked the fewest Senate bills in the Vermont State Senate with two.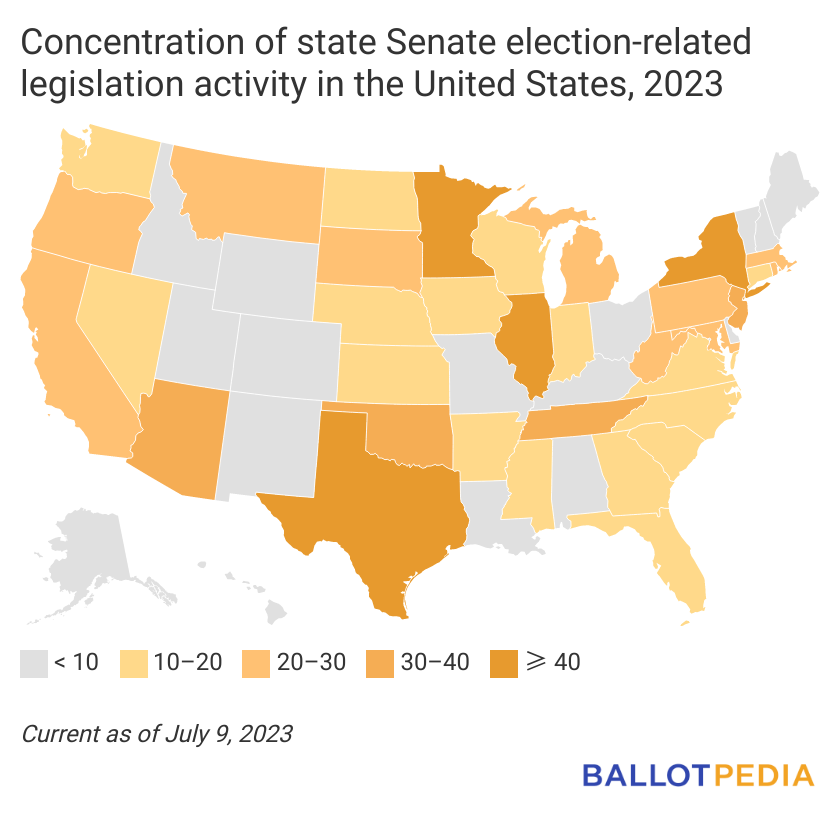 As of July 9, Ballotpedia has tracked 496 Senate bills in Democratic trifectas and 424 Senate bills in Republican trifectas. A trifecta is when one political party holds the governorship and majorities in both chambers of the state legislature. Ballotpedia has tracked 141 Senate bills in states where neither party holds trifecta control.
The Texas Senate was scheduled to be in regular session from Jan. 10 to May 29 this year. In 2022, Ballotpedia tracked zero Senate bills related to election administration. Texas is a Republican trifecta.
Additional reading: