As of July 9, Ballotpedia has tracked 55 election-related bills in the New Jersey General Assembly since the beginning of the year. Of the 55, Ballotpedia tracked two from July 3-9. Democrats sponsored both bills. The two bills are:   
NJ A5627: Requires municipal clerk to post municipal documents online, Assembly Member Angela McKnight (D).

A summary has not been provided yet.
NJ A5176: Requires periodic reporting of election results on night of primary and general election and until final tally thereafter; appropriates $1.5 million, Assembly Members Reginald Atkins (D), Craig Coughlin (D), Mila Jasey (D), and Benjie Wimberly (D), and Sens. Patrick Diegnan (D), Nellie Pou (D), Shirley Turner (D), and Andrew Zwicker (D).

A summary has not been provided yet.
During the week of July 3-9, Ballotpedia tracked 108 House election-related bills nationally. As of July 9, Ballotpedia has tracked 1,542 House bills nationally. Ballotpedia tracked the most House bills this year in the Texas House of Representatives with 189, while Ballotpedia tracked the fewest House bills in the Delaware House of Representatives with five.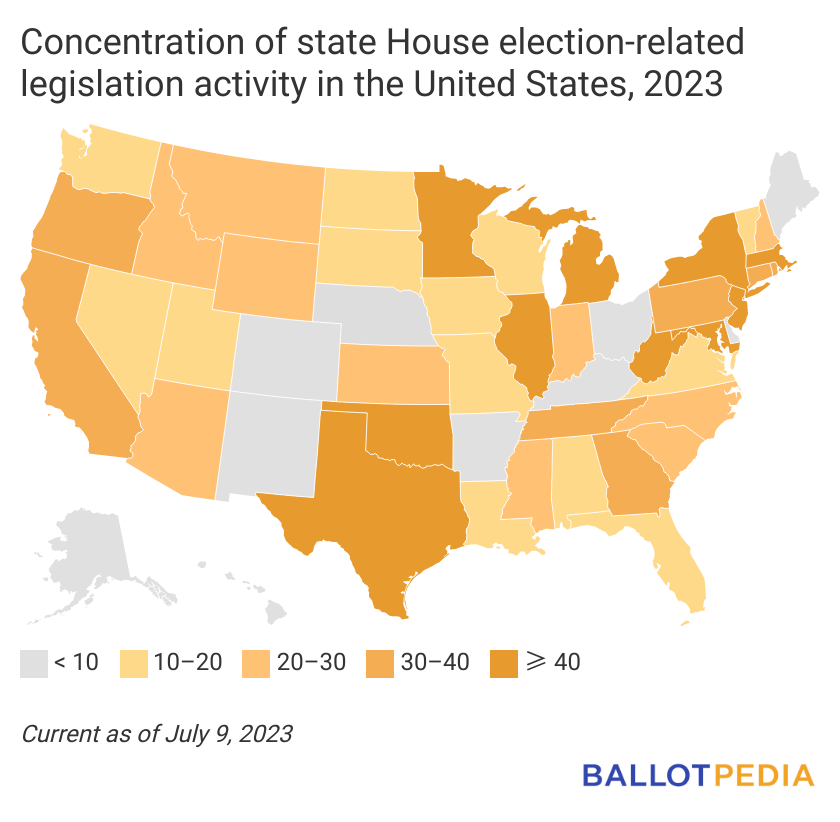 As of July 9, Ballotpedia has tracked 692 House bills in Democratic trifectas and 658 House bills in Republican trifectas. A trifecta is when one political party holds the governorship and majorities in both chambers of the state legislature. Ballotpedia has tracked 192 House bills in states where neither party holds trifecta control.
The New Jersey Assembly is scheduled to be in session from Jan. 10 to Dec. 31 this year. In 2022, Ballotpedia tracked 80 House bills related to election administration. Ten of these bills passed both chambers and all 10 were enacted into law. New Jersey is a Democratic trifecta.
Additional reading: