As of July 9, Ballotpedia has tracked 33 election-related bills in the New Jersey State Senate since the beginning of the year. Of the 33, Ballotpedia tracked two from July 3-9. Democrats sponsored the two bills. The bills are:   
NJ S4044: Changes MVC voter registration procedures, Sen. Andrew Zwicker (D).

A summary has not been provided yet.
NJ S4051: Requires court to respond within 24 hours for election-related actions arising within 14 days of election; authorizes ELEC to petition court to suspend campaign accounts of persons who violate campaign finance laws, Sen. Joseph Cryan (D).

As introduced, this bill requires a court to render an initial judgment within 24 hours or in the shortest amount of time deemed practicable by the court when an election-related cause of action arises within 14 days preceding an election.
During the week of July 3-9, Ballotpedia tracked 64 Senate election-related bills nationally. As of July 9, Ballotpedia has tracked 1,061 Senate bills nationally. Ballotpedia tracked the most Senate bills this year in the New York State Senate with 160, while Ballotpedia tracked the fewest Senate bills in the Vermont State Senate with two.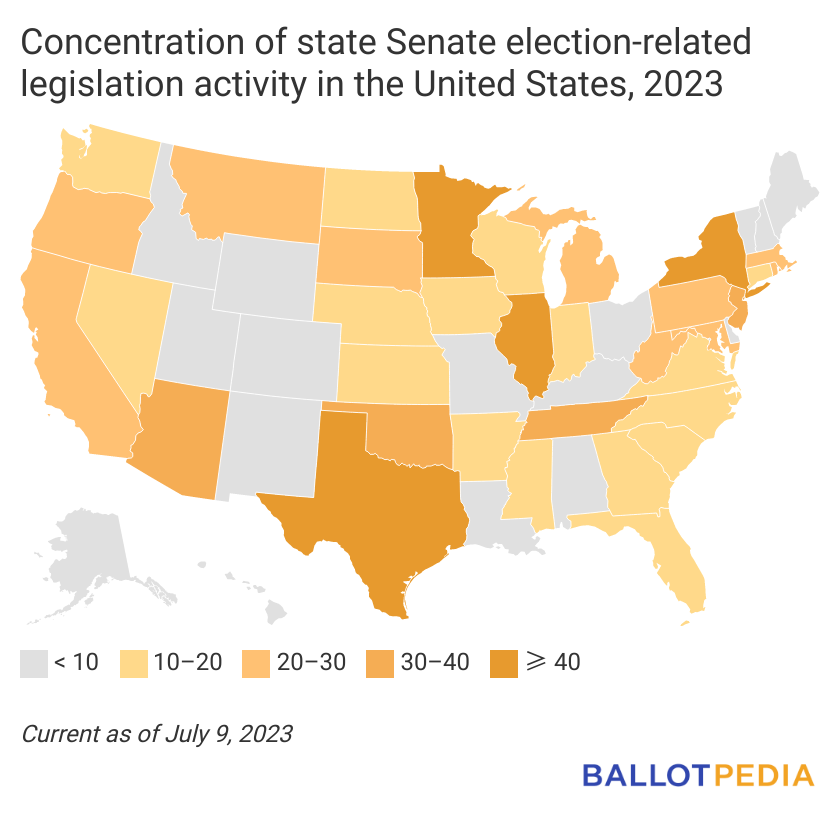 As of July 9, Ballotpedia has tracked 496 Senate bills in Democratic trifectas and 424 Senate bills in Republican trifectas. A trifecta is when one political party holds the governorship and majorities in both chambers of the state legislature. Ballotpedia has tracked 141 Senate bills in states where neither party holds trifecta control.
The New Jersey Senate is scheduled to be in session from Jan. 10 to Dec. 31 this year. In 2022, Ballotpedia tracked 57 Senate bills related to election administration. One of these bills passed both chambers and was enacted into law. New Jersey is a Democratic trifecta.
Additional reading: