As of July 9, Ballotpedia has tracked 10 election-related bills in the Wisconsin State Assembly since the beginning of the year. Of the 10, Ballotpedia tracked one from July 3-9. A bipartisan group of legislators sponsored the bill. The bill is:
WI AB330: The number of signatures on nomination papers, Reps. Clinton Anderson (D), Deb Andraca (D), Marisabel Cabrera (D), Sue Conley (D), Alex Joers (D), Sylvia Ortiz-Velez (D), Christine Sinicki (D), Shelia Stubbs (D), Scott Allen (R), Ty Bodden (R), Janel Brandtjen (R), Rick Gundrum (R), Nate Gustafson (R), Scott Krug (R), Clint Moses (R), David Murphy (R), Shae Sortwell (R), and Paul Tittl (R), and Sens. Lena Taylor (D), Joan Ballweg (R), Rachael Cabral-Guevara (R), Jesse James (R), and Cory Tomczyk (R).

As introduced, this bill permits signatures on nomination papers that exceed the maximum number to be counted if a candidate submits more than the maximum number needed and some of the required signatures are not deemed sufficient.
During the week of July 3-9, Ballotpedia tracked 108 House election-related bills nationally. As of July 9, Ballotpedia has tracked 1,542 House bills nationally. Ballotpedia tracked the most House bills this year in the Texas House of Representatives with 189, while Ballotpedia tracked the fewest House bills in the Delaware House of Representatives with five.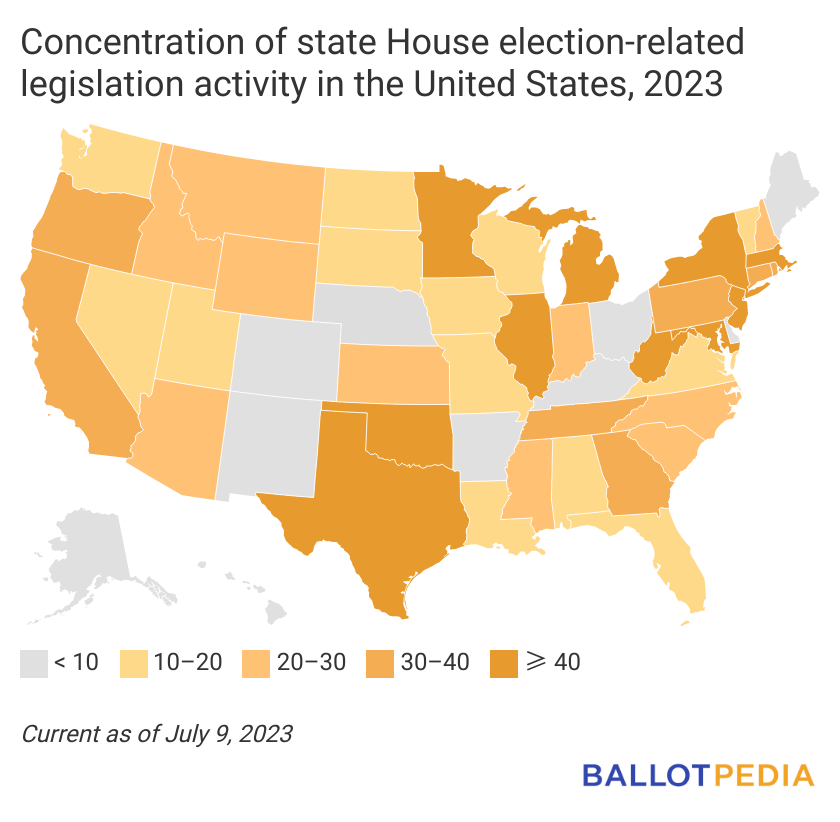 As of July 9, Ballotpedia has tracked 692 House bills in Democratic trifectas and 658 House bills in Republican trifectas. A trifecta is when one political party holds the governorship and majorities in both chambers of the state legislature. Ballotpedia has tracked 192 House bills in states where neither party holds trifecta control.
The Wisconsin Assembly is scheduled to be in session from Jan. 3 to Dec. 31 this year. In 2022, Ballotpedia tracked 43 House bills related to election administration. None of these bills passed both chambers. Wisconsin is a divided government, meaning neither party holds trifecta control.
Additional reading: