Ballotpedia tracked one new recall effort against local officials in Wisconsin from July 3-9, bringing the yearly statewide total to one effort against one official. The most recent effort is:
Adam Hahn recall, Columbia County, Wisconsin (2023): Columbia County District 10 Supervisor Adam Hahn.

According to Ballotpedia's email communication with the Columbia County clerk, the statement of intent to circulate a recall petition listed the following reasons for the recall attempt: "Supervisor Adam Hahn has shown through his voting record, to be acting against the desires of his constituents. Along with his actions, or lack of, in full Board and Committee meetings, there has been additional behavior he has been involved in which is unbecoming of an elected official, such as lack of transparency and political intimidation of a fellow supervisor."
Of the one recall effort this year, one has made the ballot. A recall election seeking to remove Adam Hahn from his position as Columbia County District 10 supervisor was on July 11, 2023. Recall efforts make the ballot if recall supporters submit the required number of signatures by a pre-approved date. In Wisconsin, the number of valid signatures required for a recall election is 25% of the number of persons that voted in the last preceding election for the office of governor within the electoral district of the officer sought to be recalled. Recall supporters needed to collect 238 signatures for this recall to reach the ballot.
Recall supporters alleged Hahn acted against the desires of his constituents and displayed behavior unbecoming of an elected official, including a lack of transparency and political intimidation of a fellow supervisor.
Hahn responded to the attempt by stating that the recall effort was in response to his opposition to a board resolution asking the Wisconsin Public Service Commission to deny solar power projects in the county.
The recall was paired with a general election to determine Hahn's successor. Voters recalled Hahn and Derek Granquist was elected to replace him with 60% of the vote to Hahn's 40%.
Nationwide, 246 officials are the subject of recall efforts through July 9. Michigan leads the field with 81 officials targeted. Fifty targeted officials have made the recall ballot as of July 9. Michigan leads the field with 15 officials on the ballot.
In 2022, Ballotpedia covered a total of 266 recall efforts against 448 officials in 30 states as well as Washington, D.C. Michigan led the way in officials targeted for recall with 133 in 2022. California followed with 72. From 2016 to 2021, California had the most officials targeted in five of the six years.
Looking at Wisconsin alone, six officials were targeted in 2022. This is less than the ten-year average of 12.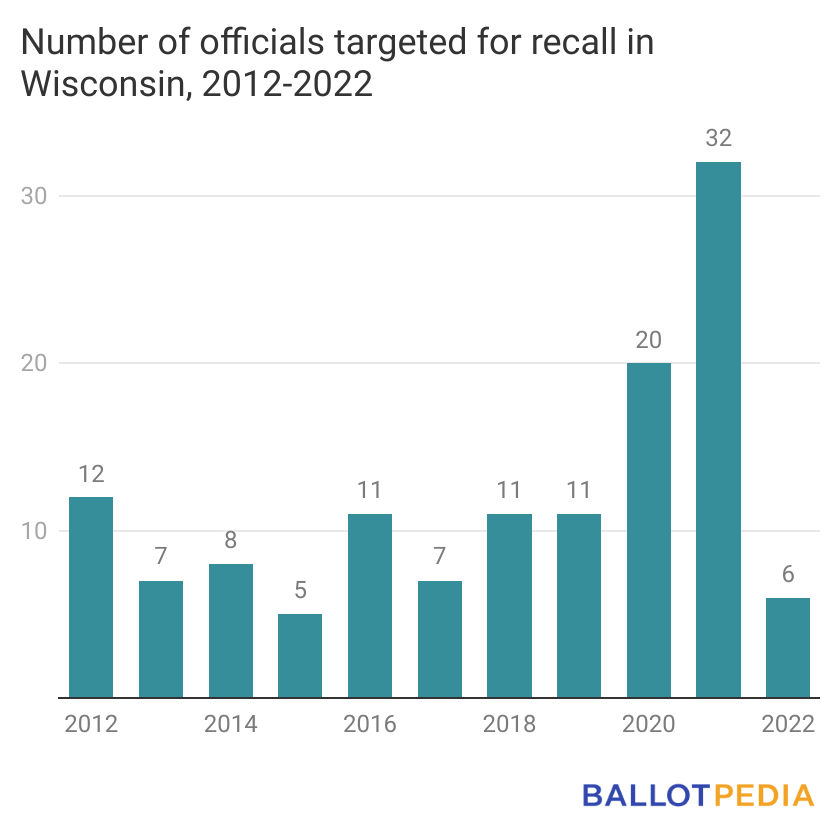 Additional reading: