Vice President Kamala Harris (D) cast her 31st tie-breaking vote in the Senate on July 12, breaking the 50-50 tie to invoke cloture on the nomination of Kalpana Kotagal to be a member of the Equal Employment Opportunity Commission. At 31 tie-breaking votes, Harris is now tied with John C. Calhoun (1825 – 1832) for the most tie-breaking votes cast by a vice president in United States history.
Harris has cast 25 votes in relation to the confirmation of judges and administration officials, and six votes in relation to the American Rescue Plan Act and the Inflation Reduction Act, two budget reconciliation bills passed during the 117th Congress.
The third-most tie-breaking votes in United States history were cast by John Adams (29) during his tenure from 1789 to 1797. After Adams, the next most were cast by George M. Dallas (19) from 1845 to 1849.
Harris has cast the most tie-breaking votes of any vice president since 1981. At 31 votes, she's cast more than twice as many as Mike Pence, who ranks at second-most for casting 13 votes during his tenure (2017-2021).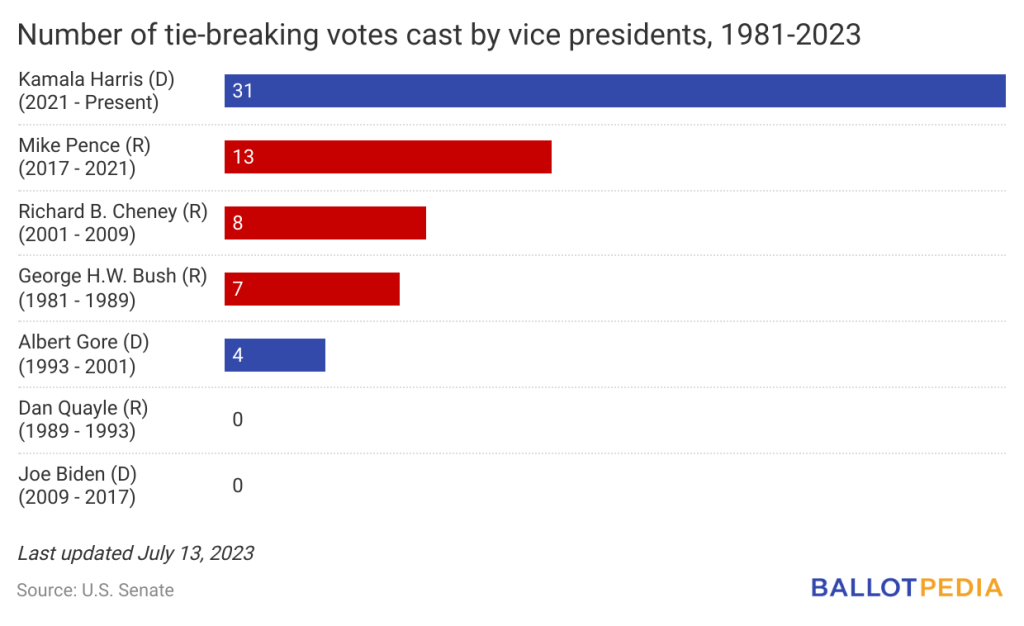 As of July 13, 2023, a total of 299 tie-breaking votes have been cast by 37 vice presidents. The first ever tie-breaking vote was cast by Adams on July 18, 1789.
Additional reading: