Ballotpedia tracked one new recall effort against local officials in Florida from July 3-9, bringing the yearly statewide total to five efforts against four officials. The most recent effort is:
Michele Myers and Cynthia Burton recall, Crescent City, Florida (2022-2023): Mayor Michele Myers and City Commissioner Cynthia Burton.
Crescent City, City Commissioner Cynthia Burton

Two recall attempts were levied against Burton, the latest in June 2023. Supporters of the first recall alleged that Burton had violated Florida law when the city commission met to discuss an ordinance that would end the city's police department. According to the Palatka Daily News, the public could not attend the meeting in person due to the coronavirus pandemic, but it was live-streamed on YouTube, and residents were able to enter a comment into the public record by calling the city during the meeting. Recall supporters stated that Burton had "…deprive[d] members of the general public from attending the meeting in person as required under Florida law." Burton was recalled in an election held in May 2023. The Florida Fifth District Court of Appeal ruled the recall petition as legally insufficient and the results of the election were invalidated, with Burton remaining in her position as city commissioner.
A second attempt to recall Burton was initiated on June 27, 2023, alleging that Burton filed frivolous petitions for injunction with the 7th Judicial Circuit Court that prevent residents from being within 500 feet of her home and the Crescent City City Hall. Burton said, "On February 6, 2023, I, as an individual and not my role as a city commissioner, exercised my right to file these petitions, as is allowed for any citizen, with the 7th Judicial Circuit Court, as a civil matter. … The form asks for protection specifically where I live and where I work."
Crescent City, Mayor Michele Myers

A recall petition was filed against Myers on June 27, 2023, alleging that Myers signed a check for $2,561.50 without a public discussion or city commission approval on June 4, 2021. Myers said, "I stand strong in knowing I am not guilty of any malfeasance, and I thank the community for their belief in me as mayor and for their support."
Of the five recall efforts this year, one — Burton's recall election from May 2023 — has made the ballot. Recall efforts make the ballot if recall supporters submit the required number of signatures by a pre-approved date. Recall organizers would need to collect 152 signatures for both Myers and Burton by Sept. 9, 2023, to trigger a recall election.
Nationwide, 246 officials are the subject of recall efforts through July 9. Michigan leads the field with 81 officials targeted. Fifty targeted officials have made the recall ballot as of July 9. Michigan leads the field with 15 officials on the ballot.
In 2022, Ballotpedia covered a total of 266 recall efforts against 448 officials in 30 states as well as Washington, D.C. Michigan led the way in officials targeted for recall with 133 in 2022. California followed with 72. From 2016 to 2021, California had the most officials targeted in five of the six years.
Looking at Florida alone, three officials were targeted in 2022. This is less than the ten-year average of four.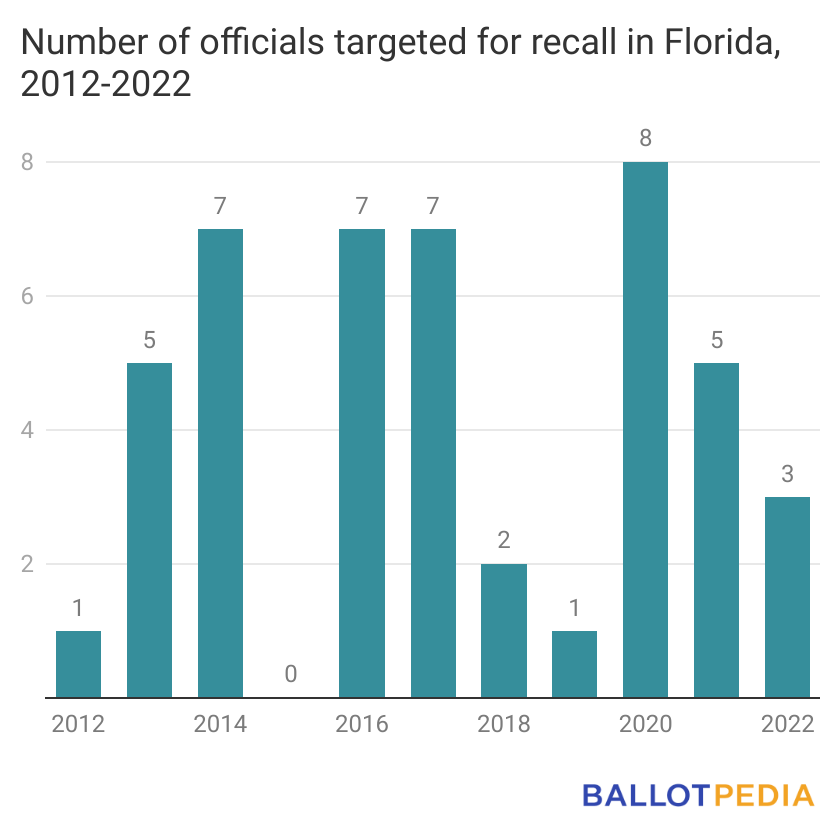 Additional reading: