California voters will decide on a constitutional amendment that would repeal Proposition 8, and add language in the California Constitution stating that "the right to marry is a fundamental right," on Nov. 5, 2024. Proposition 8 was a constitutional amendment approved by California voters by 52-47% in 2008 that defined marriage as between a man and a woman.
Currently, 29 states have constitutions that ban same-sex marriage, or define marriage as between one man and one woman. Nevada was the first state to repeal a constitutional amendment banning same-sex marriage with the passage of Question 2 in 2020. Same-sex marriage bans by state constitutional amendment or state statute are currently unenforceable due to the U.S. Supreme Court's 2015 Obergefell v. Hodges ruling, which held that same-sex marriage is protected under the U.S. Constitution.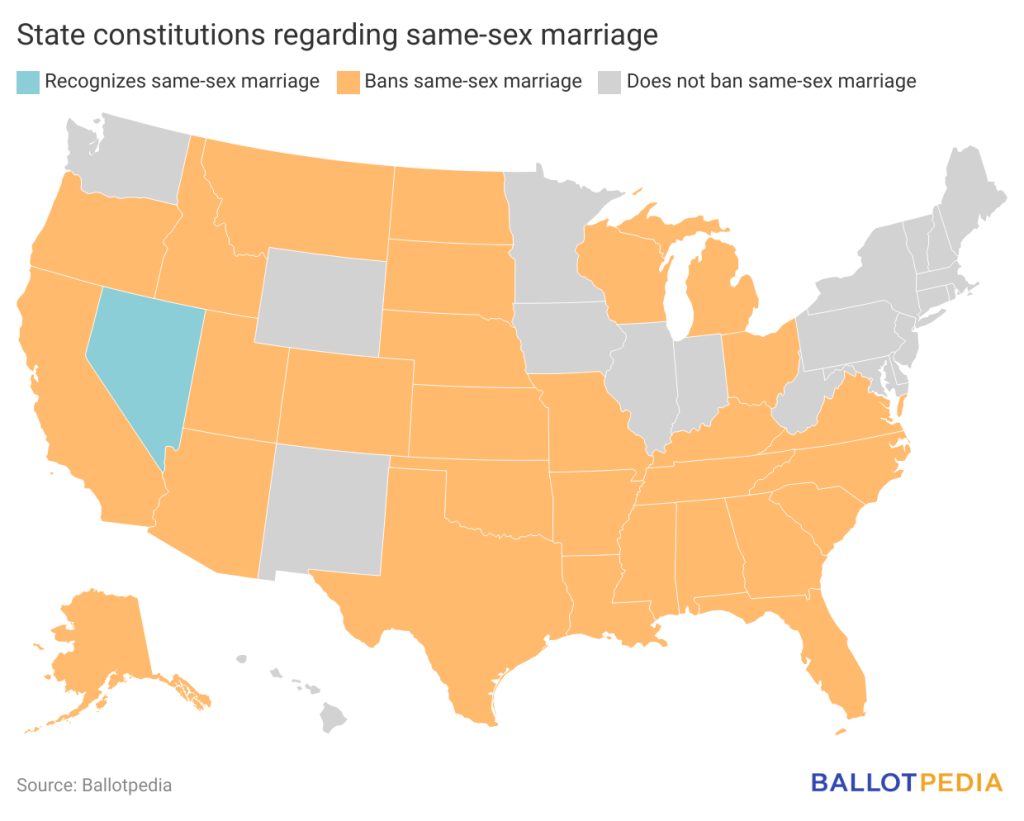 The 2024 ballot measure to repeal Proposition 8 passed unanimously in both chambers of the California State Legislature. In order to place a constitutional amendment on the ballot in California, a two-thirds (66.67%) vote is required during one legislative session in the Legislature. The California House of Representatives voted 67-0 to pass the amendment on June 26, 2023, and the California State Senate voted 31-0 to pass the amendment on July 13, 2023.
The ballot proposition would also include new language in the California Constitution, repealing the text of Article 1, Section 7.5 in the California Constitution which currently reads Only marriage between a man and a woman is valid or recognized in California, and replacing it with the following:
(a) The right to marry is a fundamental right. (b) This section is in furtherance of both of the following: (1) The inalienable rights to enjoy life and liberty and to pursue and obtain safety, happiness, and privacy guaranteed by Section 1. (2) The rights to due process and equal protection guaranteed by Section 7.
California Gov. Gavin Newsom (D), who spoke in support of the 2024 ballot proposition, said, "Same sex marriage is the law of the land and Prop. 8 has no place in our constitution. It's time that our laws affirm marriage equality regardless of who you are or who you love."
California Assemblymember Evan Low (D), who sponsored the proposition, said, "Although, same-sex marriage is legal, it could be temporary. We have to remain vigilant, unwavering in our dedication to equality."
Proposition 8 was repealed in California, and same-sex marriage became legal in the state in 2013. In 2009, the California Supreme Court ruled that Proposition 8 "carved out a limited [or 'narrow'] exception to the state equal protection clause" and prohibited same-sex marriage under the California Constitution. Proposition 8 was overturned on Aug. 4, 2010, when U.S. District Court Judge Vaughn Walker ruled that Proposition 8 violated the U.S. Constitution. The Ninth Circuit Court of Appeals permitted same-sex marriages in California to begin on June 28, 2013.
The amendment will join six other ballot propositions on the California ballot on Nov. 5, 2024.
Additional reading: