Ballotpedia tracked one new recall effort against local officials in Texas from July 10-16, bringing the yearly statewide total to five efforts against 10 officials. The most recent effort is:
Jose Segarra and Ramon Alvarez recall, Killeen, Texas (2023): City Councilmen Ramon Alvarez and Jose Segarra.

A recall petition against Alvarez and Segarra was filed in response to the passage of Proposition A in 2022, which decriminalized marijuana possession under four ounces. The petition reads in part, "Officials not only allowed a proposition inconsistent with the Constitution and laws prescribed by the Legislature of the State to be offered to the electorate for consideration, but they also canvassed and adopted the proposition into ordinance, in direct violation of the Constitution of the state, applicable state laws, and City Charter provisions."
In response to the recall effort, Alvarez said, "We had an election for Proposition A, an ordinance that was brought forth by a private organization — legally. It went to the voters, not by choice of the council. It was their right to take it to the ballot when we turned it down." Segarra could not be reached for comment.
Of the five recall efforts this year, two have made the ballot. A recall election seeking to remove Michael Carlson from his position as a La Marque City councilman is on Nov. 7, 2023.  A recall election seeking to remove Jesse Davis from his position as a Denton City councilman was held on May 6, 2023. Davis was recalled on May 6.
Nationwide, 265 officials are the subject of recall efforts through July 19. Michigan leads the field with 91 officials targeted. Fifty-four targeted officials have made the recall ballot as of July 19. Michigan leads the field with 15 officials on the ballot.
In 2022, Ballotpedia covered a total of 266 recall efforts against 448 officials in 30 states as well as Washington, D.C. Michigan led the way in officials targeted for recall with 133 in 2022. California followed with 72. From 2016 to 2021, California had the most officials targeted in five of the six years.
Looking at Texas alone, nine officials were targeted in 2022. This is less than the ten-year average of 16.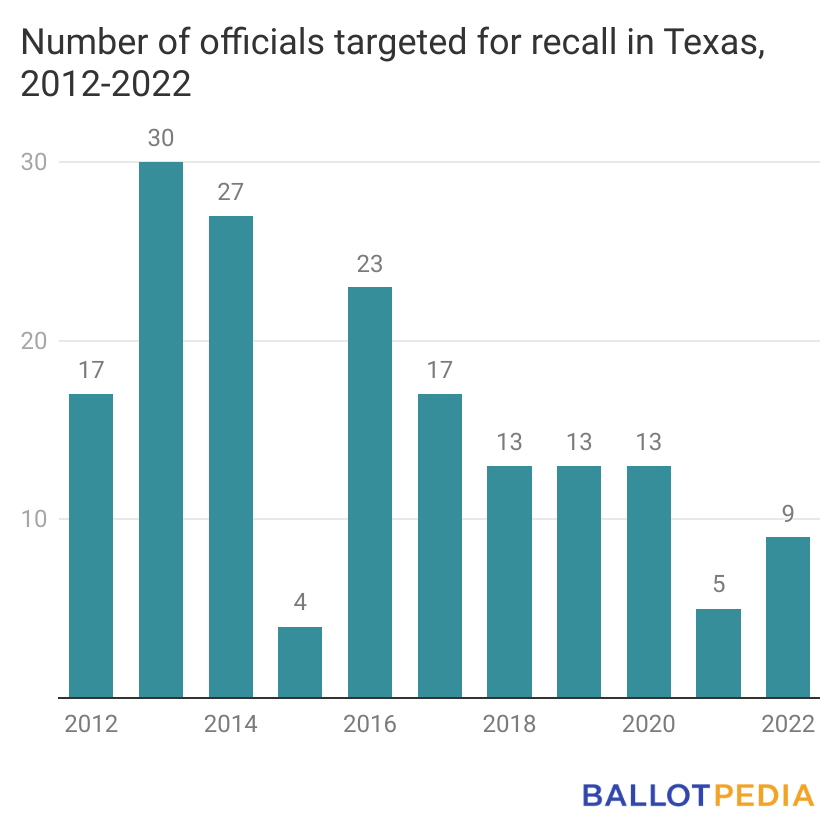 Additional reading: