Ballotpedia tracked one new recall effort against local officials in Wisconsin from July 17-23, bringing the yearly statewide total to two efforts against two officials. The most recent effort is:
Lester Lewis recall, Taylor County, Wisconsin (2023): District 13 Supervisor Lester Lewis, Recall election on July 18, 2023.

Supporters of the recall took issue with Lewis' conduct during Veterans Service meetings. Supporters highlighted the departure of three Veterans Service Office employees who cited Lewis and other county leadership as reasons for leaving their jobs.
Of the two recall efforts this year, two have made the ballot. A recall election seeking to remove Lewis from his position as District 13 supervisor was held on July 18, 2023.  Recall efforts make the ballot if recall supporters submit the required number of signatures by a pre-approved date. In Wisconsin, a recall effort can only be initiated after the elected official has served a full year in his or her current term of office. Recall supporters had 60 days to collect a number of signatures equal to 25% of the number of persons that voted in the last gubernatorial election, or 170 signatures. They submitted over 200 signatures in April 2023, which, once verified, allowed the recall to proceed. The recall effort succeeded when Harvey Suckow defeated Lewis in the July 18 election.
The recall effort began in April 2023. Recall supporters alleged that Lewis didn't "represent the people of the district, he represents Mr. Lewis." They also took issue with "how [he] acted during the Veterans Service meetings and toward former director Shellie Shaw describing him as being arrogant and self centered." 
In response to the recall effort, Lewis said, "…his record speaks for itself and that he has always worked for the good of the county." Lewis had been in office for 22 years. 
Nationwide, 279 officials are the subject of recall efforts through July 23. Michigan leads the field with 100 officials targeted. Fifty-five targeted officials have made the recall ballot as of July 23. Michigan leads the field with 15 officials on the ballot.
In 2022, Ballotpedia covered a total of 266 recall efforts against 448 officials in 30 states as well as Washington, D.C. Michigan led the way in officials targeted for recall with 133 in 2022. California followed with 72. From 2016 to 2021, California had the most officials targeted in five of the six years.
Looking at Wisconsin alone, six officials were targeted in 2022. This is less than the ten-year average of 12.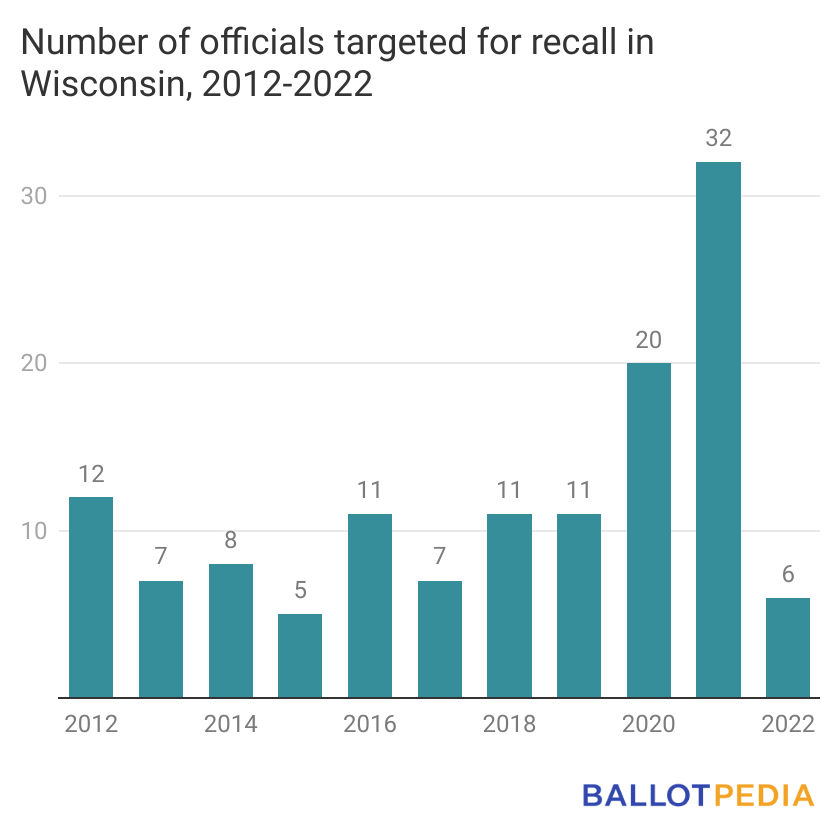 Additional reading: