Two new candidates declared their intent to run for state-level offices in New York between July 31 and Aug. 6, according to Ballotpedia's ongoing tracking. This was two more candidates than the prior week.
Both candidates are running for the state legislature in 2023. One of those candidates is a Democrat and one is a Republican. The Republican candidate also cross-filed with the Conservative Party of New York State.
Details on these candidates are below:
Sam Berger (D) is running for New York State Assembly District 27. Berger said, "As a proud member of our community, I understand our district's unique challenges and needs. Our common goal is to ensure safety and welfare for our homes, schools, streets, and families. I am committed to providing resources for police, enriching after-school programs and quality education for our children, making New York affordable with good jobs, and supporting our deserving seniors. If elected, I will be a relentless advocate, introducing legislation to enhance our well-being and build a brighter future."
David Hirsch (R, Conservative Party of New York State) is running for New York State Assembly District 27. Hirsch said, "New York State is plagued by problems caused by the Democrat Party's policies in Albany. We have bail reform laws that play 'catch and release' with criminals. We have a rise in hate crimes against Jews and Asians, with the lightest of sentences for the perpetrators. At a time when New York's public schools are failing in Math and Reading, our Democrat-run government is going after yeshivas. … We need to draw a line in the sand and tell Albany that enough is enough."
As of Aug. 6, Ballotpedia has identified three candidates for state-level offices in New York, two running in 2023 and one in 2024. There were 907 and 999 state-level candidacies in New York in 2022 and 2020, respectively. These totals include candidates who cross-filed with more than one party. In 2022, 478 were Democratic, while 364 were Republican. In 2020, 465 were Democratic and 405 were Republican. Nationally, Ballotpedia has tracked 540 Democrats and 642 Republicans running for state-level office in 2023, and 94 Democrats and 137 Republicans running in 2024.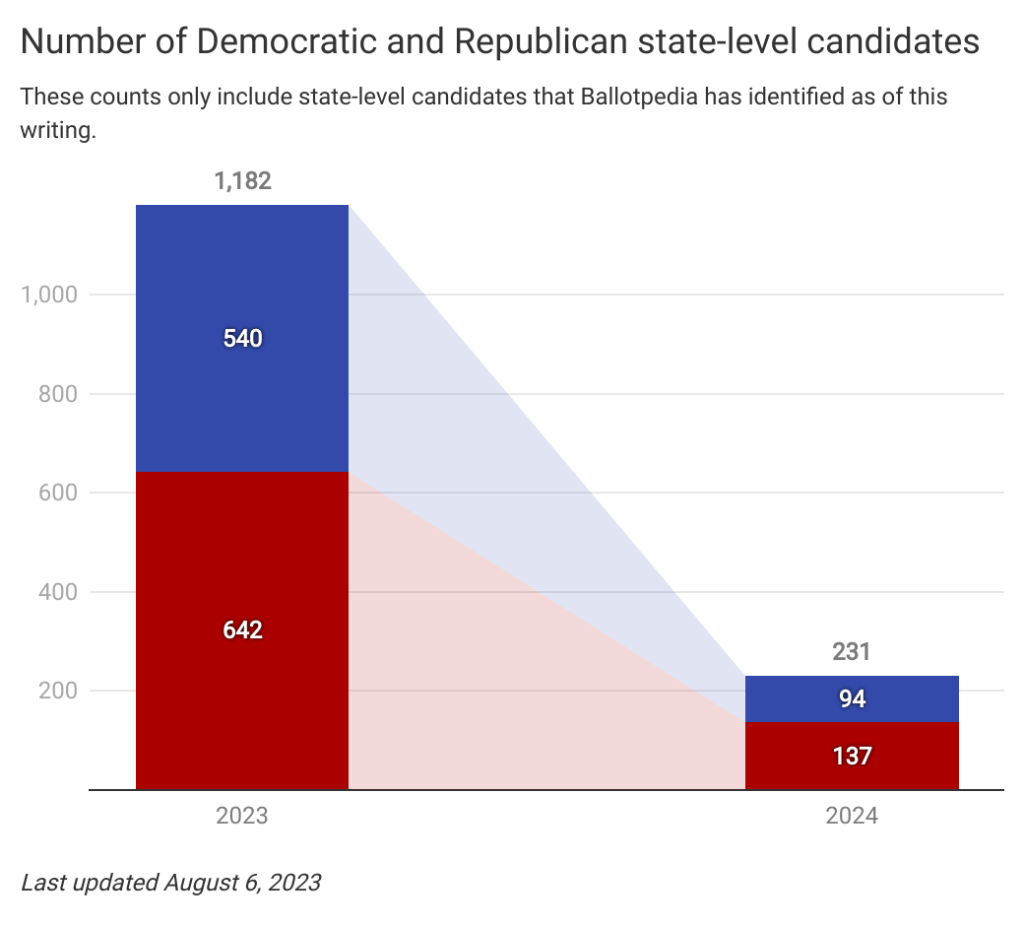 Additional reading: