Two new candidates declared their intent to run for state-level offices in Florida between July 31 and Aug. 6, according to Ballotpedia's ongoing tracking. This was one more candidate than the prior week.
Both candidates are Republicans and are running for the state legislature in 2024.
Details on these candidates are below:
Kim Kendall (R) is running for Florida House of Representatives District 18. Kendall spoke of the following campaign issues, "Parental rights are a critical part of education and I will work tirelessly on this. … St. Johns County is the fastest growing county in Florida. We must have the infrastructure needed to support this growth in a responsible way. … It is time for us all to stand boldly for the moral fabric of our nation."
Jamie Watts (R) is running for Florida House of Representatives District 20. Watts said, "But what has become painfully clear to me is that if we don't have strong leadership on a regional level, we are going to allow Jacksonville and Orlando to make the decisions about the future of District 20. We want more economic opportunity, but we are also passionate about maintaining our home-grown values and quality of life. I believe I can help make a difference in striking a balance between these two goals."
As of Aug. 6, Ballotpedia has identified 42 candidates for state-level offices in Florida, seven running in 2023 and 35 in 2024. Five hundred and eighty-five candidates ran for state-level office in Florida in 2022, while 520 ran in 2020. In 2022, 238 were Democratic, while 276 were Republican. In 2020, 266 were Democratic and 194 were Republican. Nationally, Ballotpedia has tracked 540 Democrats and 642 Republicans running for state-level office in 2023, and 94 Democrats and 137 Republicans running in 2024.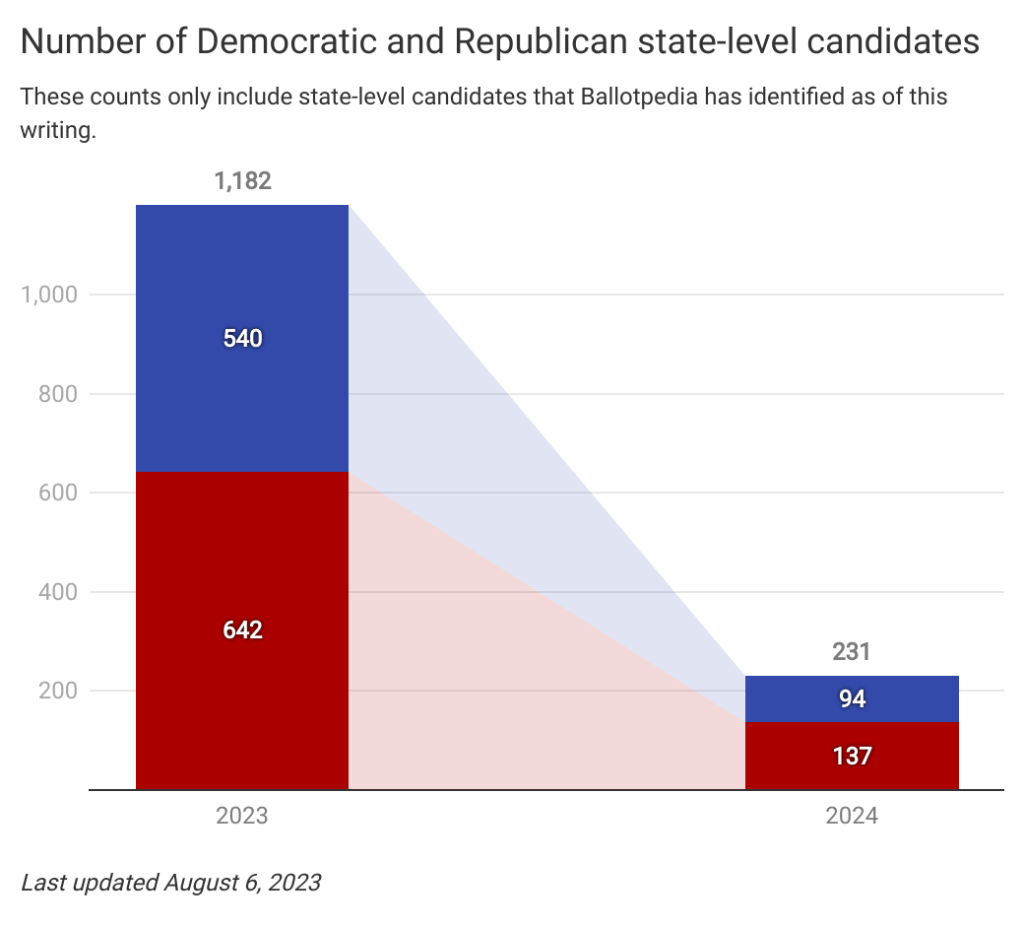 Additional reading: