Ballotpedia tracked two new state-level candidates in Kentucky between Aug. 7 and Aug. 13. This was two more candidates than the prior week. 
One candidate is a Democrat and one is a Republican. Both of the candidates are running for state executive offices in 2023.
Details on these candidates are below:
Incumbent Jacqueline Coleman (D) is running for Lieutenant Governor of Kentucky. Coleman said, "[I am] a lifelong Kentuckian and public servant, raised on a farm in Mercer County. … As an educator and elected official, [I have] fought to expand access and resources for Kentucky public schools, worked to secure more than $40 million for student mental health resources and led the charge to provide free GED tests for Kentuckians looking to get their degrees."
Robby Mills (R) is running for Lieutenant Governor of Kentucky. Mills said, "I am humbled to have been asked to serve alongside Daniel Cameron as Lieutenant Governor for the Commonwealth of Kentucky, … When the General Assembly passed laws that limited Beshear's overreaching powers and reflected the will of our constituents, Daniel successfully defended those laws. It is imperative we have leadership in Kentucky who will actually work with the General Assembly on real solutions." 
Since the beginning of the year, Ballotpedia has identified 42 candidates for state-level offices in Kentucky. Three hundred and two candidates ran for state-level office in Kentucky in 2022, while 287 ran in 2020. In 2022, 96 were Democratic, while 174 were Republican. In 2020, 114 were Democratic and 142 were Republican. Nationally, Ballotpedia has tracked 547 Democrats and 645 Republicans running for state-level office in 2023, and 99 Democrats and 151 Republicans running in 2024.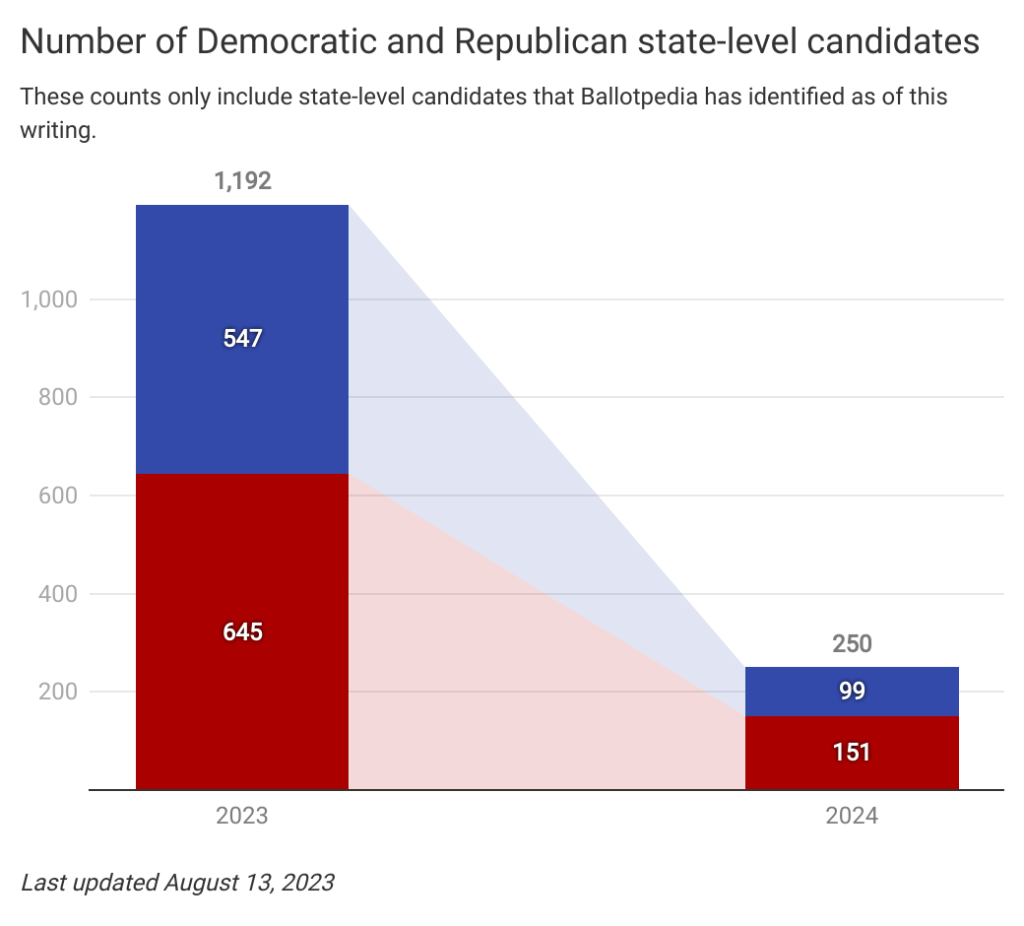 Additional reading: