Ballotpedia tracked three new state-level candidates in North Carolina between Aug. 14 and Aug. 20. This was one fewer candidate than the prior week. 
One of those candidates is a Democrat and two are Republicans. All three are running for state executive offices in 2024.
Details on these candidates are below:
Charles Ingram (D) is running for Attorney General of North Carolina. Ingram said, "I am a small-town lawyer who has handled big time cases. I know the law. I know the people of North Carolina need an Attorney General who will stand up and fight for them. I am running for Attorney General with no plans to use the position to run for higher office. I want to be the people's lawyer. I will be an attorney general who goes to work fighting for regular, every day, working people. I will be a progressive voice with common-sense values."
Deanna Ballard (R) is running for Lieutenant Governor of North Carolina. Ballard said, "[I am] a family-first conservative. [I'm] running for Lieutenant Governor because our financial security and constitutional freedoms are in jeopardy. [I've] dedicated [my] life to fighting for our children and serving working families – the backbone of North Carolina. They've been stretched thin by inflation, looked down upon by elites, and told their way of thinking and worshipping is no longer mainstream. Enough is enough."
Jesse Thomas (R) is running for Governor of North Carolina. Thomas said, "[I am] a citizen public servant, business executive and retired health plan CEO and NOT a career politician or extremist. … [I am] a peacemaker through welcoming more independent and unaffiliated registered voters to the republican party to bridge the gaping divide. Also, [I am] an advocate for those voters to get more engaged in the process of selecting conservative nominees during the primaries. [I believe] no nonsense republicans will win their hearts and minds due to our better, more inclusive ideas and policies. And, [I] passionately [believe] this openness combined with term limits are the solution to restoring the ideal of public service over politics."
Since the beginning of the year, Ballotpedia has identified 36 candidates for state-level offices in North Carolina. Four hundred and thirty-seven candidates ran for state-level office in North Carolina in 2022, while 508 ran in 2020. In 2022, 178 were Democratic, while 232 were Republican. In 2020, 242 were Democratic and 235 were Republican. Nationally, Ballotpedia has tracked 659 Democrats and 818 Republicans running for state-level office in 2023, and 121 Democrats and 166 Republicans running in 2024.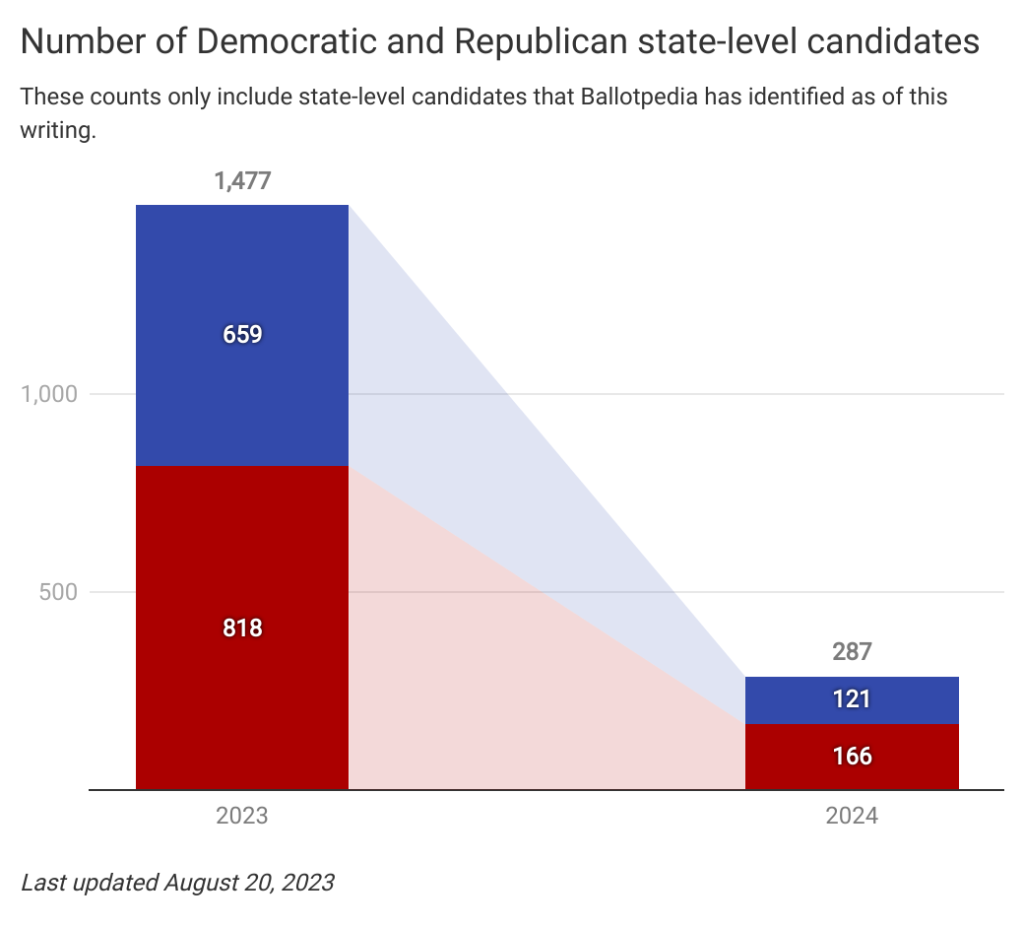 Additional reading: