Louisiana has 79 contested state legislative primaries this year, a 14% decrease from 2019.
Louisiana holds top-two primaries, where all candidates compete in the same primary, and a candidate can win the election outright by receiving more than 50% of the vote. If no candidate does, the top-two vote recipients from the primary advance to the general election, regardless of their partisan affiliation.
Of the 79 contested primaries, there are 60 top-two primaries in the state House and 19 in the state Senate.
Forty-three incumbents face primary challenges, representing 41.3% of all incumbents running for re-election. This is lower than in 2019 (46.4%) and 2011 (45.5%) but higher than in 2015 (34.5%).
Of the 43 incumbents in contested primaries, 14 are Democrats and 29 are Republicans.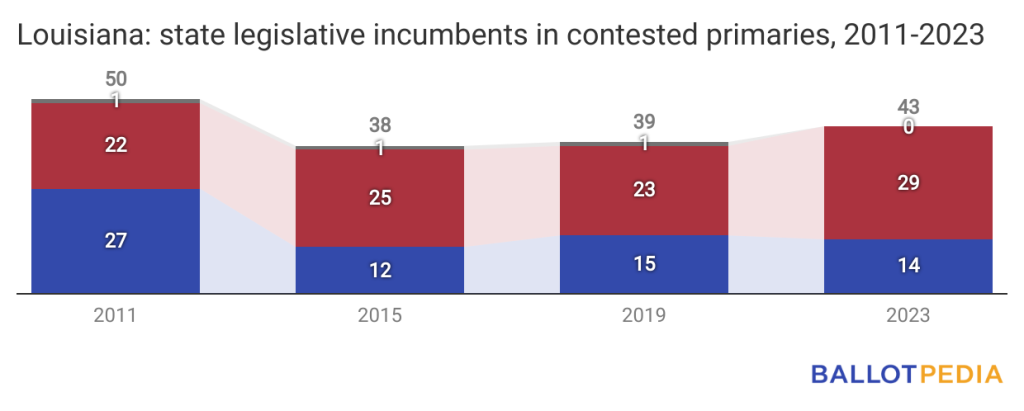 Overall, 267 major party candidates—98 Democrats and 169 Republicans—filed to run. All 105 House and 39 Senate seats are up for election.
Forty of those seats are open, meaning no incumbents filed. This guarantees that at least 28% of the legislature will be represented by newcomers next year, the second-largest such percentage since 2011.
Louisiana has had a divided government since 2016, with Republicans controlling both legislative chambers and a Democrat holding the governorship. Republicans currently have a 71-33 majority in the House and a 27-12 majority in the Senate.
Louisiana's state legislative primaries are scheduled for Oct. 14, 2023, the 5th and final statewide primary date of the 2023 state legislative election cycle.

Additional reading: