Ballotpedia tracked two new state-level candidates in Texas between Aug. 28 and Sept. 3. This was equal to the number of candidates tracked last week.
One of those candidates is a Democrat and one is a Republican. Both of the candidates are running for the state legislature in 2024.
Details on these candidates are below:
Incumbent Gary VanDeaver (R) is running for Texas House of Representatives District 1. VanDeaver said, "As a superintendent, [I] balanced and oversaw a multimillion-dollar budget and daily operations for [my] school district. As a member of the Appropriations Committee, [I rely] on this same conservative approach to fight for a balanced budget and low taxes for Texans. [I] further [believe] in the sanctity of life, promoting small businesses, bolstering rural economies, aligning education pathways with workforce needs, lowering taxes, securing our borders, and protecting the most vulnerable of our state."
Averie Bishop (D) is running for Texas House of Representatives District 112. Bishop said, "I know what it's like to grow up in a small town and never see leaders who looked like me, let alone who fought for me. … It's time for the next generation of Texans to lead — to protect our state's environment and economy, to safeguard our schools and our right to education, and to truly represent the majority of this great state."
Since the beginning of the year, Ballotpedia has identified 32 candidates for state-level office in Texas. Seven hundred and fifty candidates ran for state-level office in Texas in 2022, while 582 ran in 2020. In 2022, 277 were Democratic, while 384 were Republican. In 2020, 270 were Democratic and 249 were Republican. Nationally, Ballotpedia has tracked 664 Democrats and 821 Republicans running for state-level office in 2023, and 137 Democrats and 183 Republicans running in 2024.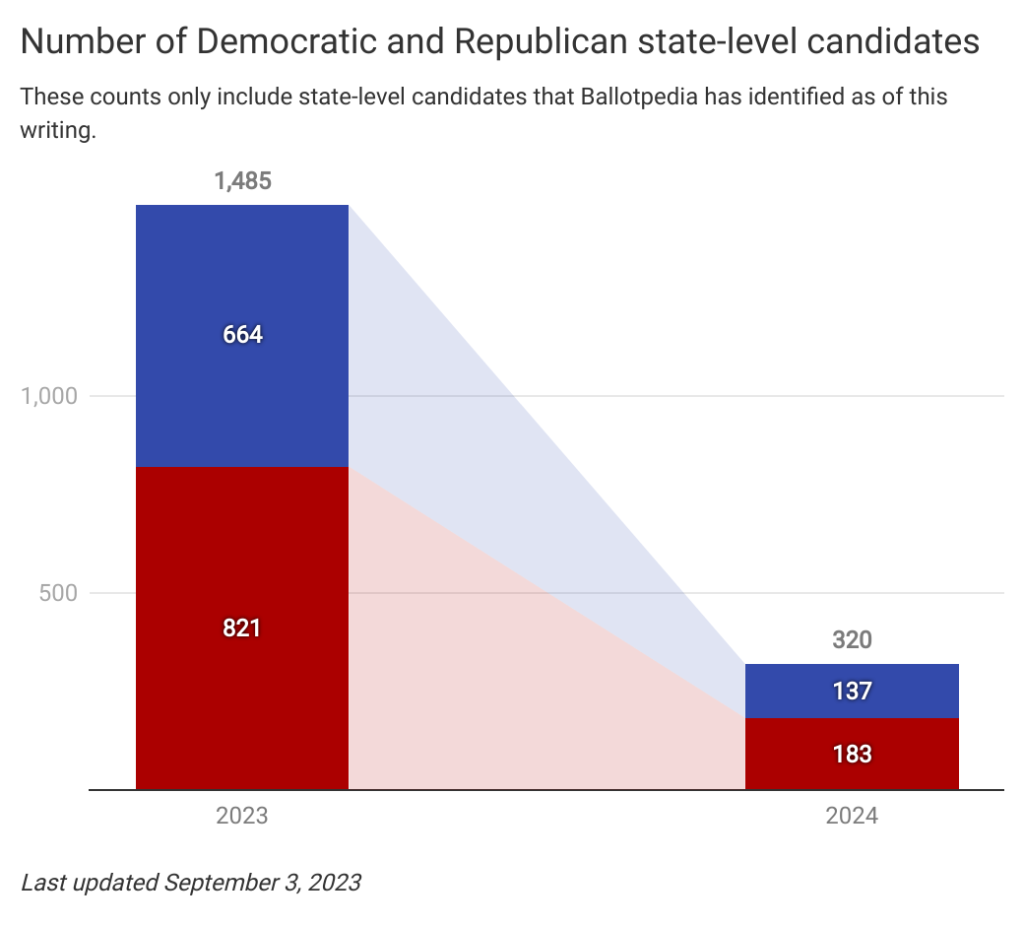 Additional reading: