Ballotpedia tracked one new recall effort against a local official in Texas from Sept. 4-10, bringing the yearly statewide total to nine efforts against 17 officials. The most recent effort is: 
Cassandra Hernandez recall, El Paso, Texas (2023): District 3 City Representative Cassandra Hernandez. 

Recall supporters allege that Hernandez is unapproachable and should be removed from office following a ruling by the El Paso Ethics Review Commission that Hernandez had violated the ethics ordinance by misusing her fuel card. Hernandez was issued a letter of reprimand.
In a statement, Hernandez said, "I've been elected three times by District 3 voters who have witnessed my hard work, resulting in over $100 million in funding for District 3 police and fire stations, streets and parks. I'm proud of my track record and grateful for my constituents' unwavering support. I have and continue to perform my council responsibilities effectively."
Of the nine recall efforts this year, two have made the ballot. A recall election seeking to remove Michael Carlson from his position as a La Marque City councilman is on Nov. 7, 2023.  A recall election seeking to remove Jesse Davis from his position as a Denton City councilman was held on May 6, 2023. Davis was recalled.
Recall efforts make the ballot if recall supporters submit the required number of signatures by a pre-approved date. Recall supporters have 60 days to collect signatures from 20% of registered voters in order to put the recall on the ballot. The notice of intent to recall Hernandez was filed with the city clerk on Sept. 8, 2023.
Nationwide, 338 officials are the subject of recall efforts through Sept. 10. Michigan leads the field with 124 officials targeted. Seventy-three targeted officials have made the recall ballot as of Sept. 10. Michigan leads the field with 26 officials on the ballot.
In 2022, Ballotpedia covered a total of 266 recall efforts against 448 officials in 30 states as well as Washington, D.C. Michigan led the way in officials targeted for recall with 133 in 2022. California followed with 72. From 2016 to 2021, California had the most officials targeted in five of the six years.
Looking at Texas alone, nine officials were targeted in 2022. This is less than the ten-year average of 16.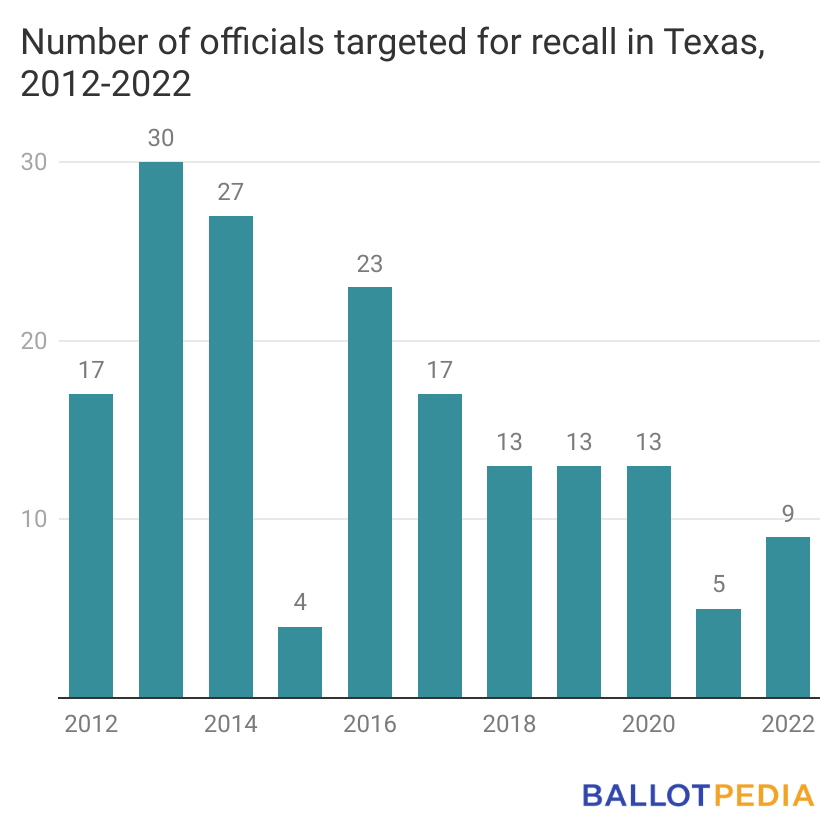 Additional reading: