State governors issued 85 executive orders from Aug. 28-Sept. 10. Georgia Gov. Brian Kemp (R) led the field with 45, followed by Florida Gov. Ron DeSantis (R), New Mexico Gov. Michelle Lujan Grisham (D), and Oregon Gov. Tina Kotek (D) with five each. Governors in 31 states issued no executive orders.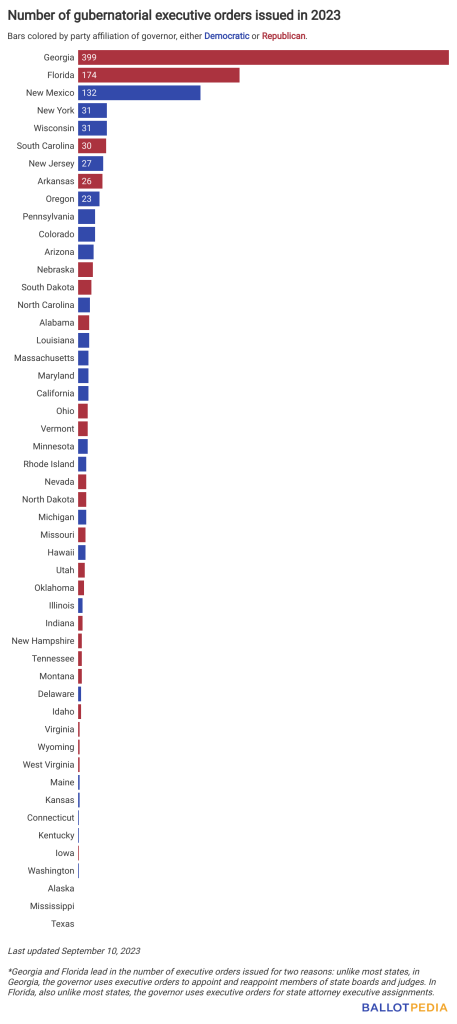 Governors use executive orders to manage executive branch operations. The last two weeks account for 7% of the year-to-date total of 1,163. Kemp again leads with 399 orders issued since Jan. 1, followed by DeSantis with 174 and Lujan Grisham with 132.
Governors have issued an average of 32 executive orders per week so far this year, more than the 2022 weekly average of 30.
Georgia and Florida lead in the number of executive orders issued for two reasons: unlike most states, in Georgia, the governor uses executive orders to appoint and reappoint members of state boards and judges. In Florida, also unlike most states, the governor uses executive orders for state attorney executive assignments.
Governors in 16 states have issued fewer than five orders since the start of the year, and those in three states have yet to issue any orders so far. In states with a Republican trifecta, governors issued 736 orders, while governors in states with a Democratic trifecta issued 312. A trifecta is when one political party holds the governorship and majorities in both chambers of the state legislature. In states where neither party holds trifecta control, governors issued 115 orders.