As of Sept. 17, Ballotpedia has tracked 12 election-related bills in the Wisconsin State Assembly since the beginning of the year. Of the 12, Ballotpedia tracked two from Sept. 11-17. Republicans sponsored the two bills.The two bills are below:
WI AB396: Fees for obtaining the official voter registration list (FE), Reps. David Armstrong (R), Amy Binsfeld (R), Ty Bodden (R), Janel Brandtjen (R), Robert Donovan (R), Nate Gustafson (R), Gae Magnafici (R), Dave Maxey (R), David Murphy (R), Peter Schmidt (R), David Steffen (R), Paul Tittl (R), and Chuck Wichgers (R), and Sens. Andre Jacque (R), Dan Knodl (R), Stephen Nass (R), Duey Stroebel (R), and Cory Tomczyk (R).

As introduced, this bill sets the fee to obtain an electronic copy of the voter registration list at $250.00 or less. A physical copy of the list may require an additional fee.

WI AB415: Legislative redistricting (FE), Reps. Joel Kitchens (R), Jeffrey Mursau (R), Todd Novak (R), Loren Oldenburg (R), Jon Plumer (R), and Travis Tranel (R).

As introduced, this bill:

Establishes that the Legislative Reference Bureau (LRB) will draw redistricting lines based upon standards including population requirements, municipal ward boundaries, compact, non-partisan, and 54-99 assembly districts.
Assigns the following tasks to the redistricting advisory commission: provide direction to LRB and conduct eight public hearings a year. The commission will be stood up by February 15 following a census.
During the week of Sept. 11-17, Ballotpedia tracked three House election-related bills nationally. As of Sept. 17, Ballotpedia has tracked 1,618 House bills nationally. Ballotpedia tracked the most House bills this year in the New York State Assembly and the Texas House of Representatives with 189 each, while Ballotpedia tracked the fewest House bills in Colorado and Hawaii with seven each.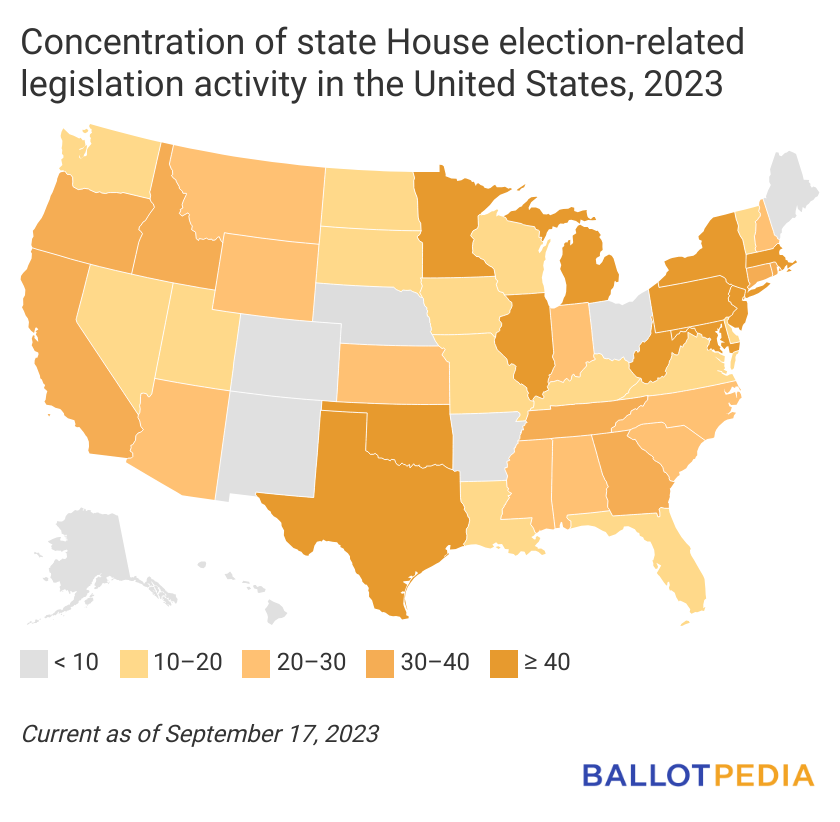 As of Sept. 17, Ballotpedia has tracked 745 House bills in Democratic trifectas and 672 House bills in Republican trifectas. A trifecta is when one political party holds the governorship and majorities in both chambers of the state legislature. Ballotpedia has tracked 201 House bills in states where neither party holds trifecta control.
The Wisconsin Assembly is scheduled to be in session from Jan. 3 to Dec. 31 this year. In 2022, Ballotpedia tracked 43 House bills related to election administration. None of these bills passed both chambers. Wisconsin is a divided government, meaning neither party holds trifecta control.
Additional reading: